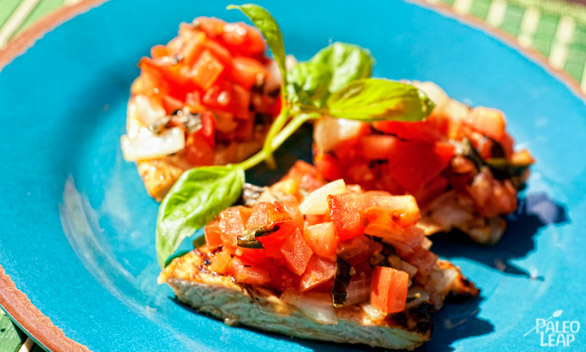 In Italy, bruschetta is a traditional appetizer: crunchy toasted bread topped with fresh tomato salad. To make this recipe Paleo-friendly, I served the bruschetta over slices of chicken breast instead. To make the chicken base for the tomatoes, use a very sharp knife to cut the breasts lengthwise into thin slices (like escalopes). If you're worried your knife skills might not be up to snuff, a butcher might be able to do this for you, and some grocery stores will actually sell it already cut. Another way to make it easier is to buy frozen chicken breasts and cut the chicken while it's still defrosting; it's easier to get a precise cut if the chicken is still half-frozen.
Bruschetta is a very versatile appetizer because you can serve it hot or cold. You can also season the chicken to your own taste with whatever flavoring you like, but don't use anything so bold that it could overwhelm the taste of the bruschetta mixture. Remember that the star of the show is really the topping, not the chicken. A dash of basil and sea salt would complement the salad without taking over the dish.
For an Italian-inspired Paleo dinner, serve these appetizers with eggplant cannelloni, Paleo spaghetti, or Paleo pizza. They'd also go well with just about any Mediterranean-inspired recipe, especially fresh fish. Add a nice glass of wine, and settle in to enjoy all the flavors of Italian cooking.
Chicken Bruschetta Recipe

SERVES: 4

PREP: 15 min.

COOK: 20 min.
Values are per portion. These are for information only & are not meant to be exact calculations.
Ingredients
1 lb. Chicken breast, thinly sliced (lengthwise);
2 cup of Italian tomatoes cut into fine cubes;
1 onion, cut into fine cubes;
1/3 cup fresh basil leaves, thinly sliced;
2 tsp. garlic, minced;
3 tbsp. extra-virgin olive oil;
1 tbsp. balsamic vinegar;
Sea salt and freshly ground black pepper to taste;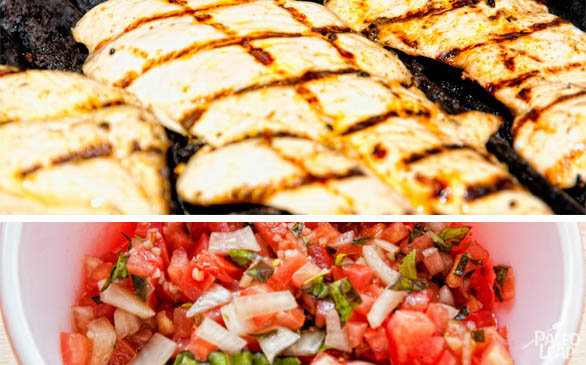 Preparation
Preheat your oven to 350 F.
In a medium sized bowl, combine the tomatoes, onions, basil, garlic, olive oil and balsamic vinegar. Season with  sea salt and freshly ground black pepper to taste.
Combine everything well together and set aside for at least 15 minutes (more if you want the flavors to really set in).
While waiting for the bruschetta to set in, season the chicken with your favorite spices. Grill the slices of chicken until well done (about 6 minutes) and let them cool down.
Once the chicken is cool, cut the slices  in equal bite-size pieces and top each piece with a generous portion of the bruschetta mixture. Place the loaded chicken slices on an oven pan.
Place the oven pan in the oven or back on the BBQ, for 8 to 10 minutes.
Serve warm.