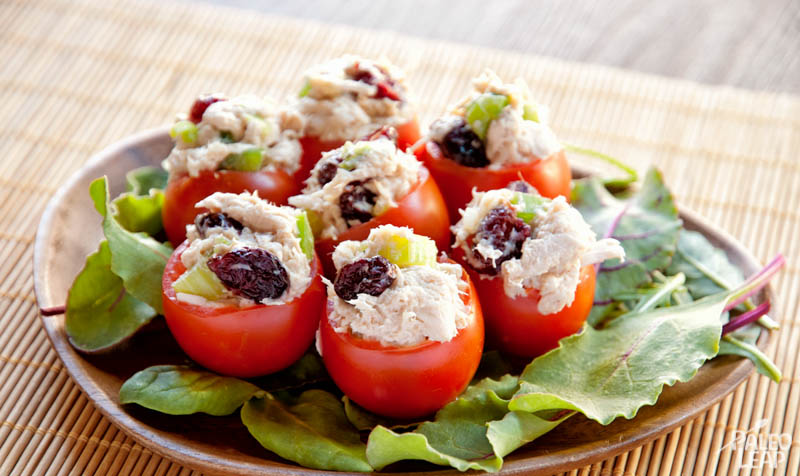 Chicken salad makes an incredibly versatile "stuffing" for any kind of vehicle, from snack-sized "bites" stuffed into a cherry tomato, to meal-sized portions inside a bell pepper, to lettuce wraps in any size you care to make. If you always have a little chicken salad in the fridge or freezer, you'll always have the major protein and fat component of a delicious Paleo meal all ready to go. You could even use this recipe to replace the chicken salad in these rolled sandwiches, if you're faced with the problem of bringing food for a social event.
The dried cranberries in this recipe might be tricky to find – most brands are filled with a lot of sugar and sometimes other preservatives as well. You can make your own if you're really worried about this, or look for an unsweetened brand (or a kind made with fruit juice). Or you could also just accept the tiny amount of sugar as a compromise; since you're not eating dried cranberries every day by the handful, it's not likely to do you much harm.
This is an especially good recipe for using up any leftover chicken. No leftovers? No problem: just pick up a whole chicken, place it in a big pot with an onion, 3-4 carrots, 2 celery stalks, and salt and pepper to taste. Add enough water to cover the bird, and cook about 90 minutes over medium heat – the meat goes in the salad, and the bones can stay in the pot a little longer for some homemade bone broth. It's two ingredients for the price of one, a great way to make healthy food that's also convenient.
Chicken Cranberry Salad Recipe

SERVES: 4

PREP: 25 min.

Values are per portion. These are for information only & are not meant to be exact calculations.
Ingredients
4 cups cooked chicken, cut into cubes;
1 ½ cups dried cranberries;
1 cup celery, chopped;
2 green onions, sliced thinly;
½ cup green bell pepper, minced;
1 tsp. paprika
½ cup homemade mayonnaise;
Sea salt and freshly ground black pepper to taste;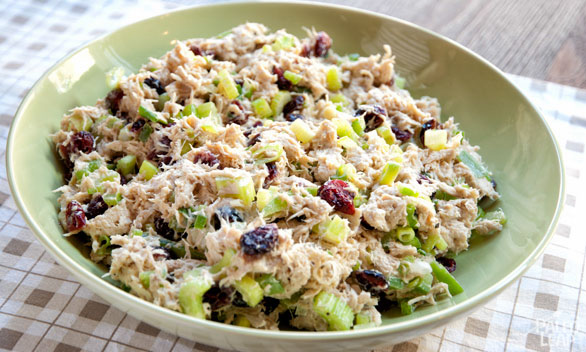 Preparation
In a large bowl, combine the mayonnaise and the paprika.
Add the chicken, celery, bell pepper, and green onions, and combine well.
Add the cranberries. Mix again, and season to taste with salt and pepper.
Place in the refrigerator to chill and serve.
(Optional): to make a stuffed tomato or stuffed bell pepper just cut the top of the vegetable, empty the inside with a spoon or knife, and fill with the chicken cranberry mixture.