Ramen noodles often bring about memories of university days, staying up late studying for an exam, and being ready to microwave just about anything for a cheap bite to eat...
Luckily those days are long gone for many of us, and as we grow older and wiser, we know deep in our hearts (and our stomachs) that we have adopted a Paleo lifestyle for better health and greater enjoyment of life - that includes everyone here today.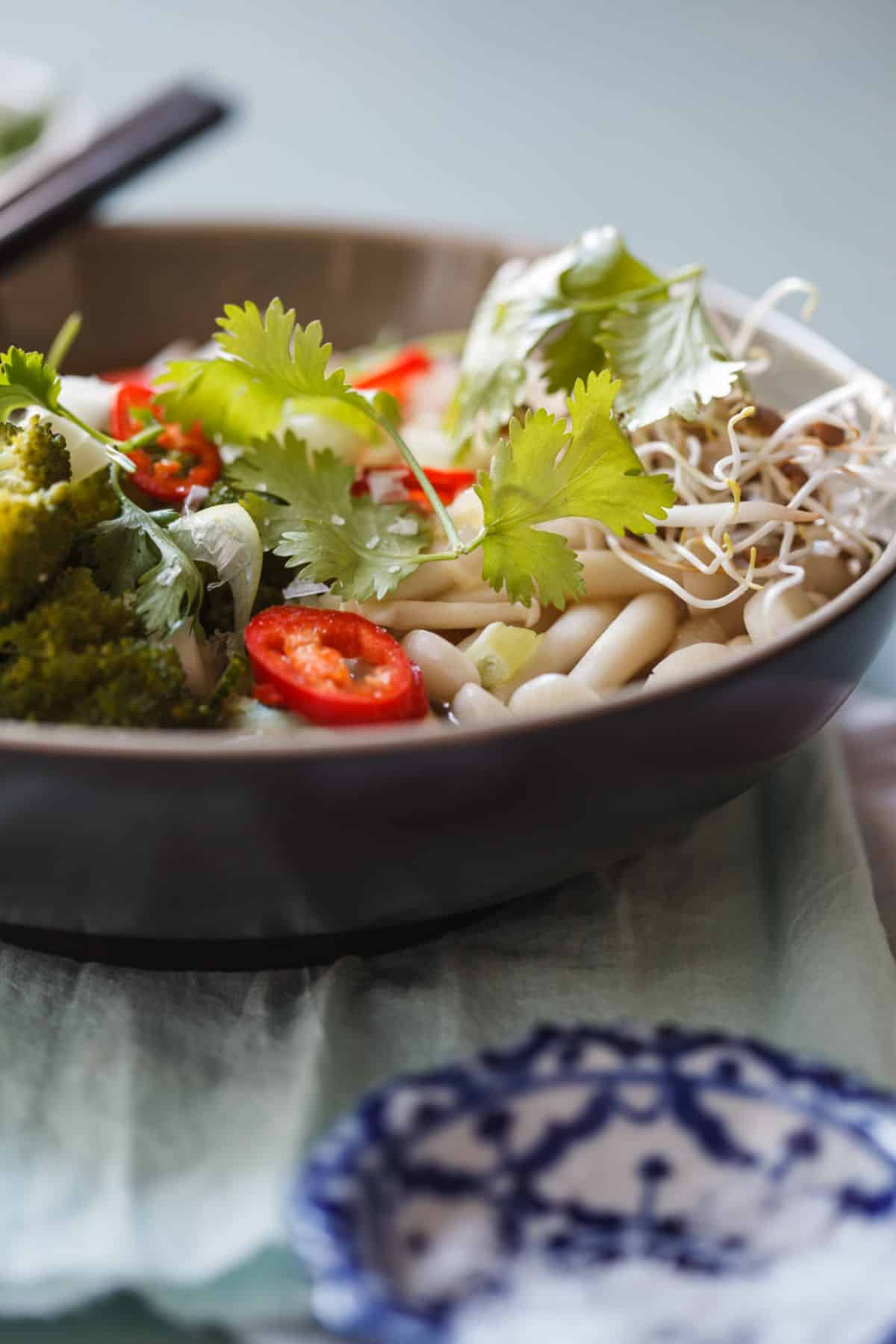 Instead of the old ramen version, which is enriched wheat flour with preservatives, flavor enhancers, and soy sauce, we would like to present our much more enticing chicken ramen with zucchini noodles, or zoodles, if you will.
Now, this recipe cannot be done in just three minutes in the microwave, not a chance! So that you can plan ahead, know that it will take about 40 minutes for prep and cooking, but think of all the nutrients, cooking experience, and appreciation for quality food that you have to gain.
And your health is extremely important, whether you are in school or not, simply feeding yourself or a clan of youngsters (hint: they will likely eat this too!), and there is no good reason not to make this soup for dinner tonight. It's simple, it is health-giving, and it is wonderful.
Alternatively, you could make a creamy chicken and vegetable soup, if it is the old-fashioned chicken soup that is on your mind, but we know you'll choose this recipe the next time you are searching for that new Paleo comfort food; after all, zucchini ramen noodles are that good.
Chicken Ramen With Zucchini Noodles Recipe
Serves: 2 Prep: 20 min Cook: 18 min
Ingredients
1 tbsp. coconut oil
1 small onion, finely chopped
1 garlic clove, finely chopped
1 tsp. sliced red chili (optional)
4 cups chicken broth
2 chicken breasts, skinless & boneless
2 tbsp. coconut aminos
1 ½ cups broccoli
1 cup shimeji mushrooms
2 cups zucchini noodles
Salt, to taste
Lemon juice, to taste
Bean sprouts, to serve
Fresh cilantro, to serve
Fresh sliced chili, to serve
Green onions, to serve
Preparation
In a pot, melt the coconut oil and add the onion.
Fry until the onion is soft and translucent, then add the garlic and chili.
Fry until fragrant, then pour in the chicken broth.
Add the chicken breasts and allow to poach until just cooked. Remove the chicken breasts and set them aside.
Add the coconut aminos, broccoli, and shimeji mushrooms to the broth and allow to cook for 5 minutes; then add the zucchini noodles and cook for another 5 minutes.
Season with salt and lemon juice.
Serve the vegetables and broth topped with sliced chicken, bean sprouts, cilantro, fresh chilies, and green onions.
📖 Recipe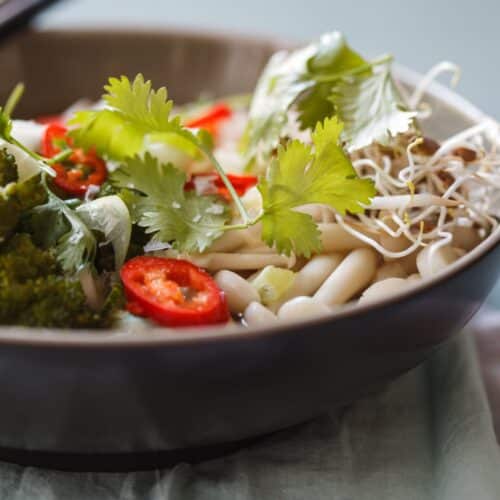 Chicken Ramen With Zucchini Noodles Recipe
This Paleo chicken ramen does not come from a package, and you can be grateful for that! More "real" ingredients, additional nutrients, better taste.
Instructions
In a pot, melt the coconut oil and add the onion.

1 tbsp. coconut oil,

1 small onion

Fry until the onion is soft and translucent, then add the garlic and chili.

1 garlic clove,

1 tsp. sliced red chili

Fry until fragrant, then pour in the chicken broth.

Add the chicken breasts and allow to poach until just cooked. Remove the chicken breasts and set them aside.

Add the coconut aminos, broccoli and shimeji mushrooms to the broth and allow to cook for 5 minutes; then add the zucchini noodles and cook for another 5 minutes.

2 tbsp. coconut aminos,

1 ½ cups broccoli,

1 cup shimeji mushrooms,

2 cups zucchini noodles

Season with salt and lemon juice.

Serve the vegetables and broth topped with sliced chicken, bean sprouts, cilantro, fresh chilies, and green onions.

Bean sprouts,

Fresh cilantro,

Fresh sliced chili,

Green onions
Nutrition
Calories:
1723
kcal
Carbohydrates:
108
g
Protein:
139
g
Fat:
80
g
Saturated Fat:
24
g
Polyunsaturated Fat:
23
g
Monounsaturated Fat:
28
g
Cholesterol:
208
mg
Sodium:
113479
mg
Potassium:
2982
mg
Fiber:
6
g
Sugar:
93
g
Vitamin A:
969
IU
Vitamin C:
118
mg
Calcium:
998
mg
Iron:
8
mg