Sirloin steak is one of the tastiest cuts of beef out there, and if your food budget is a concern, it's a lot less expensive to enjoy this dish at home versus going out to eat.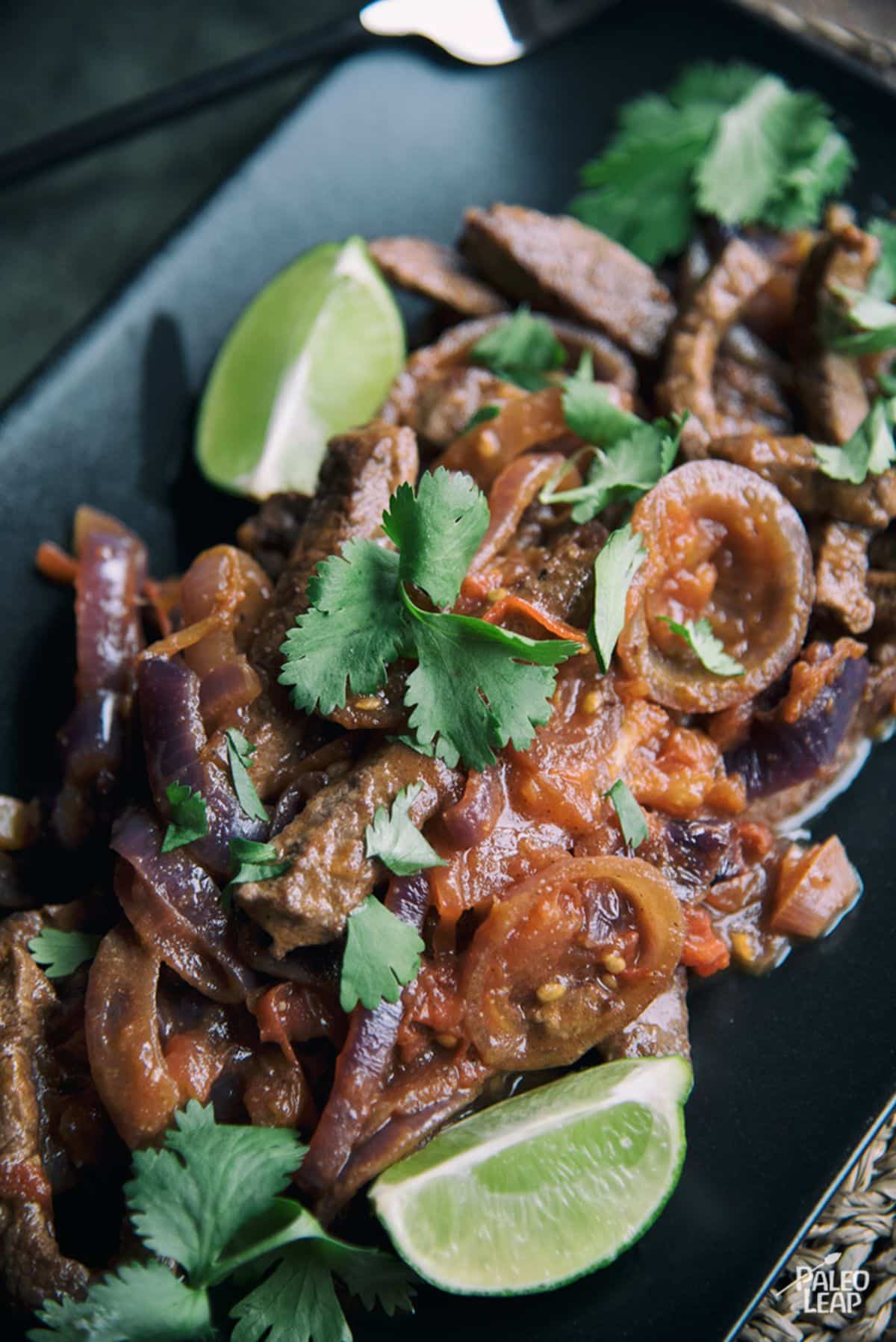 We love this recipe because it's a straightforward dish to prepare, and while there are tons of different ways to enjoy steak, this Colombian-inspired recipe stands out for a few reasons – it keeps things fairly simple, your additional sauce ingredients are inexpensive, and it can be whipped up in under 45 minutes – all great things for nights when you don't have a lot of time to be in the kitchen.
In addition to the steak, the other feature of this recipe is the strong tomato-onion base. For some, these ingredients raw are just too strong but cooked in this recipe, they are beyond delicious. Even better, they provide a dose of micro-nutrients that help take this meal from satisfying to healthful.
Just looking at the tomatoes, you'll be getting a ton of Vitamins A, C, and K, plus the antioxidant lycopene. It makes this dish a great example of why we love Paleo – it's delicious and good for you.
Although this dish doesn't take too long to prepare, it does require your full attention for pretty much the entire cook time, so pairing it with a simpler side is your best bet here. We think a great dish for this is the spicy honey-roasted carrots – they're yummy and very low maintenance.
Colombian Steak With Onion-Tomato Sauce Recipe
Serves: 4 Prep: 15 min Cook: 20 min
Ingredients
2 lbs. sirloin tip steak, sliced
2 onions, thinly sliced
2 tomatoes, sliced
2 garlic cloves, minced
½ cup beef or chicken stock
1 tbsp. ground cumin
Juice from 1 lime
Cooking fat
Fresh cilantro to taste
Sea salt and freshly ground black pepper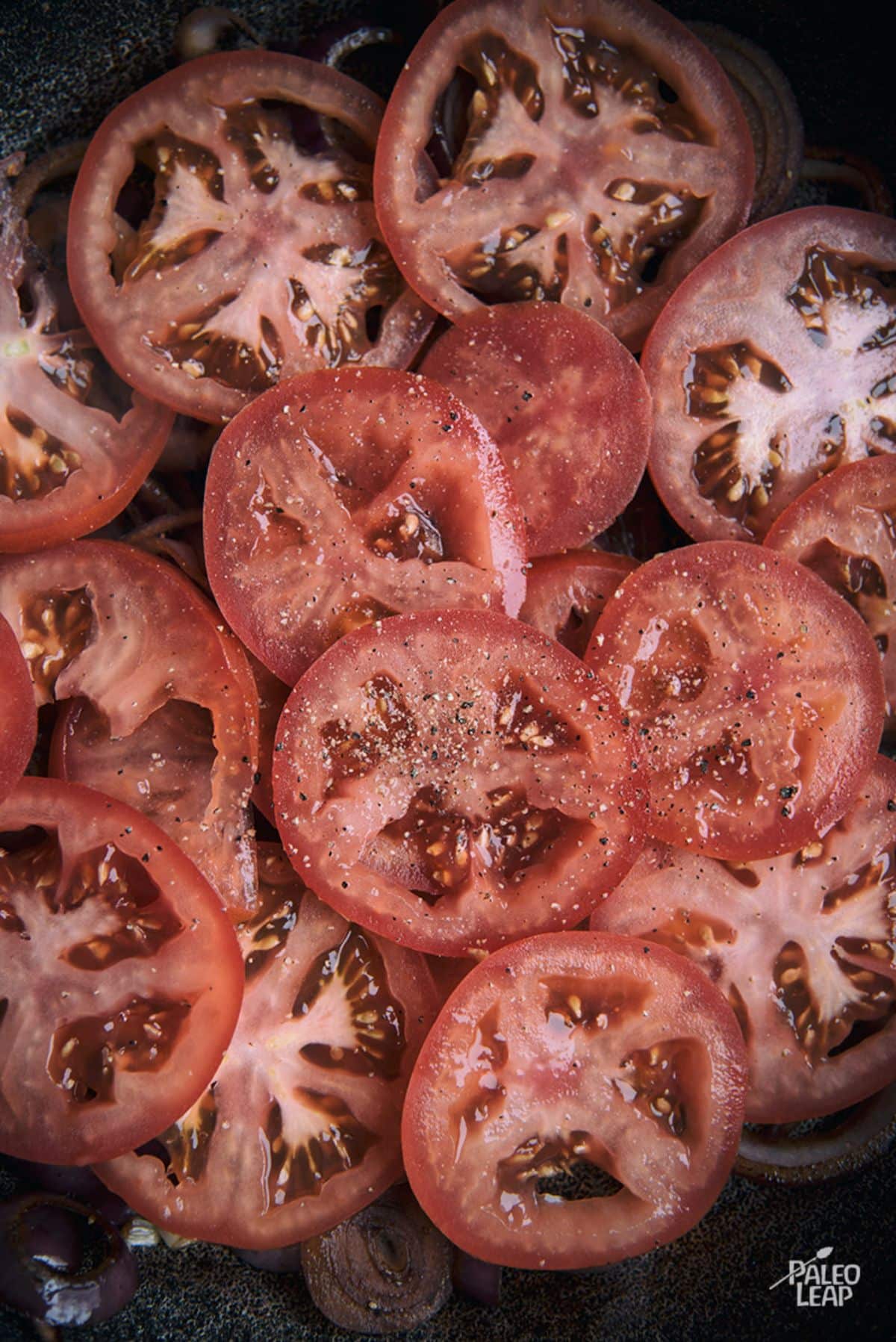 Preparation
Season the steak to taste with sea salt and black pepper.
Melt cooking fat in a skillet over medium-high heat and brown the steak for 4 to 5 minutes; set aside.
Add more cooking fat to the skillet, lower the heat to medium, and add the onions.
Cook, stirring, for 6 to 8 minutes; then, add the garlic and cook another minute or two.
Add in the sliced tomatoes and season to taste with sea salt and freshly ground black pepper.
Pour the chicken or beef stock into the pan and cook, stirring, until the tomatoes are soft, 6 to 8 minutes.
Add the steak back to the skillet; season with cumin and pour lime juice into the mixture.
Toss everything and cook another 2 to 3 minutes.
Adjust seasoning as needed; serve topped with fresh cilantro and sliced lime.
📖 Recipe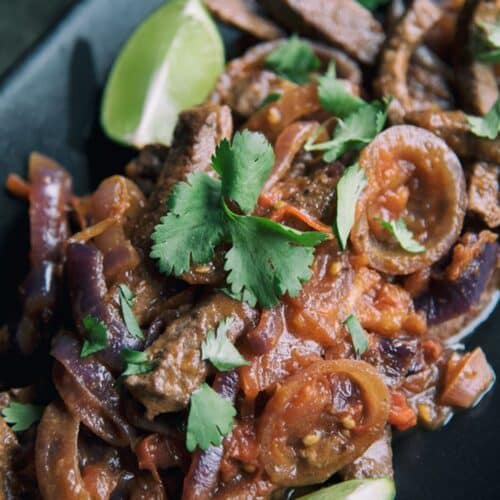 Colombian Steak With Onion-Tomato Sauce Recipe
Enjoy a flavorful twist on sirloin with this Colombian-inspired recipe, which uses a yummy tomato-onion sauce combo to change things up.
Instructions
Season the steak to taste with sea salt and black pepper.

2 lbs. sirloin tip steak,

Sea salt and freshly ground black pepper

Melt cooking fat in a skillet over medium-high heat and brown the steak for 4 to 5 minutes; set aside.

Add more cooking fat to the skillet, lower the heat to medium, and add the onions.

Cook, stirring, for 6 to 8 minutes; then, add the garlic and cook another minute or two.

Add in the sliced tomatoes and season to taste with sea salt and freshly ground black pepper.

2 tomatoes,

Sea salt and freshly ground black pepper

Pour the chicken or beef stock into the pan and cook, stirring, until the tomatoes are soft, 6 to 8 minutes.

½ cup beef or chicken stock

Add the steak back to the skillet; season with cumin and pour lime juice into the mixture.

Toss everything and cook another 2 to 3 minutes.

Adjust seasoning as needed; serve topped with fresh cilantro and sliced lime.

Juice from 1 lime,

Fresh cilantro to taste
Nutrition
Calories:
330
kcal
Carbohydrates:
8
g
Protein:
52
g
Fat:
9
g
Saturated Fat:
3
g
Polyunsaturated Fat:
1
g
Monounsaturated Fat:
4
g
Trans Fat:
0.3
g
Cholesterol:
139
mg
Sodium:
181
mg
Potassium:
1061
mg
Fiber:
1
g
Sugar:
3
g
Vitamin A:
50
IU
Vitamin C:
5
mg
Calcium:
62
mg
Iron:
8
mg