There are certain meals that just work for those days when you are stuck inside. Rain, cold temperatures, or feeling under the weather can leave anyone craving a warm, savory meal. This Creamy Chicken with Wild Mushrooms is a healthy and cozy dish that you can take the time to enjoy.
The combination of mushrooms, herbs, and chicken gives this meal an irresistible, earthy flavor that will please any diner.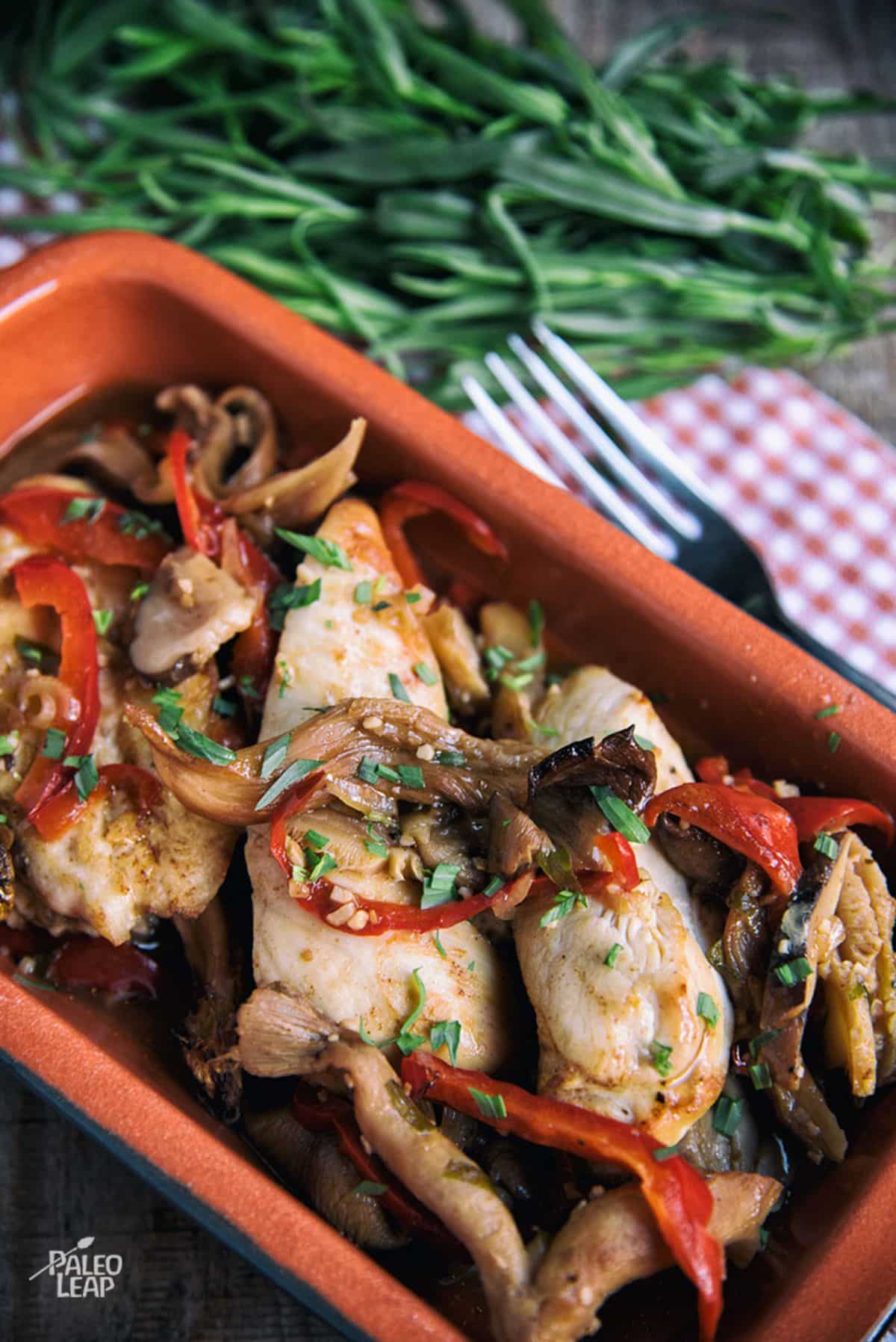 This dish incorporates some of the best Paleo foods for a meal that is packed with healthy fats and vitamins while still tasting sublime. The tarragon in this dish provides a punch of antioxidants while adding depth to the flavor palette.
Try to avoid replacing the fresh herbs in this recipe with jarred spices – there are many ways that you can save your extra herbs for later use.
Also, make sure to consider ways to safely locate wild mushrooms (if you choose to seek these out yourself, make sure to do your research and only gather ones that are safe for consumption).
Many local farmer's markets will have vendors who specialize in this item, and some grocery stores may carry them seasonally. In a pinch, you can replace these with other mushrooms, such as cremini.
This is a great dish for dinner when served with a side that can balance the earthy flavor and textures of the meal. Try pairing it with the Grilled Zesty Sweet Potatoes for a "fall-themed" dinner.
This meal is also wonderful for freezing and reheating for a light but satisfying lunch. Consider doubling up your recipe to make several meals in advance!
Creamy Chicken With Wild Mushrooms Recipe
Serves: 4 Prep: 15 min Cook: 30 min
Ingredients
2 large chicken breasts, sliced into strips
2 cups wild mushrooms, sliced
1 bell pepper, sliced
2 shallots, sliced
3 garlic cloves, minced
1 cup chicken stock
½ cup coconut milk
1 tbsp. fresh tarragon, minced
2 tsp. Dijon mustard
Cooking fat
Sea salt and freshly ground black pepper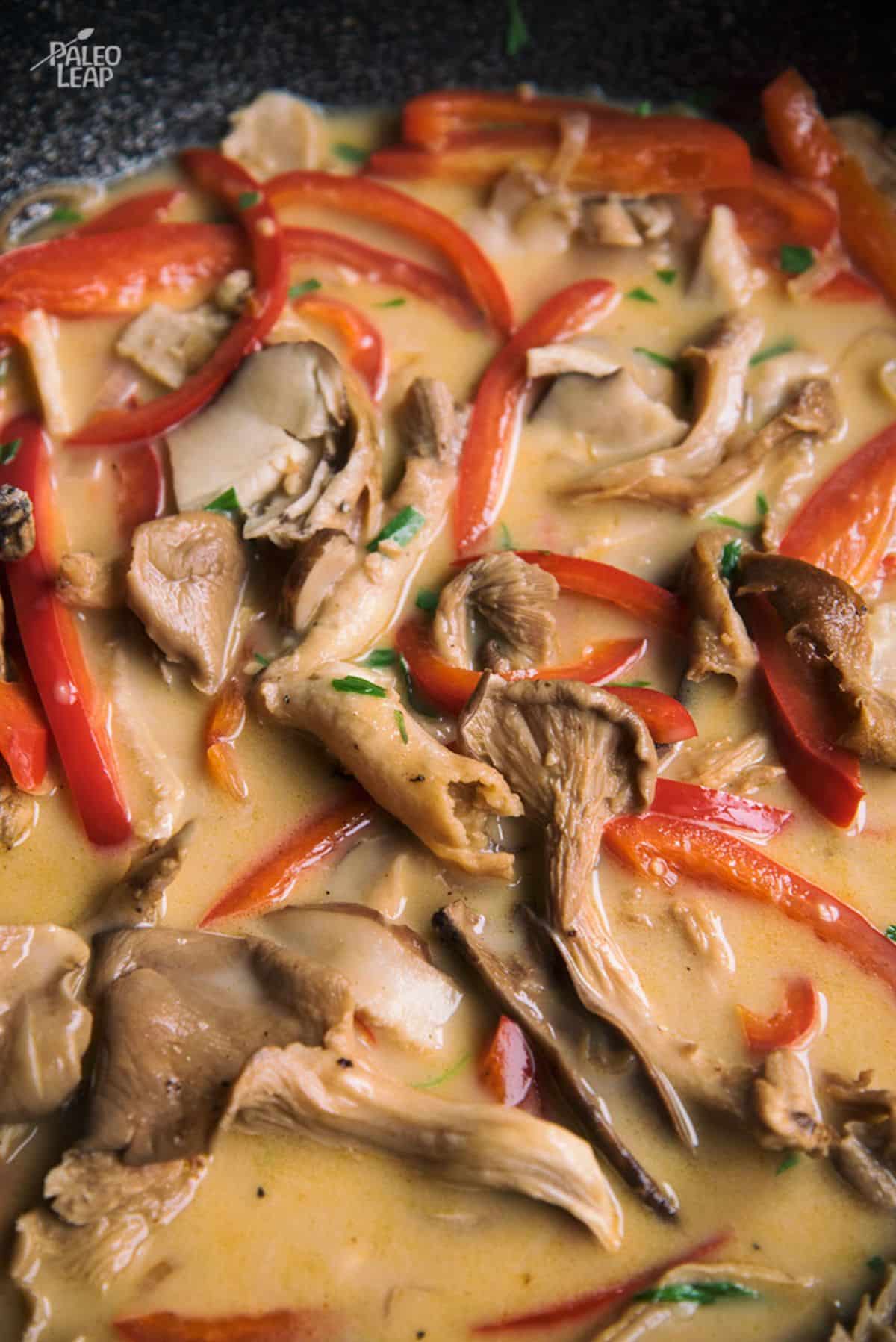 Preparation
Melt cooking fat (about 1 tbsp.) in a skillet over medium-high heat.
Brown the chicken strips for about 2 minutes per side; set aside.
In the same pan, add the garlic and shallots; cook until soft.
Add the bell pepper and mushrooms; cook another 2 minutes.
Pour in the chicken stock and Dijon mustard; stir continuously while scraping the bottom of the pan until fully mixed in.
Carefully add the chicken back to the pan; cover and cook over medium heat for 15 to 20 minutes.
Whisk in the coconut milk and tarragon; cook another 4 to 5 minutes. Adjust seasoning to taste.
📖 Recipe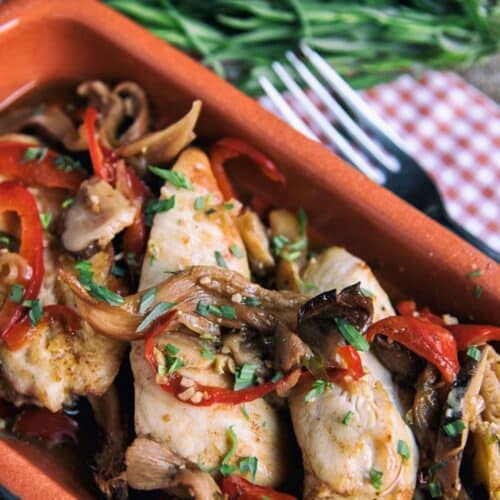 Creamy Chicken With Wild Mushrooms Recipe
Nothing says "fall flavor" quite like an herbed wild mushroom dish. No matter the season, you can step into autumn with this savory meal.
Instructions
Melt cooking fat (about 1 tbsp.) in a skillet over medium-high heat.

Brown the chicken strips for about 2 minutes per side; set aside.

In the same pan, add the garlic and shallots; cook until soft.

3 garlic cloves,

2 shallots

Add the bell pepper and mushrooms; cook another 2 minutes.

1 bell pepper,

2 cups wild mushrooms

Pour in the chicken stock and Dijon mustard; stir continuously while scraping the bottom of the pan until fully mixed in.

1 cup chicken stock,

2 tsp. Dijon mustard

Carefully add the chicken back to the pan; cover and cook over medium heat for 15 to 20 minutes.

Whisk in the coconut milk and tarragon; cook another 4 to 5 minutes. Adjust seasoning to taste.

½ cup coconut milk,

1 tbsp. fresh tarragon,

Sea salt and freshly ground black pepper
Nutrition
Calories:
249
kcal
Carbohydrates:
11
g
Protein:
29
g
Fat:
10
g
Saturated Fat:
6
g
Polyunsaturated Fat:
1
g
Monounsaturated Fat:
2
g
Trans Fat:
0.01
g
Cholesterol:
74
mg
Sodium:
255
mg
Potassium:
925
mg
Fiber:
2
g
Sugar:
4
g
Vitamin A:
1125
IU
Vitamin C:
44
mg
Calcium:
68
mg
Iron:
3
mg