I was at the fish market the other day, and I could not pass up on the fresh scallops. They were a great size, nice, plump, and the perfect color. It's always important to examine the color of the scallops you're buying.
They should be a pale pink color, as anything else means they are not so fresh anymore. I find it much better it to purchase seafood when it's fresh instead of frozen.
Of course, the frozen option is always good to have, especially when what you are looking for is not available or if you buy more than what is needed for a recipe, in which case you can just throw the rest in the freezer and use it at a later date.
That being said, all seafood lovers will attest to the difference between the fresh and frozen options. When considering scallops, you will feel and taste the difference because the pre-frozen ones are often completely white in color and tend to be a lot more chewy when cooked.
I find this to be the case with seafood much more than with fish or meat, so I really make an effort to get fresh seafood while I often get my fish or meat frozen.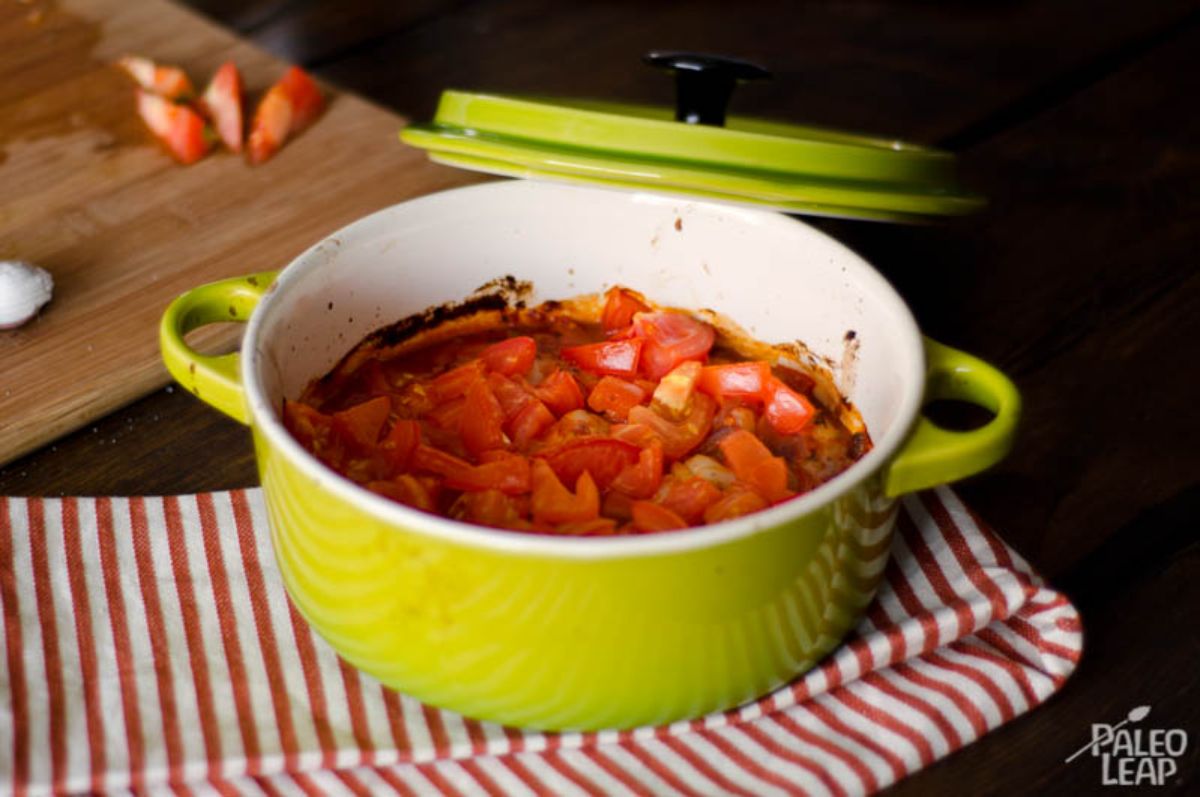 With all this aside, I got myself into a situation I often find myself in, buying something on a whim because it looks good, but with no concrete recipe in mind. I was cooking for guests in the coming days, and I did not want them welcomed by the smell of fish or seafood.
It's not the most pleasant smell for some, and it seems to never leave the house. To avoid this (or at least improve my odds), I decided against pan-frying the scallops, and I opted for a baked recipe. The aroma produced by the tomatoes and herbs was wonderful and certainly helped fill up the house with a great scent.
While scallops can be prepared in a multitude of ways, they are, more often than not, pan-fried. The scallop salad or the lemon and garlic scallops are two example of recipes where the scallops are pan-fried. When the weather permits it, they can also easily be grilled.
However you decide to prepare them, they should be very easy to prepare and require only very minimal preparation and cooking time. Scallops, although nutritious, can be somewhat bland tasting, a bit like chicken can sometimes be, so adding flavors around them is a really good idea.
In this recipe, this is accomplished with the help of a delicious and rich tomato sauce with added coconut milk and fresh oregano. 
The following recipe is also great for non-seafood lovers because the tomato sauce somewhat overpowers the taste of the scallops. It can prove to be a good choice for people trying to eat more seafood but still struggling with the taste.
I hope you'll also enjoy that short video presentation I've prepared for the preparation of this delicious Paleo recipe.
Creamy tomato baked scallops recipe
Serves: 4
Ingredients
12 medium scallops;
¼ cup coconut milk;
¼ cup tomato sauce;
1 cup tomatoes, diced;
1 tablespoon coconut oil;
1 cup red onion, chopped;
3 cloves garlic, minced;
Fresh oregano, finely chopped and to taste;
Sea salt and freshly ground black pepper to taste;
Featured video
Preparation
Preheat your oven to 475F.
In a medium skillet over medium-high heat, saute the onions in the coconut oil. Cook for several minutes until the onion becomes slightly transparent. Add the minced garlic to the mix and cook on medium-low heat. Saute for just a few minutes, and then add the coconut milk and tomato sauce, followed by the oregano. Season to taste with salt and pepper. Mix well and cook for about 2 to 3 minutes.
Lay the scallops on the bottom of a semi-deep baking dish that is large enough so that they do not overlap each other. Pour the coconut milk and tomato mixture on top of the scallops and ensure that they are all well coated. Finish it off by sprinkling the diced tomatoes over the scallops and bake, uncovered, for anywhere between 15 and 20 minutes. You may find you need less time if your scallops are small, but be sure to check that they are cooked through. Cooking them too much is not a good idea either, as overcooked scallops become very chewy.
📖 Recipe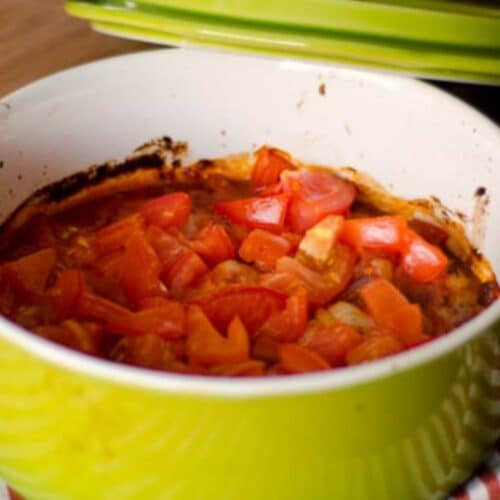 Creamy tomato baked scallops recipe
A paleo recipe for scallops baked in a rich and delicious tomato sauce. An excellent and healthy seafood dish.
Ingredients
12

medium scallops

¼

cup

coconut milk

¼

cup

tomato sauce

1

cup

tomatoes

diced

1

tablespoon

coconut oil

1

cup

red onion

chopped

3

cloves

garlic

minced

Fresh oregano

finely chopped and to taste

Sea salt and freshly ground black pepper to taste
Instructions
Preheat your oven to 475F.

In a medium skillet over medium-high heat, saute the onions in the coconut oil. Cook for several minutes until the onion becomes slightly transparent. Add the minced garlic to the mix and cook on medium-low heat. Saute for just a few minutes, and then add the coconut milk and tomato sauce, followed by the oregano. Season to taste with salt and pepper. Mix well and cook for about 2 to 3 minutes.

¼ cup coconut milk,

1 cup red onion,

Sea salt and freshly ground black pepper to taste

Lay the scallops on the bottom of a semi-deep baking dish that is large enough so that they do not overlap each other. Pour the coconut milk and tomato mixture on top of the scallops and ensure that they are all well coated. Finish it off by sprinkling the diced tomatoes over the scallops and bake, uncovered, for anywhere between 15 and 20 minutes. You may find you need less time if your scallops are small, but be sure to check that they are cooked through. Cooking them too much is not a good idea either, as overcooked scallops become very chewy.

12 medium scallops,

¼ cup tomato sauce,

1 cup tomatoes,

1 tablespoon coconut oil,

3 cloves garlic,

Fresh oregano
Video
Nutrition
Calories:
134
kcal
Carbohydrates:
11
g
Protein:
7
g
Fat:
8
g
Saturated Fat:
6
g
Polyunsaturated Fat:
0.3
g
Monounsaturated Fat:
1
g
Trans Fat:
0.003
g
Cholesterol:
11
mg
Sodium:
332
mg
Potassium:
404
mg
Fiber:
2
g
Sugar:
5
g
Vitamin A:
199
IU
Vitamin C:
10
mg
Calcium:
37
mg
Iron:
2
mg