A classic comfort food meal, these paleo cabbage rolls are a perfect slow cooker meal for your menu. We love the flavors of the Crockpot cabbage rolls, but you will love how easy they are to throw together. Spend about 15 minutes in the kitchen then let it cook to perfection while you work!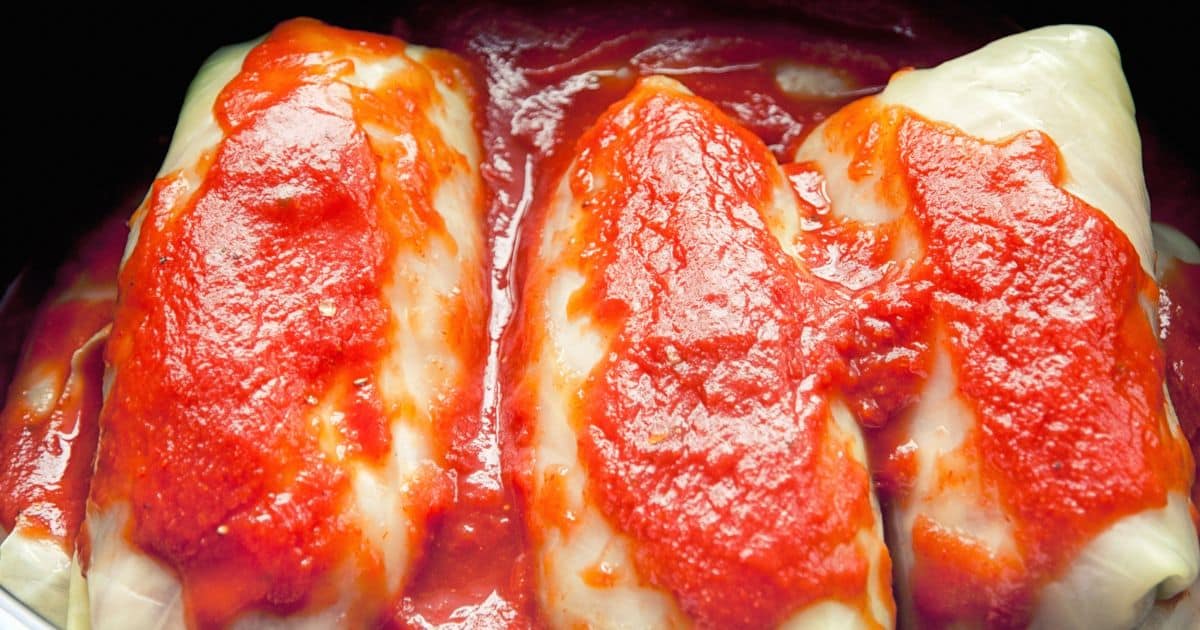 Paleo Cabbage Rolls
You've probably had a version of this recipe in the past, but adding in rice keeps it from being paleo. So, for this version, we have combined the classic ground beef with riced cauliflower for texture.
This combination builds delicious flavor that is sure to become a family favorite, even for the non-paleo people at your dinner table.
I recommend keeping it simple and serving them with a side salad or roasted vegetables. The cabbage rolls themselves are already packed with veggies and protein, so you don't need a lot of additional sides. However, if you're feeling indulgent, you could also serve them with a side of mashed sweet potatoes or these creamy garlic mushrooms.
Ingredients
Serves: 6 Prep Time: 15 Cook Time: 7 to 8 hours
12 large cabbage leaves
1 egg
¼ cup beef stock
¼ cup chopped onion
1 lb. ground beef
1 cup riced cauliflower
8 oz tomato sauce
1 tablespoon lemon juice
Sea salt and freshly ground black pepper to taste
How to Make Crockpot Cabbage Rolls
Begin by bringing a large stockpot of water to a rolling boil. Then drop the cabbage leaves and cook them for 2 minutes until they are just softening. Remove immediately and drop in a bowl of ice water or run under cold water.
Now, in a large bowl, combine the broth (beef or chicken), onion, ground beef, riced cauliflower, and egg. Mix this together until nicely combined. Add seasoning to taste, I usually start with 1 teaspoon salt and ½ teaspoon black pepper, but you can add more or less.
Now, on a clean surface, place the cabbage leaves and add a scoop of the meat into the center near the base of the leaf. You may want to divide the mixture ahead of time into 12 equal portions.
Once you have the beef on the cabbage leaves, you will fold the sides of the leaves and roll them on themselves to close the mixture inside. Similar to a burrito or eggroll.
In a small bowl, whisk together the tomato sauce with lemon juice and an additional pinch of salt and pepper. You can add Italian herbs now too if desired.
Lay the cabbage rolls in the slow cooker, creating a bottom layer, then stacking on top if needed. Pour the tomato sauce over and cover with the lid.
Cook on low heat for 6 to 8 hours.
More Paleo Crockpot Meals
The slow cooker is the best appliance for easy meals. Not only is it a time saver, but it also leaves little to clean up after dinner. Below are a few more Crock-Pot meals for your paleo menu this week. Bookmark your favorites, print out the recipes you like, or pin them to Pinterest to make soon!
So, there you have it: paleo Crockpot cabbage rolls that are easy, healthy, and delicious. Give this recipe a try and let me know what you think in the comments below. Happy cooking!
📖 Recipe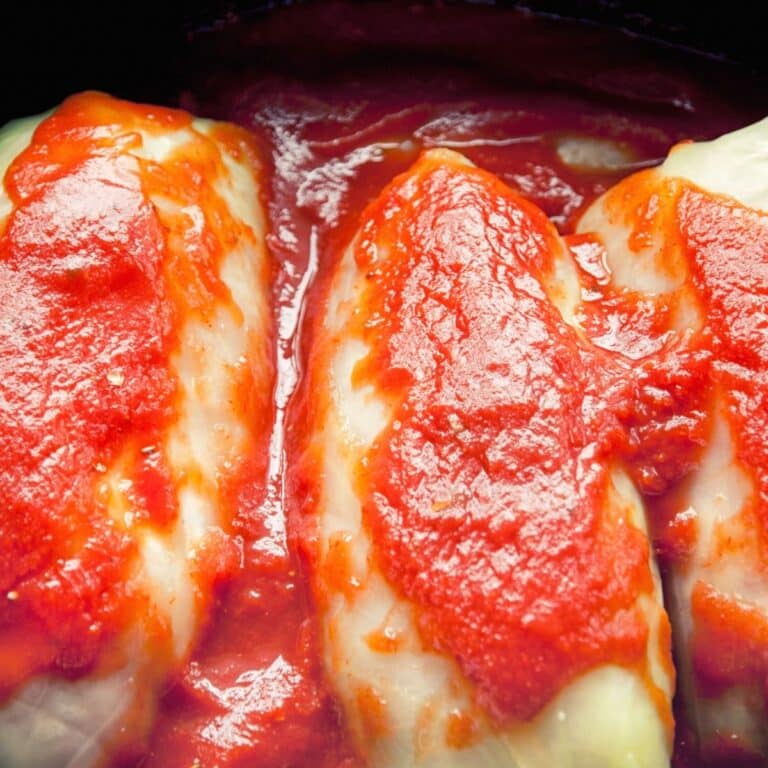 Paleo Crockpot Cabbage Rolls
Try our crockpot cabbage rolls recipe for an easy paleo-friendly meal! Packed with flavor and easy to make, this dish is sure to impress.
Instructions
Boil the cabbage leaves for 2 minutes, then immediately place in a bowl of ice water, or run under cold water to end the cooking process.

In a large bowl, combine the broth, onion, beef, cauliflower, and egg. Mix this together until combined. Add salt and pepper to taste.

1 egg,

¼ cup beef stock,

¼ cup chopped onion,

1 cup riced cauliflower,

1 lb. ground beef

Place the cooked cabbage leaves on a flat surface, and add a spoon of beef toward the base of each leaf. Carefully fold the sides over, then begin rolling away and tucking the cabbage over the beef.

In a small bowl, whisk the tomato sauce and lemon juice to create a sauce. Add salt, pepper, and herbs as desired.

8 oz tomato sauce,

1 tablespoon lemon juice,

Sea salt and freshly ground black pepper to taste

Place the cabbage rolls into the Crockpot then top with the sauce.

Cover with the lid and cook on low heat for 6 to 8 hours.
Notes
Replace the ground beef with ground pork, ground bison, ground Italian sausage, or even ground venison for a different flavor. 
Use can use any sugar-free and paleo-friendly marinara sauce in place of tomato sauce. 
Feel free to season the beef mixture with additional herbs or spices such as garlic, onion powder, paprika, chili powder, or Italian herb blends. 
Nutrition
Serving:
6
g
Calories:
232
kcal
Carbohydrates:
6
g
Protein:
16
g
Fat:
16
g
Saturated Fat:
6
g
Polyunsaturated Fat:
1
g
Monounsaturated Fat:
7
g
Trans Fat:
1
g
Cholesterol:
81
mg
Sodium:
273
mg
Potassium:
570
mg
Fiber:
2
g
Sugar:
3
g
Vitamin A:
382
IU
Vitamin C:
32
mg
Calcium:
74
mg
Iron:
2
mg