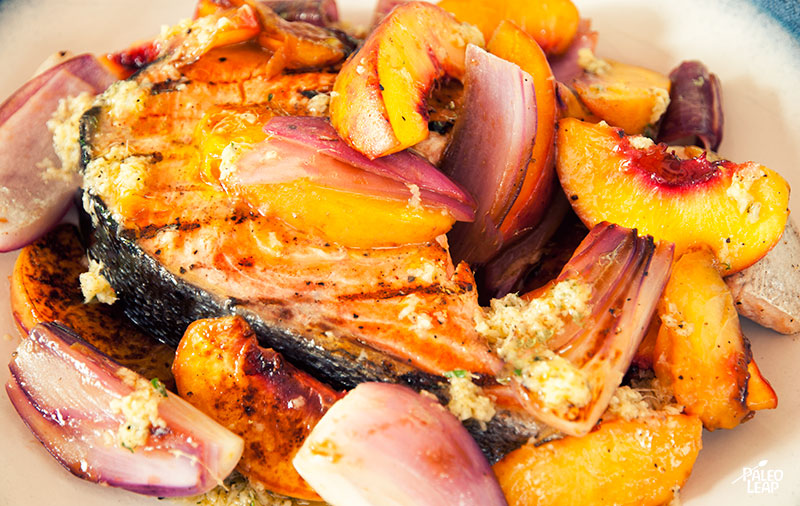 Smoky grilled salmon with juicy peaches and red onions wouldn't be out of place in a dressy restaurant, but this recipe is actually very simple to make on your own grill – just another proof that "good food" is more about fresh, flavorful ingredients than arcane culinary secrets. The white wine vinaigrette adds an extra touch of elegance, and the fresh seasonings bring everything together. And it's even autoimmune-friendly, since there aren't any spices or seasonings made from nightshades.
Grilling everything gives you nice matching char lines, but you could also use a baking tray to cook the peaches and the onions, especially if your grill has wider-set bars and you're worried about them falling through the cracks. Either way, the topping still has a fantastic flavor and really makes the salmon stand out.
You could make this recipe any time of year, but it's especially good in the late summer, when you can pick the thyme fresh out of the garden and the peaches are at the height of their juiciness. Serve it with some other seasonal produce – maybe roasted tomatoes – and enjoy!
Ginger Salmon With Peaches Recipe

SERVES: 4

PREP: 15 min.

COOK: 15 min.

Values are per portion. These are for information only & are not meant to be exact calculations.
Ingredients
4 salmon steaks;
2 medium red onions, cut into wedges;
3 peaches, cut into wedges;
1 tbsp. grated fresh ginger;
1 tsp. fresh thyme leaves;
1 tbsp. white wine vinegar;
3 tbsp. extra-virgin olive oil;
Sea salt and freshly ground black pepper;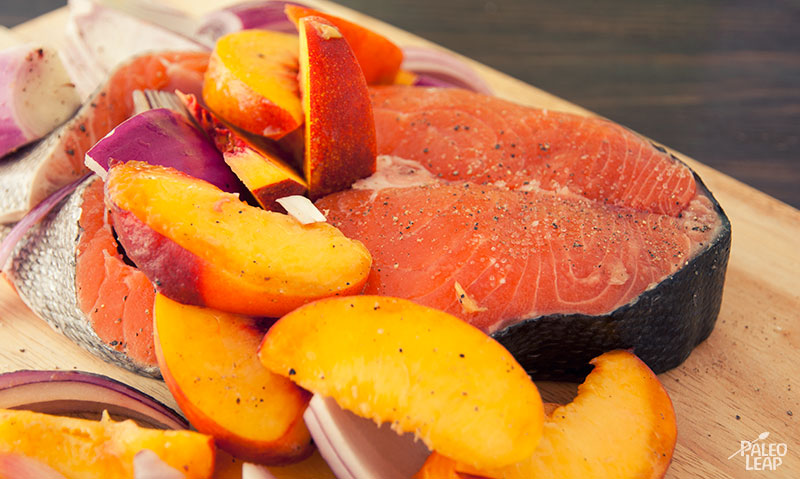 Preparation
Preheat your grill to a medium-high heat.
In a small bowl, make the vinaigrette by combining the white wine vinegar, ginger, thyme, olive oil, and salt and pepper to taste. Set the vinaigrette aside for now.
Season each salmon steak to taste with sea salt and freshly ground black pepper.
In a bowl, toss the onions and peaches and season to taste.
Grill the salmon until opaque throughout (5 to 6 minutes per side).
After flipping the salmon on its second side, place the peaches and onions on the grill and cook until tender, about 3 to 4 minutes per side.
Drizzle the salmon with the vinaigrette and serve with the onions and peaches.