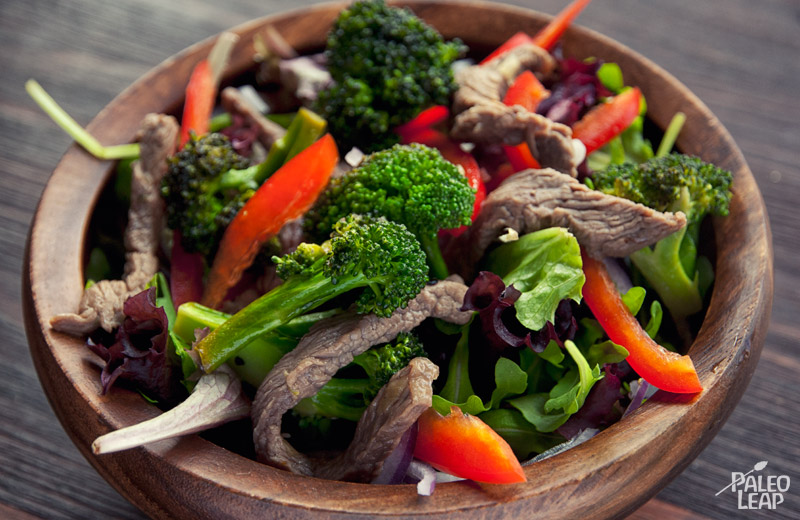 A bright, gingery vinaigrette balances out the rich steak and crunchy vegetables in this quick and simple salad that puts a new twist on a classic stir-fry combo. Pan-frying the beef and broccoli right in the dressing ensures that the flavor sinks all the way in, and then tossing the results with the cold salad greens, sharp onion slices, and crunchy peppers brings out the flavors even more with an exciting contrast of textures and temperatures. If you want to impress your friends with your sophisticated cooking skills, this is definitely a salad to consider.
For the beef in this recipe, I suggest sirloin steak, but you can also use any other cut available; in fact, you can even replace the beef with chicken if you're looking for something a little lighter. You also shouldn't feel married to this particular ginger vinaigrette: if you have another one that you like, you can always use that as well.
For a light lunch on its own, this would be a perfect choice; if you want something a little more filling, why not try a soup to go along with it? Some guacamole would also make a tasty and nutritious side dish, if you're in the mood for avocado. The beauty of salads is that they can be combined with almost anything to make a satisfying meal; as long as you end up satisfied with your dinner, there is no "wrong" answer!
Gingered Beef Salad Recipe
Add to Meal Plan
Ingredients
1 lb. beef sirloin steak, cut into thin strips;
2/3 cup ginger vinaigrette salad dressing; (recipe below)
3 cups broccoli, cut into florets;
8 cups mixed spring or baby salad greens;
1 red bell pepper, thinly sliced;
1 red onion, thinly sliced;
Ginger vinaigrette salad dressing ingredients
1 tbsp. fresh ginger, minced;
2 tbsp. shallots, minced;
1 tbsp. rice wine vinegar;
2 tbsp. lime juice;
½ cup extra-virgin olive oil;
Sea salt and freshly ground black pepper to taste;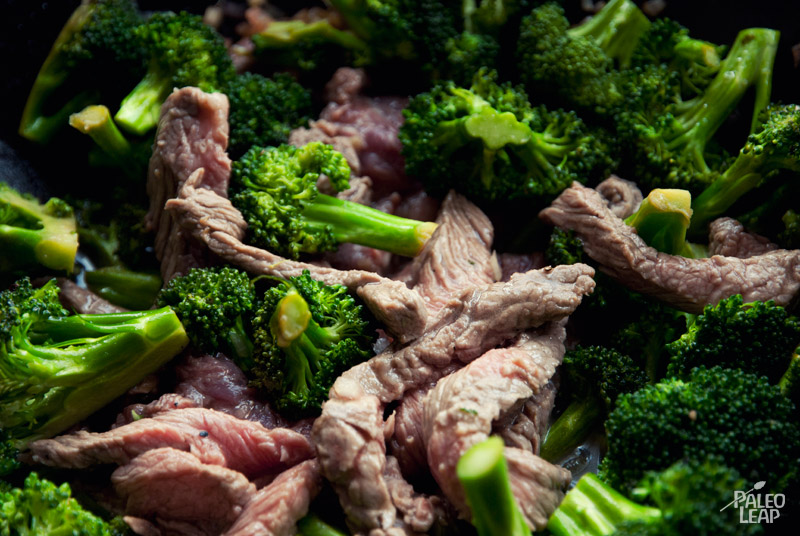 Preparation
In a bowl, combine all of the ingredients for the vinaigrette, season to taste, and whisk well.
In a skillet placed over a medium-high heat, warm up 2 tbsp. of the ginger vinaigrette.
Add the broccoli to the warm vinaigrette and cook for 3 minutes.
Add the beef to the skillet and cook another 3 minutes, then remove the skillet from the heat.
In a salad bowl, combine the mixed greens, bell pepper, onion,  beef and broccoli.
Drizzle the salad with the remaining vinaigrette, toss, and serve.