Did you know that a study from the University of California, Berkeley, recently found that fresh ripe tomatoes with olive oil were scientifically proven to be the perfect summer salad?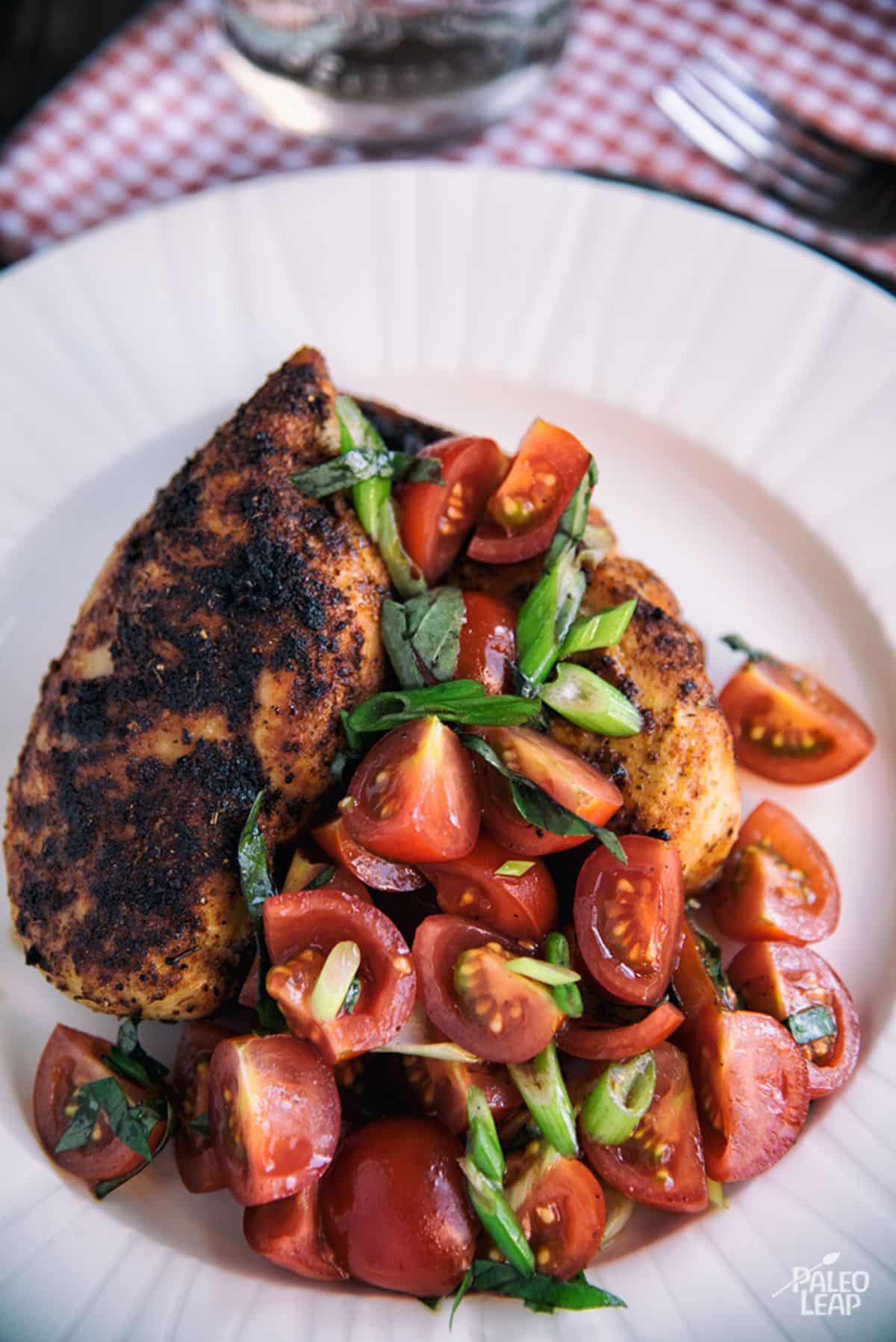 OK, not really. That's a made-up study. But if anyone ever did find a way to scientifically measure the perfect summer salad, then tomatoes with olive oil would probably be the winner, especially if you add some fresh herbs and a splash of balsamic vinegar to bring out the flavors! And on top of the taste, this salad is also an antioxidant powerhouse.
For protein, add some grilled chicken with a simple herb rub. It's nothing that will steal the show from the tomatoes, but this type of chicken recipe is great for making double or triple and saving the leftovers, especially as the weather starts edging towards "too hot to cook."
It's just so nice to have some pre-cooked protein already in the fridge, and it gives you a reason to play around with even more salad options.
Grilled Chicken With Basil Tomato Salad Recipe
SERVES: 4 PREP: 20 min COOK: 25 min
Ingredients
4 chicken breasts, boneless and skinless
2 tsp. herbes de provence
1 tsp. paprika
½ tsp. garlic powder
½ tsp. onion powder
1 tablespoon fresh lemon zest
2 cups cherry tomatoes, halved
¼ cup basil leaves, minced
4 tbsp. balsamic vinegar
4 tbsp. extra-virgin olive oil
Sea salt and freshly ground black pepper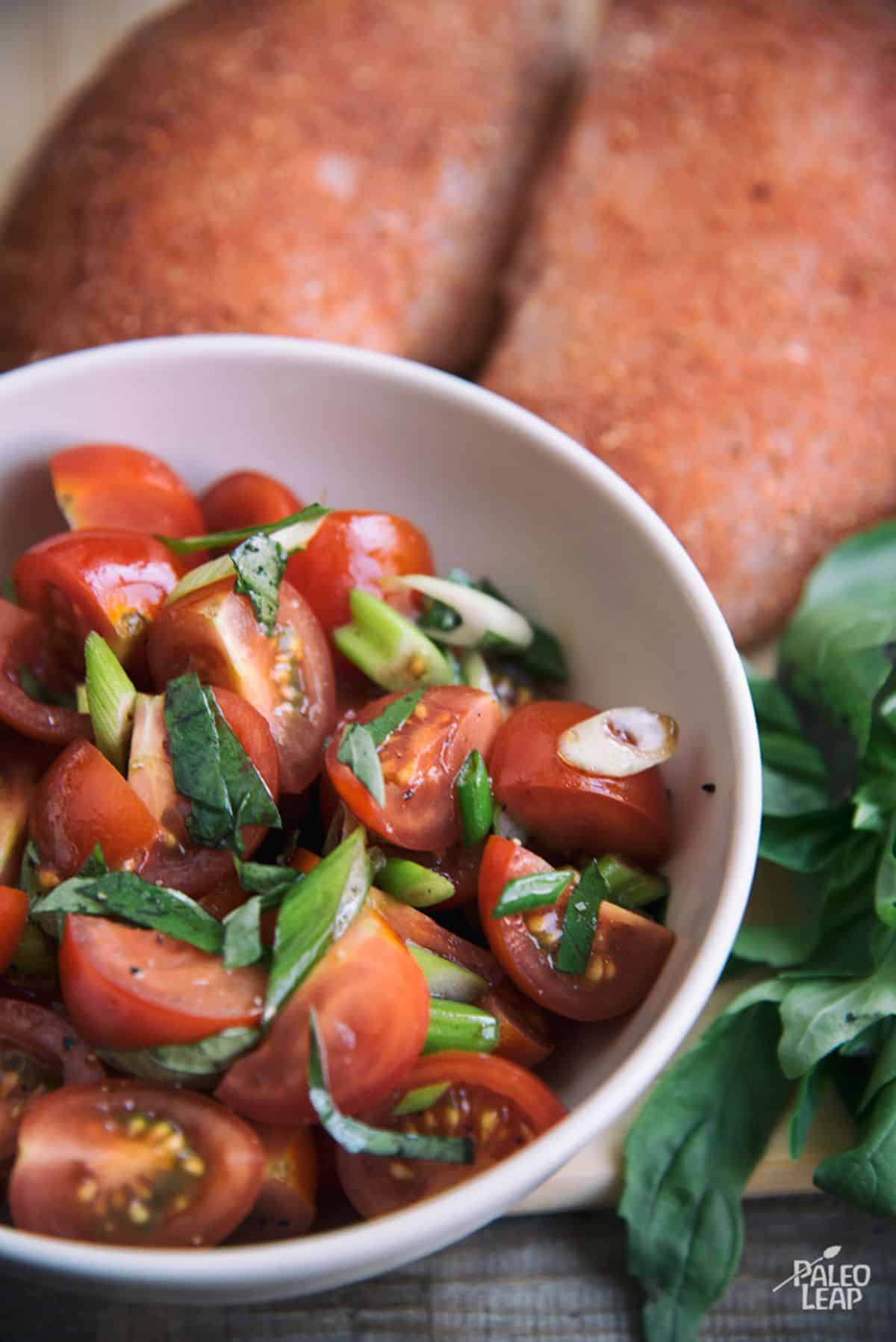 Preparation
Preheat a grill to medium-high heat.
In a bowl, combine the herbes de provence, garlic powder, onion powder, paprika, lemon zest, and salt and pepper to taste.
Sprinkle the spice mixture all over the chicken breasts.
Place on the preheated grill and cook for 10 to 12 minutes per side until cooked through.
In a bowl, combine the cherry tomatoes, basil, balsamic vinegar, and olive oil.
Toss everything together and season to taste.
Serve each chicken breast topped with the basil tomato salad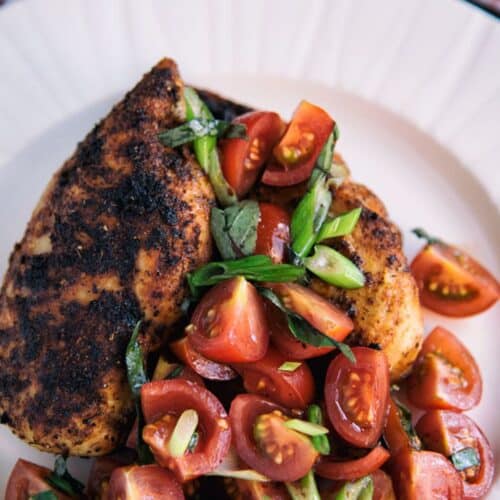 Grilled Chicken With Basil Tomato Salad Recipe
Juicy ripe tomatoes steal the show here, but the simple grilled chicken is a winner for convenience and bulk-cooking value.
Ingredients
4

chicken breasts

boneless and skinless

2

tsp.

herbes de provence

1

tsp.

paprika

½

tsp.

garlic powder

½

tsp.

onion powder

1

tablespoon

fresh lemon zest

2

cups

cherry tomatoes

halved

¼

cup

basil leaves

minced

4

tbsp.

balsamic vinegar

4

tbsp.

extra-virgin olive oil

Sea salt and freshly ground black pepper
Instructions
Preheat a grill to medium-high heat.

In a bowl, combine the herbes de provence, garlic powder, onion powder, paprika, lemon zest, and salt and pepper to taste.

2 tsp. herbes de provence,

1 tsp. paprika,

½ tsp. garlic powder,

½ tsp. onion powder,

1 tablespoon fresh lemon zest,

Sea salt and freshly ground black pepper

Sprinkle the spice mixture all over the chicken breasts.

Place on the preheated grill and cook for 10 to 12 minutes per side until cooked through.

In a bowl, combine the cherry tomatoes, basil, balsamic vinegar, and olive oil.

2 cups cherry tomatoes,

¼ cup basil leaves,

4 tbsp. balsamic vinegar,

4 tbsp. extra-virgin olive oil

Toss everything together and season to taste.

Serve each chicken breast topped with the basil tomato salad
Nutrition
Calories:
456
kcal
Carbohydrates:
9
g
Protein:
55
g
Fat:
21
g
Saturated Fat:
4
g
Polyunsaturated Fat:
3
g
Monounsaturated Fat:
13
g
Cholesterol:
146
mg
Sodium:
142
mg
Potassium:
688
mg
Fiber:
2
g
Sugar:
4
g
Vitamin A:
1181
IU
Vitamin C:
21
mg
Calcium:
95
mg
Iron:
6
mg