Does anything smell more like high summer than fresh, newly-crushed basil? Even without a ripe tomato as its partner-in-crime, basil brings an irresistible herbal flavor (not to mention a mouthwatering smell!) to these pork chops, in the form of a quick and simple wet rub. With some lemon along for the ride, it's a very fresh and light way to serve your pork chops. And with all the flavor from the herbs and citrus, this is an ideal choice for anyone on the autoimmune protocol (where a lot of spices are iffy or downright forbidden). You won't find any paprika, chili, or other nightshade-based spices here, so it's a delicious meal that won't interrupt your healing.
If you want to make the rub even easier, you can throw it all in a blender to combine instead of mixing it by hand. Then just introduce it to the pork chops, let them hang out together and get friendly for a while, and then toss the meat on the grill until it's as done as you like it (the precise time will vary depending on the thickness of your chops).
Stuck for a side dish? Try the lemon-herb zucchini from this recipe for a quick vegetable that you can throw right on the grill with the pork. Or just toss on any other vegetable that you have; the beauty of such a simple flavor is that it's easy to pair with pretty much anything. Just grab your favorite vegetable, slice, grill until it's perfectly charred, and enjoy!
Grilled Pork With Basil Rub Recipe

SERVES: 4

PREP: 30 min.

COOK: 12 min.
Values are per portion. These are for information only & are not meant to be exact calculations.
Ingredients
4 bone-in pork loin chops;
2 garlic cloves, minced;
1 cup fresh basil leaves, minced;
2 tbsp. fresh lemon juice;
2 tbsp. extra-virgin olive oil;
Sea salt and freshly ground black pepper;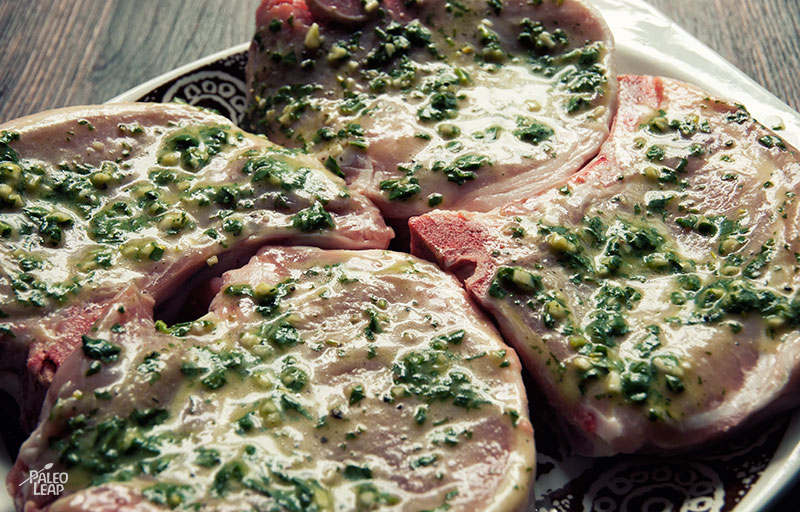 Preparation
In a bowl, combine the garlic, basil, lemon juice, olive oil, and season with salt and pepper to taste.
Spread the rub on both side of the pork chops, and marinate for 30 to 45 minutes.
Preheat your grill to a medium high heat.
Place the chops on the grill, and cook for about 6 minutes per side, or until the chops are just cooked through.