Nothing beats fresh thyme and oregano on chicken breasts, except for dried ones when you cannot just go out and nip it from the garden or store.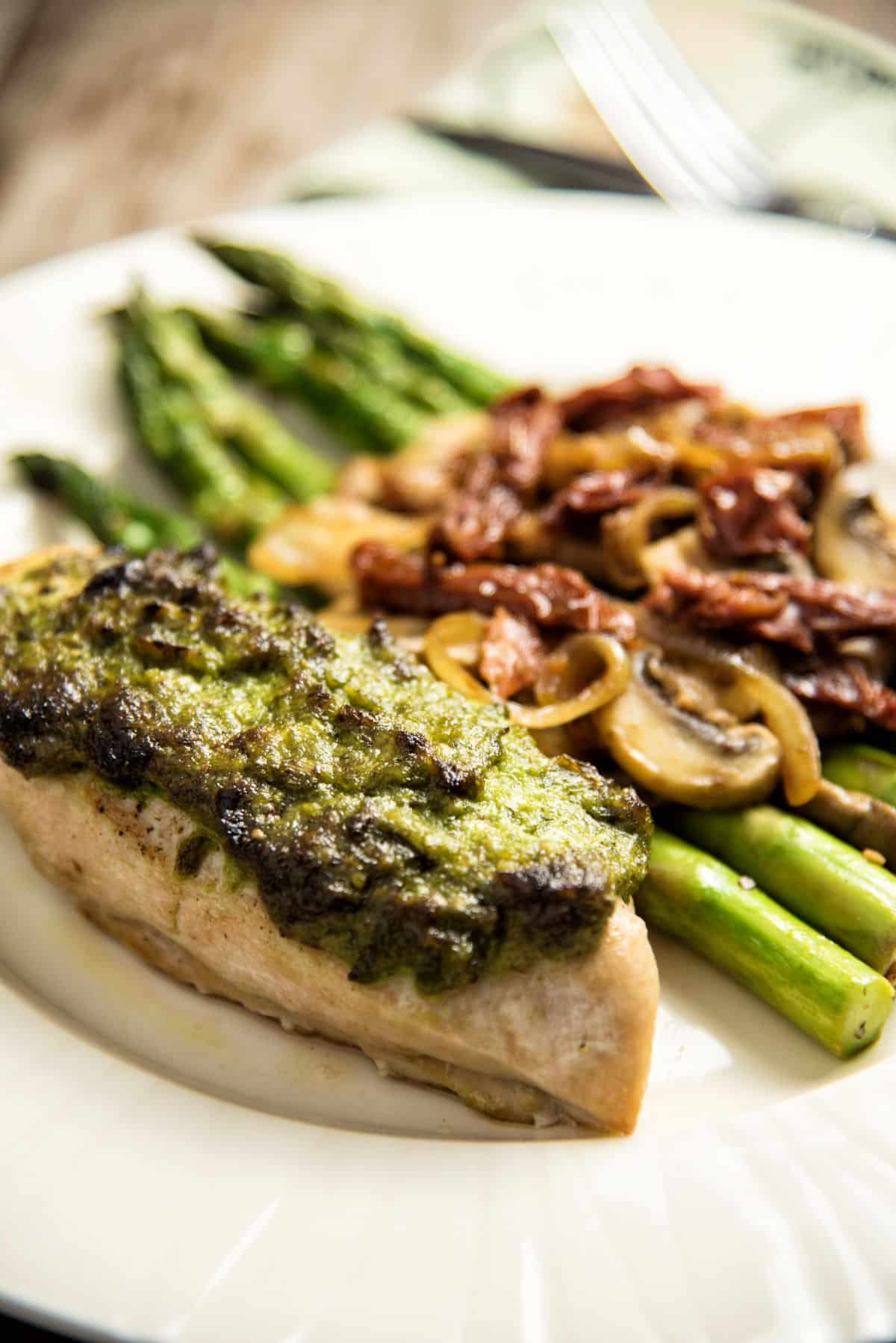 In this case, you are going to make an herb mixture with a generous amount of green onions and olive oil to spoon over the browned chicken breasts before turning to the oven to complete the dish. The choice is yours, don't sweat the small stuff.
Rather invest your energy in hunting for the best asparagus you can find. Keep in mind that size does not matter, as it is not the best indicator of either quality or flavor. What you should be looking for, however, is firm spears with closed tips.
Avoid stalks that appear woody at all costs. If your stalks do happen to have woody ends, simply chop them off before cooking. Asparagus does not last long out of the ground, so make sure to consume it right away. If you need to wait a day, or two, you can refrigerate asparagus stalks, standing them in a bowl of water.
Fresh asparagus is worth the extra care cause it tastes great and adds a splash of nourishing spring green to your meal as it provides you with fiber, folate, and essential vitamins.
Meat and vegetables may be considered a stand-alone dish. However, we have been known to serve this with zesty sweet potatoes or a colorful balsamic tomato and onion salad from time to time.
Herb Roasted Chicken Breasts With Pan-Fried Vegetables Recipe
Serves: 4 Prep: 15 min Cook: 30 min
Ingredients
4-6 boneless, skinless chicken breasts
2 cups green onions, chopped
2 garlic cloves, minced
3 tbsp. fresh thyme, chopped
3 tbsp. fresh oregano, chopped
1 tsp. salt
4 tbsp. olive oil
2 tbsp. grated ginger
½ tbsp. ground black pepper
½ tsp. ground nutmeg
Cooking fat
Freshly squeezed lime juice
Pan-fried Vegetable Ingredients
12 asparagus stalks, woody ends chopped
1 ½ cups sliced white mushrooms
10-12 sun-dried tomatoes, chopped
1 onion, sliced
2 garlic cloves, minced
2 tbsp. cooking fat
Salt and pepper to taste
Preparation
Preheat oven to 375 F.
In a food processor, combine green onions, garlic, thyme, oregano, salt, and olive oil. Process until puréed.
Add ginger, black pepper, and nutmeg to the mixture and continue to process.
Melt some cooking fat in a skillet over medium-high heat, and brown each chicken breast on both sides for 2 to 3 minutes.
Lay the chicken breasts on a baking sheet. Spoon herb mixture on top of each chicken breast, and spread so that the chicken is evenly covered.
Cook the chicken, uncovered, for approximately 25 minutes, or until the juices from the meat run clear.
Sprinkle fresh lime juice over the chicken for additional flavor.
For pan-fried vegetables: In a large skillet over medium heat, allow the cooking fat to melt.
Add garlic and onion, and cook for a few minutes.
Place asparagus in the pan. Allow cooking for approximately 5-10 minutes, depending on how thick the stalks are. Stir often.
Once the asparagus starts to become slightly tender, add mushrooms and tomatoes. Continue to cook until mushrooms shrink in size and the asparagus is tender.
📖 Recipe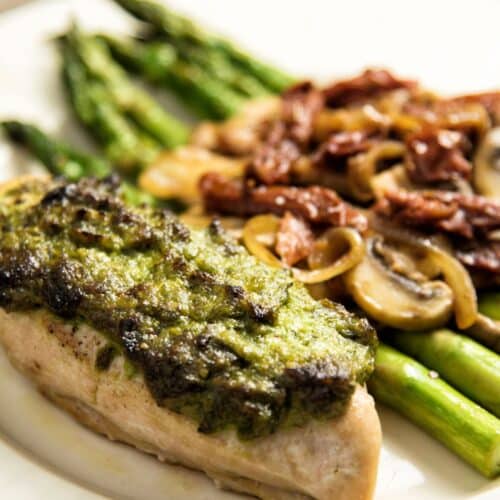 Herb Roasted Chicken Breasts With Pan-Fried Vegetables Recipe
Chicken breast that is neither boring nor dry? Try this green onion herb mixture on your baked chicken, life will never be the same.
Ingredients
4-6

boneless

skinless chicken breasts

2

cups

green onions

chopped

2

garlic cloves

minced

3

tbsp.

fresh thyme

chopped

3

tbsp.

fresh oregano

chopped

1

tsp.

salt

4

tbsp.

olive oil

2

tbsp.

grated ginger

½

tbsp.

ground black pepper

½

tsp.

ground nutmeg

Cooking fat

Freshly squeezed lime juice
Pan-fried Vegetable Ingredients
12

asparagus stalks

woody ends chopped

1 ½

cups

sliced white mushrooms

10-12

sun-dried tomatoes

chopped

1

onion

sliced

2

garlic cloves

minced

2

tbsp.

cooking fat

Salt and pepper to taste
Instructions
Preheat oven to 375 F.

In a food processor, combine green onions, garlic, thyme, oregano, salt, and olive oil. Process until puréed.

2 cups green onions,

2 garlic cloves,

3 tbsp. fresh thyme,

3 tbsp. fresh oregano,

1 tsp. salt,

4 tbsp. olive oil

Add ginger, black pepper, and nutmeg to the mixture and continue to process.

2 tbsp. grated ginger,

½ tbsp. ground black pepper,

½ tsp. ground nutmeg

Melt some cooking fat in a skillet over medium-high heat, and brown each chicken breast on both sides for 2 to 3 minutes.

Cooking fat,

4-6 boneless

Lay the chicken breasts on a baking sheet. Spoon herb mixture on top of each chicken breast, and spread so that the chicken is evenly covered.

Cook the chicken, uncovered, for approximately 25 minutes, or until the juices from the meat run clear.

Sprinkle fresh lime juice over the chicken for additional flavor.

Freshly squeezed lime juice

For pan-fried vegetables: In a large skillet over medium heat, allow the cooking fat to melt.

Add garlic and onion, and cook for a few minutes.

Place asparagus in the pan. Allow cooking for approximately 5-10 minutes, depending on how thick the stalks are. Stir often.

Once the asparagus starts to become slightly tender, add mushrooms and tomatoes. Continue to cook until mushrooms shrink in size and the asparagus is tender.

1 ½ cups sliced white mushrooms,

10-12 sun-dried tomatoes
Nutrition
Calories:
2488
kcal
Carbohydrates:
26
g
Protein:
296
g
Fat:
136
g
Saturated Fat:
53
g
Polyunsaturated Fat:
11
g
Monounsaturated Fat:
68
g
Trans Fat:
6
g
Cholesterol:
898
mg
Sodium:
1453
mg
Potassium:
5884
mg
Fiber:
11
g
Sugar:
7
g
Vitamin A:
1713
IU
Vitamin C:
36
mg
Calcium:
503
mg
Iron:
40
mg