There are many ways to make a delicious seafood main course, and we believe that the more creative, the better. This Mahi Mahi recipe is a great example of a delicious meal that doesn't need to be overly complicated or time-consuming.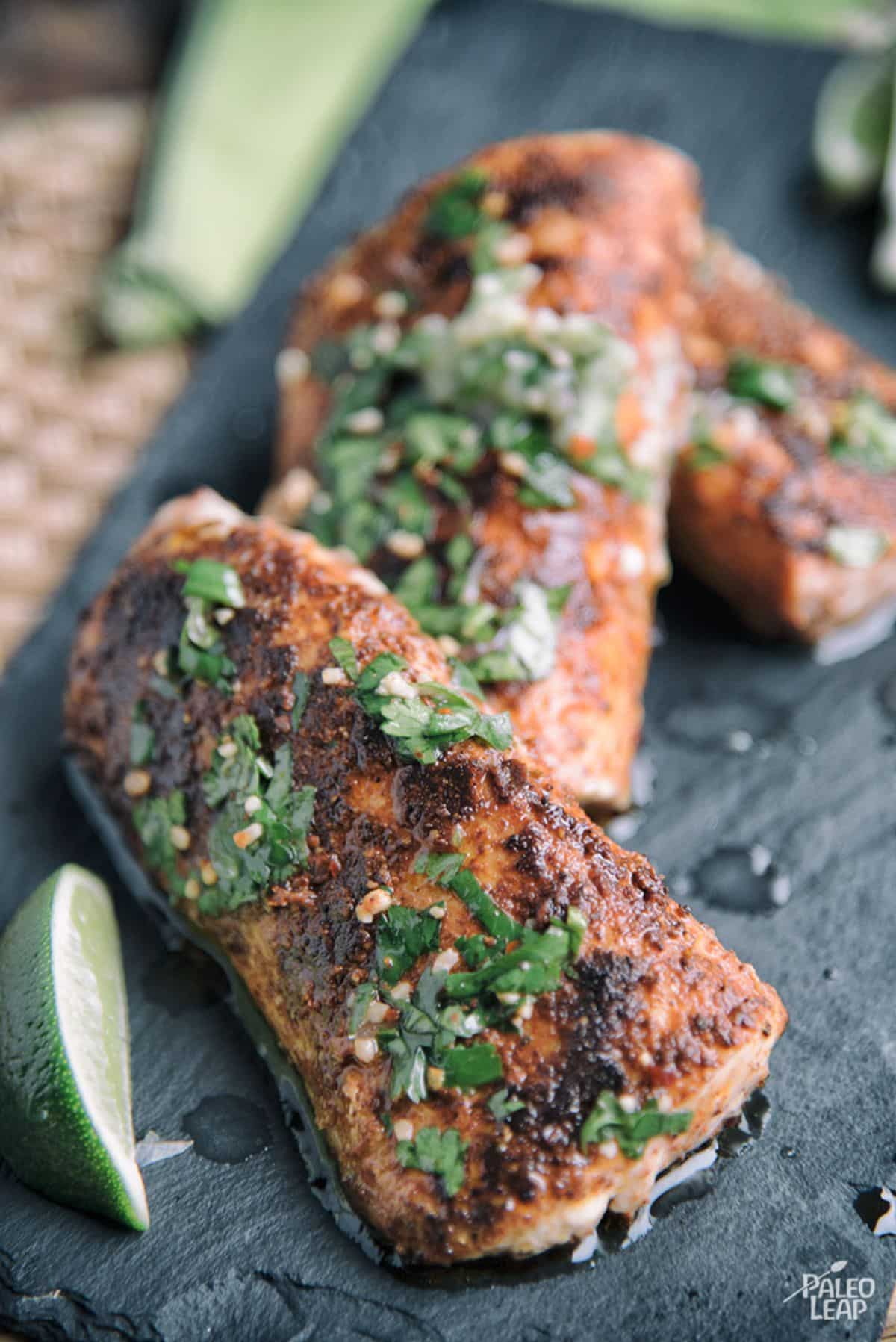 In this recipe, you'll be preparing your fish with simple, delicious ingredients, coating it with a homemade butter sauce, and cooking. For a dish this yummy, it's unbelievable that it only takes 25 minutes from start to finish!
This is a great dish to throw together on busier weeknights or when you are spending more time preparing a complicated side dish. It's also pescatarian-friendly, making this a great option for Paleo diners who don't eat most meats.
In this dish, you'll be using ghee, an ingredient that may not be that easy to acquire. This clarified butter doesn't contain dairy and is typically found in specialty grocery stores or local Indian food suppliers. Since ghee is such a great ingredient for those avoiding dairy, try making a large batch yourself and storing this for future use!
The simplicity of this Mahi Mahi recipe makes it perfect for matching with a more complex salad or side dish. If you have the time, consider serving this main course alongside one of these options.
To complement the flavors of the Mahi Mahi, we like the idea of serving this with a bowl of Roasted Red Pepper Pasta. Or, try making a batch of these Oven-Baked Zucchini Fritters for a less formal meal.
Mahi Mahi with Cilantro-Lime Butter Recipe
Serves: 4 Prep: 15 min Cook: 10 min
Ingredients
4 Mahi Mahi filets
1 tbsp. chili powder
½ tbsp. paprika
½ tsp. oregano
½ tsp. onion powder
½ tsp. garlic powder
2 tbsp. olive oil
Coconut oil
Lime wedges
Fresh cilantro (for garnish)
Ingredients for the Cilantro-Lime Butter
¼ cup melted ghee
1 garlic clove, minced
Juice from 1 lime
2 tbsp. fresh cilantro, minced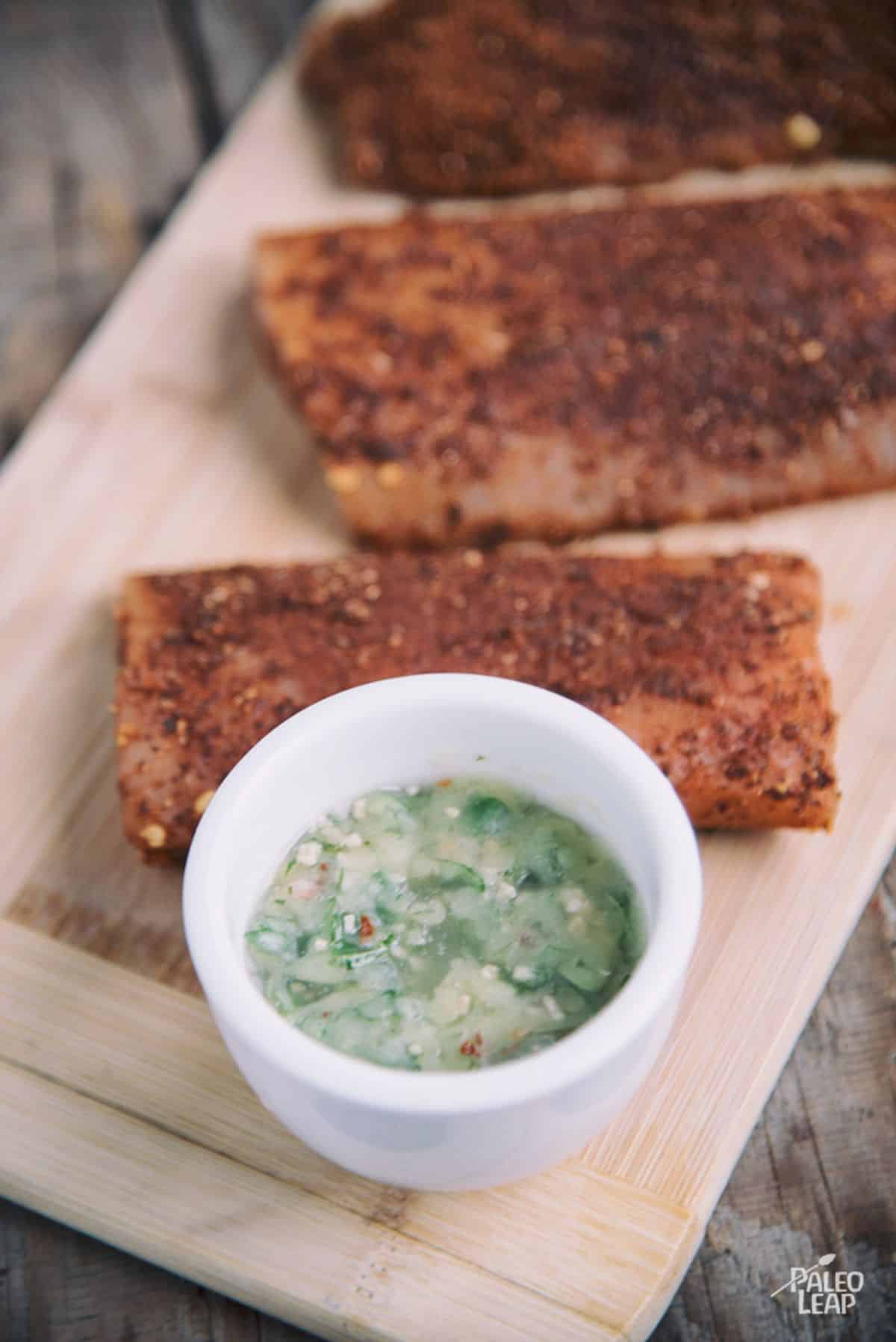 Preparation
Whisk together the ingredients for the butter.
In a bowl, combine the chili powder, paprika, oregano, onion powder, and garlic powder.
Brush the Mahi Mahi filets with olive oil and season with the chili powder mixture.
Melt coconut oil in a skillet over medium-high heat.
Sear the fish filets for 4 to 5 minutes per side or to the desired doneness.
Pour the cilantro-lime butter over the Mahi Mahi filets.
Serve the fish with fresh lime wedges and garnish with cilantro to taste.
📖 Recipe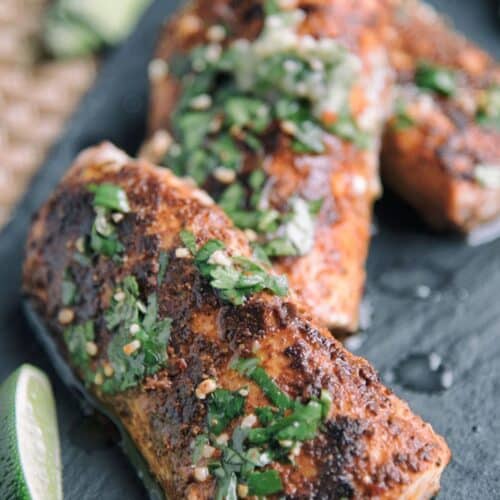 Mahi Mahi with Cilantro-Lime Butter Recipe
Looking for a simple and quick main course? This Mahi Mahi recipe will surprise you with how easy it is to prepare.
Instructions
Whisk together the ingredients for the butter.

In a bowl, combine the chili powder, paprika, oregano, onion powder, and garlic powder.

1 tbsp. chili powder,

½ tbsp. paprika,

½ tsp. oregano,

½ tsp. onion powder,

½ tsp. garlic powder

Brush the Mahi Mahi filets with olive oil and season with the chili powder mixture.

4 Mahi Mahi filets,

2 tbsp. olive oil,

1 tbsp. chili powder

Melt coconut oil in a skillet over medium-high heat.

Sear the fish filets for 4 to 5 minutes per side or to the desired doneness.

Pour the cilantro-lime butter over the Mahi Mahi filets.

¼ cup melted ghee,

1 garlic clove,

Juice from 1 lime,

2 tbsp. fresh cilantro

Serve the fish with fresh lime wedges and garnish with cilantro to taste.

Lime wedges,

Fresh cilantro
Nutrition
Calories:
333
kcal
Carbohydrates:
5
g
Protein:
33
g
Fat:
21
g
Saturated Fat:
8
g
Polyunsaturated Fat:
2
g
Monounsaturated Fat:
9
g
Cholesterol:
153
mg
Sodium:
216
mg
Potassium:
884
mg
Fiber:
3
g
Sugar:
1
g
Vitamin A:
2821
IU
Vitamin C:
2
mg
Calcium:
61
mg
Iron:
3
mg