Throughout the site, you'll find a ton of main course recipes inspired by Mexican cuisine – chicken, pork, beef – anything you're in the mood for!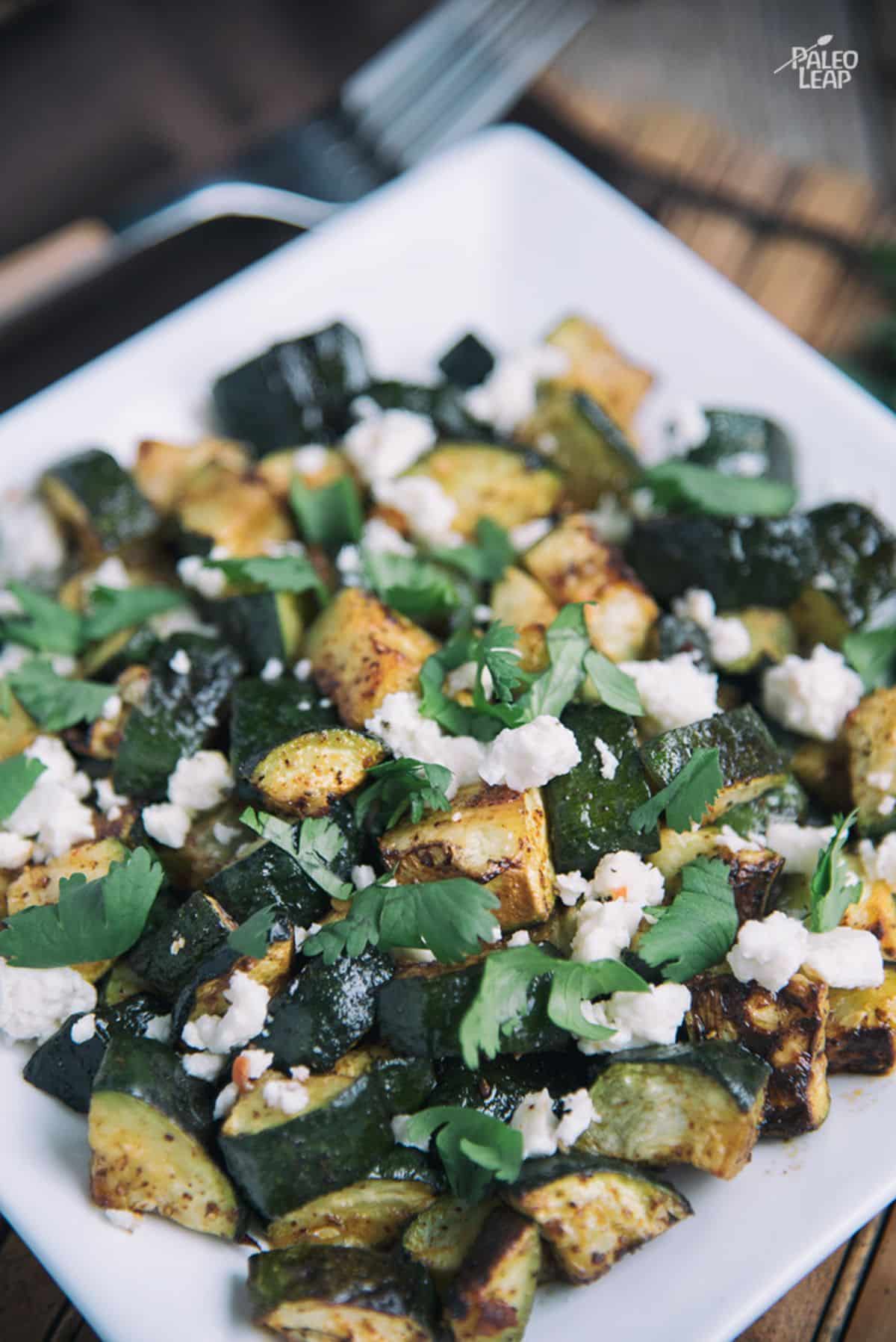 While these are all great Paleo options, traditional Mexican dishes are usually accompanied by some not-so-Paleo-friendly sides (beans, rice, tortillas, etc.) When we think about what to suggest with a Mexican main course, replacements for these dishes – like cauliflower tortillas – usually come up, but making them can be time-consuming and repetitive.
This side dish shows how you can spice things up with a simple vegetable and make a beautiful pairing come together – no "replacement" tortillas needed!
In this dish, your main ingredient is the zucchini, which will be seasoned and simply roasted to perfection. While these vegetables don't pack in a ton of nutritional content, they do have a respectable amount of some micro-nutrients, including Vitamin C and riboflavin.
They're also easy on the stomach, making these a good choice for anyone who suffers from digestion issues, especially when eating most vegetables.
When you buy these, try picking them up from a farmer's market if they're in season – the taste difference from the ones you find at the grocery store is considerable! While the almond cheese is optional, we recommend using it if you have it.
It brings a different texture element and tanginess to the plate balancing out every bite. Of course, if you happen to incorporate dairy into your diet, cotija would make it extra delicious too!
As stated above, this zucchini dish works well paired with any Mexican main course. Some interesting ones to try include these Mexican-style beef kabobs or this Mexican ribs dish.
Mexican Oven Baked Zucchini Recipe
Serves: 4 Prep: 10 min Cook: 25 min
Ingredients
3 to 4 zucchini, diced
2 garlic cloves, minced
1 tbsp. chili powder
2 tsp. paprika
½ tsp. cumin powder
⅛ tsp. cayenne pepper
¼ cup olive oil
Fresh cilantro
Almond cheese (optional)
Sea salt and freshly ground black pepper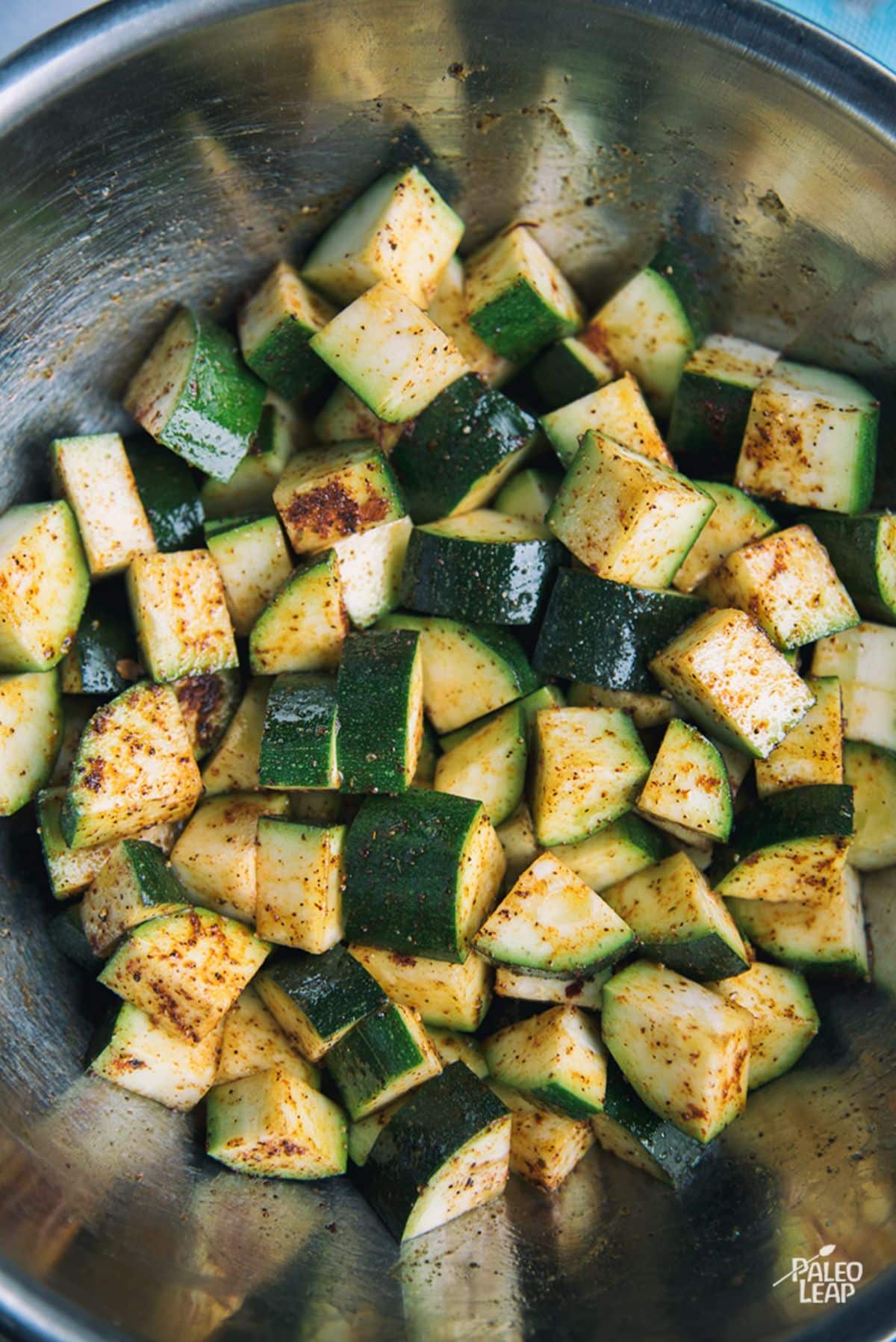 Preparation
Preheat oven to 425 F.
Add the zucchini to a large bowl
Sprinkle in the olive oil, garlic, chili powder, paprika, cumin, and cayenne pepper; season with salt and pepper to taste.
Toss everything until well coated and place on a baking sheet.
Bake in the oven for 20 to 25 minutes.
Serve the zucchini topped with fresh cilantro and almond cheese.
📖 Recipe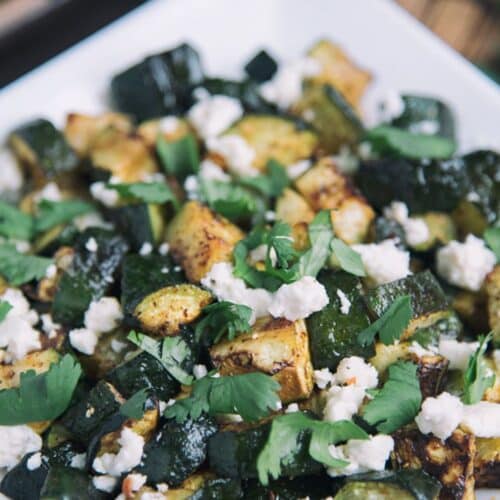 Mexican Oven Baked Zucchini Recipe
Looking for the perfect Mexican side dish? This baked zucchini works wonderfully with any Mexican main course.
Ingredients
3 to 4

zucchini

diced

2

garlic cloves

minced

1

tbsp.

chili powder

2

tsp.

paprika

½

tsp.

cumin powder

⅛

tsp.

cayenne pepper

¼

cup

olive oil

Fresh cilantro

Almond cheese

optional

Sea salt and freshly ground black pepper
Instructions
Preheat oven to 425 F.

Add the zucchini to a large bowl

Sprinkle in the olive oil, garlic, chili powder, paprika, cumin, and cayenne pepper; season with salt and pepper to taste.

2 garlic cloves,

1 tbsp. chili powder,

2 tsp. paprika,

½ tsp. cumin powder,

⅛ tsp. cayenne pepper,

¼ cup olive oil,

Sea salt and freshly ground black pepper

Toss everything until well coated and place on a baking sheet.

Bake in the oven for 20 to 25 minutes.

Serve the zucchini topped with fresh cilantro and almond cheese.

Fresh cilantro,

Almond cheese
Nutrition
Calories:
167
kcal
Carbohydrates:
9
g
Protein:
3
g
Fat:
15
g
Saturated Fat:
2
g
Polyunsaturated Fat:
2
g
Monounsaturated Fat:
10
g
Sodium:
76
mg
Potassium:
532
mg
Fiber:
4
g
Sugar:
4
g
Vitamin A:
2675
IU
Vitamin C:
27
mg
Calcium:
50
mg
Iron:
2
mg