Breakfast is the most essential meal of the day; it is what gives us the much-needed energy to get from start to finish.
Even if you aren't going full speed, you will need a good bowl of sustenance, to begin with. We suggest filling it with cauliflower rice, free-range eggs, some slices of wholesome avocado, and a dollop of classic Pico de Gallo salsa to liven up your morning.
Eggs can be controversial. We're sure you've heard they are bad because they contain so much cholesterol and may contribute to heart disease, not to mention they are a possible allergen. The good news is this claim has since been debunked.
Eggs are beneficial for your health and if they agree with you, try to get pastured eggs from chickens who are allowed to roam freely outside as they keep to their omnivore diet. If you can find all grain-free eggs, all the more power to your breakfast!
You can bring this Paleo breakfast bowl for lunch to the office too; in that case, it is wise to hard boil the eggs to suit the commute to work better.
If your wake-up routine includes a mug of coffee, explore your roast options and learn to enjoy it minimally; you could also make a pitcher of cold brew ahead of time, so you have a few extra minutes for cooking instead. When the weekend rolls around, another great and elegant breakfast option is Eggs Benedict with ham.
Paleo Breakfast Bowl with Pico de Gallo Recipe
Serves: 2 Prep: 10 min Cook: 10 min
Ingredients
2 fried eggs
1 sliced avocado
2 tbsp. cooking fat
½ red onion, finely chopped
4 cups cauliflower rice
Salt and pepper to taste
Pico de Gallo Ingredients
1 large tomato, chopped
½ red onion, finely chopped
½ cup chopped cilantro
Jalapeno, chopped
Lime juice, to taste
Salt and pepper to taste
Preparation
To make the cauliflower rice, cook the onion in a little fat until soft, then add the cauliflower rice and cook until tender.
Season to taste and set aside.
To make the Pico de Gallo, combine all the ingredients and mix well.
Serve the cauliflower rice topped with a fried egg, Pico de Gallo, and sliced avocado.
📖 Recipe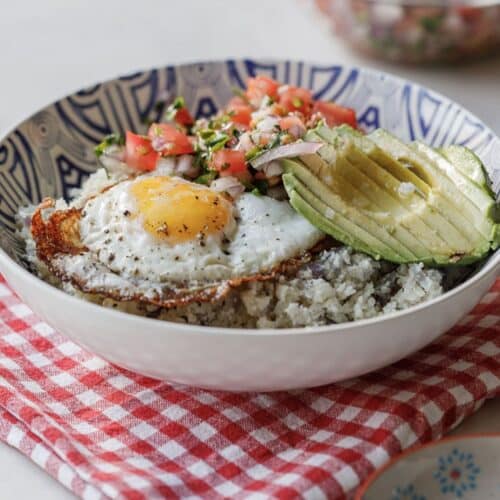 Paleo Breakfast Bowl with Pico de Gallo Recipe
Save the granola bar for a snack and start your day off right with a Paleo breakfast bowl of epic proportions - egg, avocado and Pico de Gallo included.
Instructions
To make the cauliflower rice, cook the onion in a little fat until soft, then add the cauliflower rice and cook until tender.

½ red onion,

4 cups cauliflower rice,

2 tbsp. cooking fat

Season to taste and set aside.

To make the Pico de Gallo, combine all the ingredients and mix well.

1 large tomato,

½ red onion,

½ cup chopped cilantro,

Jalapeno,

Lime juice,

Salt and pepper to taste

Serve the cauliflower rice topped with a fried egg, Pico de Gallo, and sliced avocado.

2 fried eggs,

1 sliced avocado
Video
Nutrition
Calories:
468
kcal
Carbohydrates:
32
g
Protein:
15
g
Fat:
35
g
Saturated Fat:
6
g
Polyunsaturated Fat:
11
g
Monounsaturated Fat:
15
g
Trans Fat:
0.1
g
Cholesterol:
164
mg
Sodium:
173
mg
Potassium:
1752
mg
Fiber:
15
g
Sugar:
11
g
Vitamin A:
1168
IU
Vitamin C:
178
mg
Calcium:
129
mg
Iron:
3
mg