Scampi steaks and scallops, rosemary-skewered scallops, scallops with a potato-cauliflower purée. Say the word scallops, and we know that a truly fabulous meal is about to be served.
They are considered a "power food", as they are more than 80% protein, plus they are a decent source of magnesium and potassium - if you haven't tried eating them yet, you should! Did you know there are several kinds of scallops coming from the sea?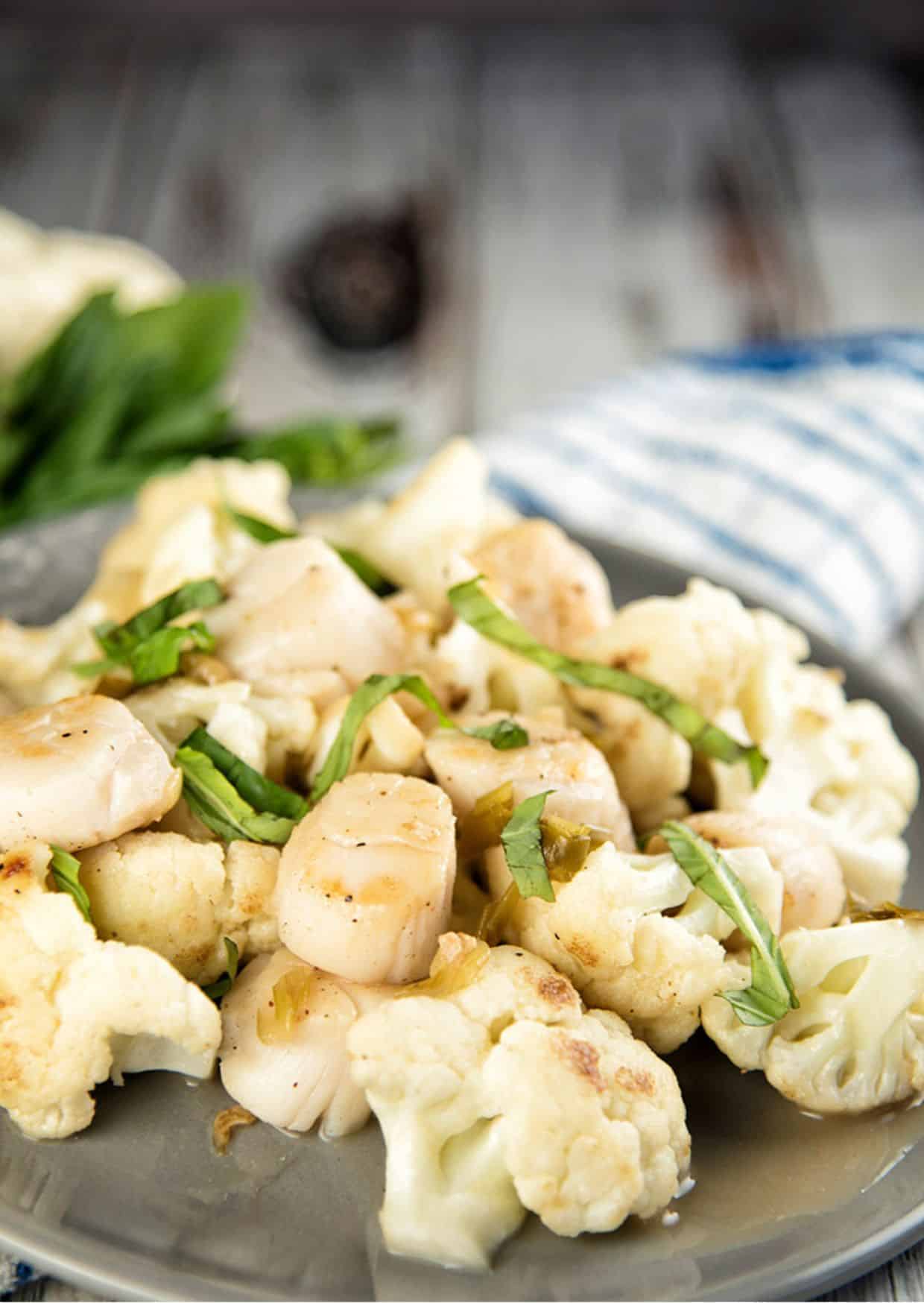 Of course, there is the common sea scallop, there are also Weathervane, Japanese, Bay, Pink, Spiny, Calico, Queen, and Icelandic scallops.
How to choose the best scallops for dinner? First off, always choose wild scallops versus farmed ones. Secondly, look at the freshness and whether they are wet- or dry-packed. Go for the dry-packed ones, always.
Wet-packed scallops are often soaked in a phosphate-whitening solution, allowing the scallop to absorb more liquid - what you are buying is a waterlogged scallop with possibly a faint chemical aftertaste. Plus, they don't sear well with all the extra water.
If you can't find them dry-packed, or not at all, the next best option is to purchase them frozen. Simply thaw them in the refrigerator overnight and proceed as planned.
Scallops and cauliflower fit in nicely with the Keto lifestyle by their very nature of being, why not complement that with a Keto salad? A cucumber and radish salad comes in with just a few grams of carbs while adding a delicate pop of color to the plate.
Pan-Seared Scallops With Cauliflower Recipe
Serves: 4 Prep: 10 min Cook: 25 min
Ingredients
3 tbsp. olive oil
1 small head cauliflower, cut into florets
1 lb. fresh sea scallops
2 tbsp. grass-fed butter or ghee
1 green onion, chopped
½ cup white wine
Sea salt and freshly ground pepper, to taste
8 fresh basil leaves, minced
Preparation
In a large skillet over medium-high heat, add 1 tbsp. of olive oil and add cauliflower. Cook for about 4 minutes, or until it just becomes tender, stirring frequently. Remove the cauliflower from the pan and set aside.
Using the same skillet over medium-high heat, add the remaining olive oil and place the scallops in the pan, being sure not to let them overlap. Cook on each side for 2-3 minutes, depending on the size. Remove the scallops and set them aside.
Melt the butter in the same skillet over medium heat. Add the green onions and cook for about 1 minute, or until tender. Stir frequently to prevent the onions from burning.
Add the white wine to the skillet. Using a wooden spoon, scrape any flavorful bits off the bottom of the pan. Allow it to simmer.
Add the cauliflower back to the skillet and cook under cover for 5 to 7 minutes, or until cauliflower is fork-tender.
Place the scallops back in the pan. Stir well and only cook for another minute, while adding the salt and pepper. Remove from heat and top with basil prior to serving.
📖 Recipe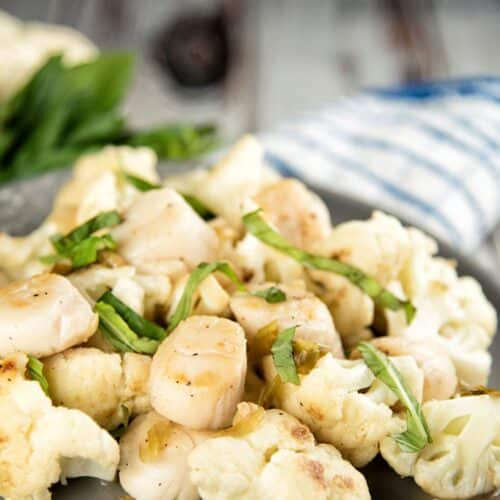 Pan-Seared Scallops With Cauliflower Recipe
If you thought seared scallops in a sea of ghee was good, wait until you try this dish of pan-seared scallops with cauliflower in white wine!
Ingredients
3

tbsp.

olive oil

1

small head cauliflower

cut into florets

1

lb.

fresh sea scallops

2

tbsp.

grass-fed butter or ghee

1

green onion

chopped

½

cup

white wine

Sea salt and freshly ground pepper

to taste

8

fresh basil leaves

minced
Instructions
In a large skillet over medium-high heat, add 1 tbsp. of olive oil and add cauliflower. Cook for about 4 minutes, or until it just becomes tender, stirring frequently. Remove the cauliflower from the pan and set aside.

3 tbsp. olive oil,

1 small head cauliflower

Using the same skillet over medium-high heat, add the remaining olive oil and place the scallops in the pan, being sure not to let them overlap. Cook on each side for 2-3 minutes, depending on the size. Remove the scallops and set them aside.

3 tbsp. olive oil,

1 lb. fresh sea scallops

Melt the butter in the same skillet over medium heat. Add the green onions and cook for about 1 minute, or until tender. Stir frequently to prevent the onions from burning.

2 tbsp. grass-fed butter or ghee,

1 green onion

Add the white wine to the skillet. Using a wooden spoon, scrape any flavorful bits off the bottom of the pan. Allow it to simmer.

Add the cauliflower back to the skillet and cook under cover for 5 to 7 minutes, or until cauliflower is fork-tender.

Place the scallops back in the pan. Stir well and only cook for another minute, while adding the salt and pepper. Remove from heat and top with basil prior to serving.

Sea salt and freshly ground pepper,

8 fresh basil leaves
Nutrition
Calories:
105
kcal
Carbohydrates:
0.3
g
Protein:
0.1
g
Fat:
11
g
Saturated Fat:
2
g
Polyunsaturated Fat:
1
g
Monounsaturated Fat:
8
g
Sodium:
3
mg
Potassium:
22
mg
Fiber:
0.1
g
Sugar:
0.1
g
Vitamin A:
72
IU
Vitamin C:
1
mg
Calcium:
5
mg
Iron:
0.3
mg