Stuffed peppers are always a family favorite, and these paleo-friendly pork stuffed bell peppers are going to become a new classic weeknight meal. These flavorful bell peppers, stuffed with ground pork, onion, carrots, and cauliflower, and seasoned with oregano, tarragon, and tomato paste, are a tasty and nutritious way to keep you satisfied while staying true to your dietary needs.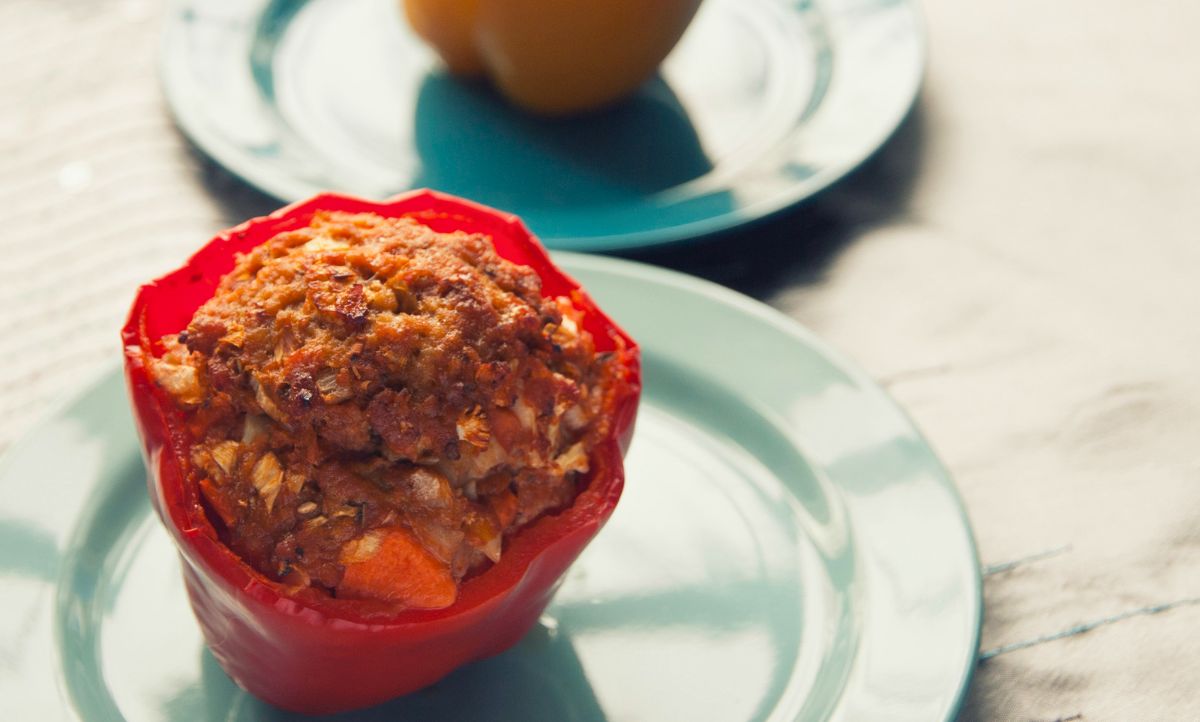 Jump to:
Pork Stuffed Bell Peppers
Not only is this dish filled with protein and vegetables, but it also looks stunning on the plate. It's the type of meal you make for guests not just for flavor, but because it presents beautifully. Each bell pepper becomes its own serving vessel, creating an impressive presentation that's perfect for a family dinner or a special occasion.
While this recipe calls for large bell peppers, you may also experiment with poblano peppers or even mini sweet peppers for a unique twist. And as for par-cooking, it's not necessary - simply spoon the mixture into the raw bell peppers and let the oven do the rest of the work.
To complete your meal, consider serving these stuffed bell peppers with a side of roasted Brussels sprouts, garlic green beans, or sautéed spinach - all of which are paleo- and keto-friendly. And if you're looking to add some variety to your menu, try pairing these bell peppers with a zucchini noodle salad.
Ingredients
Serves: 4 Prep Time: 15 minutes Cook Time: 1 hour 30 minutes
2 lb ground pork
4 large bell peppers
1 onion, finely chopped
4 cloves garlic, minced
½ head cauliflower, finely chopped
6 oz tomato paste
1 tablespoon dried oregano
1 tablespoon dried tarragon
Sea salt and black pepper, to taste
How to Make Pork Stuffed Bell Peppers
Preheat the oven to 350°F/180°C and line a baking dish with aluminum foil for easy cleanup. Set this aside.
Now, prepare the bell peppers by slicing just the top/stem off. Remove the seeds from the inside and discard them. If desired, chop the pepper around the stem off and discard the stem, but save the pepper pieces to go into the meat mixture.
Now, in a large bowl, make your ground pork filling. Combine the pork with chopped onion, carrots, garlic, cauliflower, tomato paste, oregano, tarragon, and a bit of salt and black pepper to taste. I add 1 teaspoon each, then additional after cooking if needed.
Now, spoon the mixture into the bell peppers, and then put them upright in the prepared baking dish. To keep them standing upright, use a small enough pan that they are crowded and against each other, but not cramped.
To the base of the baking dish, add ½ cup of water, then cover with aluminum foil. Bake for 1 ½ hours, or until the meat is cooked through and the peppers are tender.
More Pork Recipes
Need more ideas for using ground pork? Below are a few favorites that our family loves, and yours should too! Take a moment to check the out, bookmark your favorites, or just print out the recipe to make soon!
So why not give our ground pork stuffed bell peppers a try? You'll be left with a dish that's both delicious and nutritious, and that's sure to satisfy your cravings while keeping you on track with your dietary goals.
📖 Recipe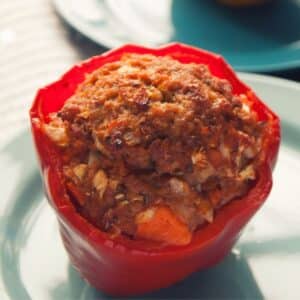 Pork Stuffed Bell Peppers
A simple ground pork stuffed bell pepper makes for an ideal comfort food meal! This recipe easily fits in your paleo or keto meal plan. A tasty mixture of seasoend meat in tender bell pepper.
Instructions
Start by preheating your oven to 350 F.

Next, remove the tops of the bell peppers and take out the seeds and insides.

Combine the ground pork, chopped onion, carrots, garlic, cauliflower, tomato paste, oregano, tarragon, and seasonings in a bowl.

2 lb ground pork,

1 onion,

4 cloves garlic,

½ head cauliflower,

6 oz tomato paste,

1 tablespoon dried oregano,

1 tablespoon dried tarragon,

Sea salt and black pepper

Fill the bell peppers tightly with the pork mixture and place them in a baking dish that is snug enough to hold them upright.

Pour in ½ cup of water and cover the dish with foil.

Place the dish in the preheated oven and bake for approximately 1 ½ hours.
Notes
The stuffed peppers should reach 160°F internally at the thickest point for safety. 
If possible, fresh herbs such as oregano and tarragon can be used in the ground meat mixture for a brighter flavor. 
For those who don't like big pieces of onion in the pepper, you can use a hand grater or food processor to cut the carrots and onions super thin so they add flavor instead of texture. 
Nutrition
Serving:
4
g
Calories:
709
kcal
Carbohydrates:
23
g
Protein:
43
g
Fat:
50
g
Saturated Fat:
18
g
Polyunsaturated Fat:
5
g
Monounsaturated Fat:
22
g
Cholesterol:
163
mg
Sodium:
492
mg
Potassium:
1657
mg
Fiber:
7
g
Sugar:
13
g
Vitamin A:
4486
IU
Vitamin C:
201
mg
Calcium:
117
mg
Iron:
5
mg