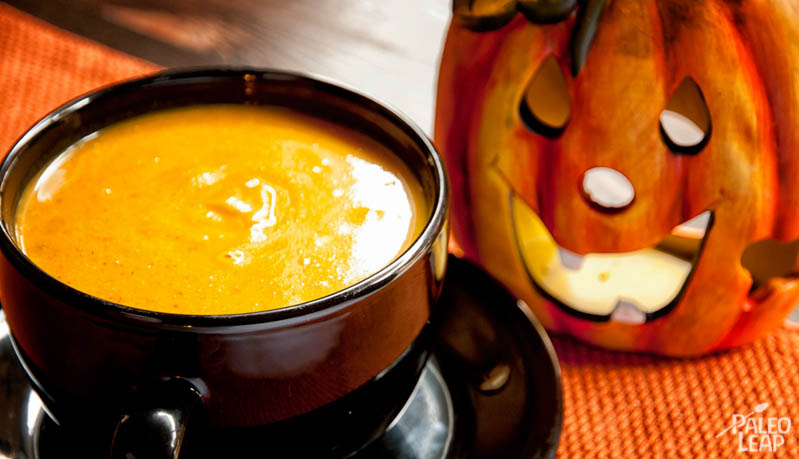 Halloween is just around the corner now, so get your spook on with this hot and spicy seasonal treat. The mild flavor of the pumpkin gets perked up with paprika, cayenne pepper, and cumin, while the apples and cinnamon add a little sweetness that might be just what you need to beat the seasonal candy cravings. Add a smooth taste from the coconut milk and homemade bone stock, and cheap "fun-sized" industrial chocolates don't even stand a chance!
As with all pumpkin recipes, you'll want to get a pie pumpkin for this one (unfortunately, it's really not an option for recycling your Jack-o-lantern: carving pumpkins taste pretty gross). Since you'll be pureeing it all anyway, you can also substitute canned pumpkin for fresh: as a general rule, 2 cups of chopped fresh pumpkin = 1 cup canned, so you'd want 3 cups of canned pumpkin (about 2 cans) for the full recipe.
Because it's so colorful and holiday-appropriate, this soup would be a perfect side dish for a pre-trick-or-treat dinner (maybe with some chicken wings (or nuggets!), or mini-meatloaves). There's a lot to be said for giving kids the experience of trick-or-treating, and letting them enjoy the candy as part of a special occasion, but that doesn't mean their pre-candy meal also has to be junk food! After filling up on real food at dinner, they'll be able to make smarter choices about how much candy they really want to eat, and they won't be tempted to gorge on it just because they're hungry.
Pumpkin Soup With Apple And Spices Recipe

SERVES: 4

PREP: 30 min.

COOK: 50 min.

Values are per portion. These are for information only & are not meant to be exact calculations.
Ingredients
6 cups pumpkin flesh, cut into cubes;
2 onions, chopped (about 2 cups);
1 cup carrot, peeled and chopped;
2 cups apple chunks, peeled and cored;
4 garlic cloves, minced;
4 cups chicken stock;
½ cup full-fat coconut milk;
½ tsp. dried thyme
¼ tsp. ground sage;
1 tbsp. smoked paprika;
½ tsp. ground cumin;
1 pinch cayenne pepper;
1 pinch cinnamon;
2 tbsp. Paleo cooking fat;
Sea salt and freshly ground pepper to taste;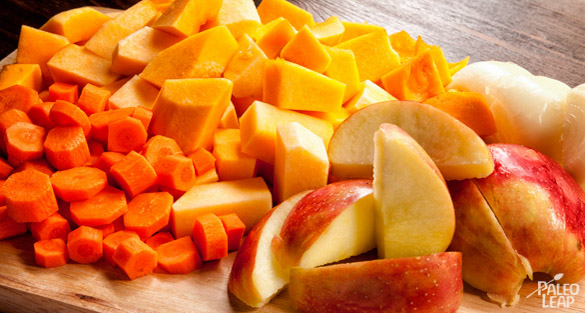 Preparation
Heat some cooking fat in a large saucepan over a medium-high heat.
Add the onions and garlic. Cook for 3-4 minutes, until softened.
Add the pumpkin, carrot, and apple, and cover with the chicken stock.
Add the cumin, thyme, sage, paprika, cayenne pepper and season with salt and pepper to taste.
Bring the soup to a boil, then lower the heat to medium and let it simmer 30 to 40 minutes or until the vegetables are soft.
Using a food processor, process in batches to the consistency of a purée.
Bring the soup back to the saucepan. Add the coconut milk, combine and season again with salt and pepper to taste. Warm up the soup again a little bit.
Add a pinch of cinnamon over top before serving.