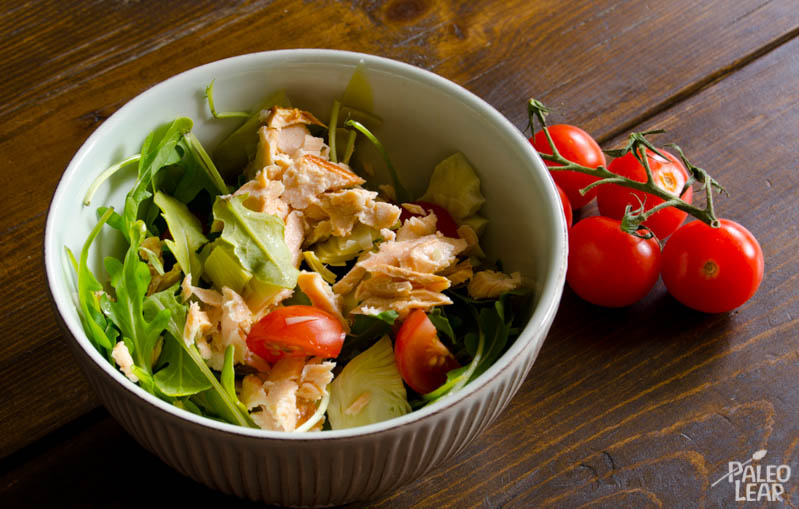 It's very unlike me to not follow a recipe to a "T" when my objective is to be able to share it here with you. I always want to be 100% sure ingredients make sense and portions are exact, otherwise something supposed to be delicious could easily end up being a big flop. That being said, today is a special day, as I have decided to share with you a salad I just threw together for lunch, but it was so amazing I could not help but to try and re-count it here for you. Luckily, since it's a very simple salad, it's hard to go wrong. The only part that could be tricky is the dressing.
In the summer months I get inspired to use my lettuce and veggies from my home garden. Since my lettuce has been growing out of control, I find myself eating a whole bunch of salads in order to keep up with the supply. Aside from the lettuce, I am also growing Arugula. I don't have nearly as many plants, so I have been waiting patiently for the day to dig into it and make something really special. Luckily for me, today happens to be that day, so I opted for something tasty and filling, something that would leave me satisfied. Salmon and Arugula seemed like a great combination. While salmon has a really light taste, arugula is really peppery and brings some great punch to the salad.
A few weeks ago I purchased a very large wild salmon fillet. Normally I would always buy my fish fresh and eat it right away, but it's also nice to have something in the freezer that you can grab at when you either don't have the time to go out shopping, or just simply don't feel like it. One advantage about freezing fish is that it thaws relatively quickly compared to meat. If you happen to have a day like I have had today and decide at lunch time that you want salmon for dinner, chances are it will be thawed by the time you're ready to cook it in the evening.
You can use pretty much any variety of fish for this salad, as a salad like this is easy to prepare when you have some leftover cooked fish from last night's dinner. Aside from the arugula and fish, I threw in some artichoke hearts and cherry tomatoes and it was a done deal. Just make sure the artichoke hearts you buy aren't soaking in a liquid made with any bad ingredients. At first I didn't have a vinaigrette or dressing that would pair up with it. I decided to make my life really easy and use a dressing from the sweet potato salad recipe. Some Paleo mayonnaise, lemon, mustard…a great match for the salmon and arugula.
When prepared with fresh and local ingredients, it's also very nutritious and healthy. Wild salmon is a great source of omega-3 fat, protein, selenium and many of the B vitamins. As for arugula, it's a great source of vitamin K, vitamin C, magnesium, calcium and folate.
This recipe can stand as a light meal on its own or it can be served alongside a variety of different main dishes.
Salmon arugula salad recipe
Serves 4

Values are per portion. These are for information only & are not meant to be exact calculations.
Ingredients for the salad
1 large wild salmon fillet;
2 tbsp coconut oil;
A few sprigs fresh thyme;
2 cloves garlic, minced;
A few handfuls of fresh arugula;
2 to 3 artichoke hearts, chopped;
3/4 cup cherry tomatoes, halved;
Sea salt and freshly ground black pepper to taste;
Dressing
4 tbsp extra-virgin olive oil;
4 tbsp paleo mayonnaise;
2 tbsp lemon juice;
1 tbsp Dijon or homemade mustard;
Sea salt and freshly ground black pepper to taste;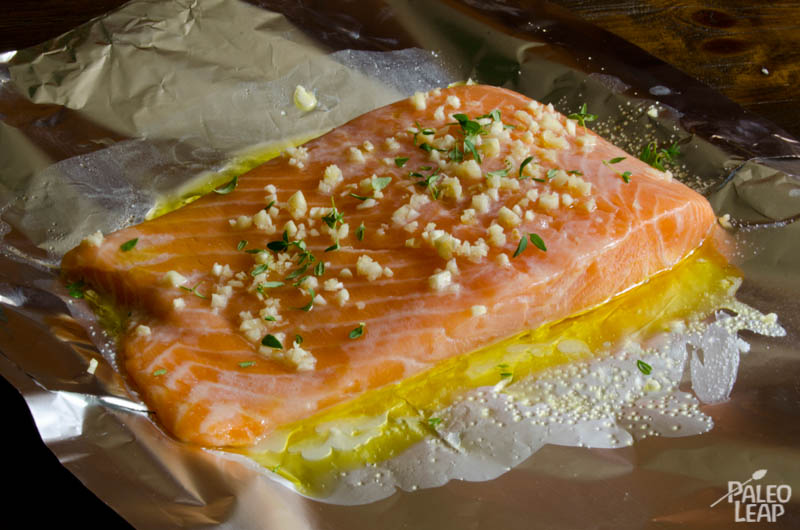 Preparation
Fire up the grill and keep it at a medium-low heat. While the grill heats up, season both sides of the salmon fillet with salt and pepper to taste. Place on a sheet of foil (enough to wrap around the whole piece of fish) and drizzle with coconut oil. Sprinkle the top of the fillet with minced garlic and place a few sprigs of thyme on top. Seal the salmon in the foil and place on the barbecue. Cook for 15 to 20 minutes, until soft pink and flaky.
Meanwhile, in a large salad bowl combine the arugula, cherry tomatoes and artichoke hearts. During this time you can also combine the ingredients for the dressing and set aside for later use.
Once the salmon has cooked, remove from the grill and allow it to cool for a few minutes. Using a fork, pull apart the salmon into smaller pieces. Toss in with the rest of the salad. Drizzle with the dressing and serve while the salmon is still a little warm.