When you think of Hungarian cuisine, the first dish that comes to mind is beef goulash or gulyás in its native language.
It is a delicious cross between a soup and a hearty stew, determined by family recipe and whoever is stirring the pot. It can be cooked in a million different ways, each version as tasty as the other, with plenty of room for surprises.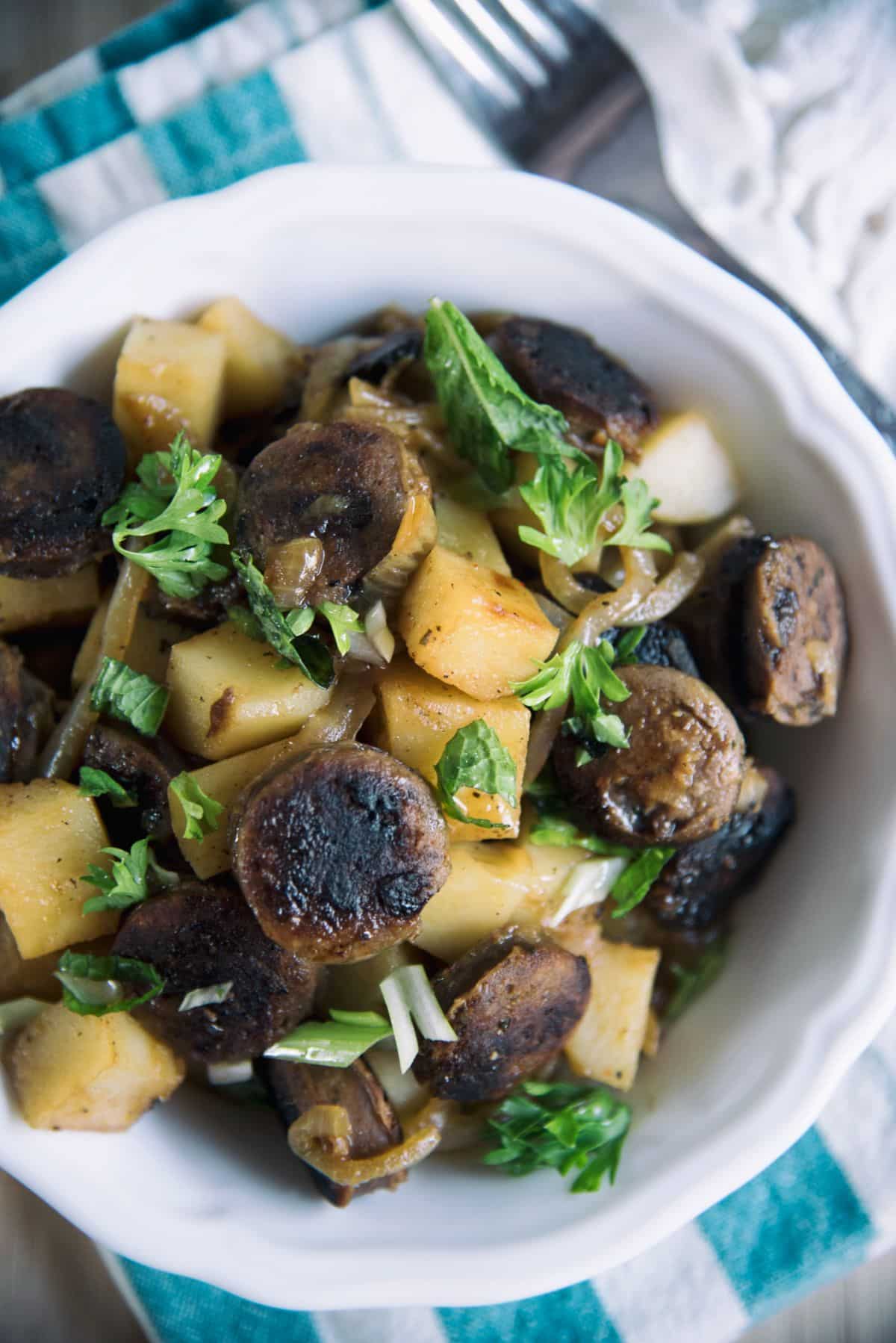 Paprika is in it for sure, though we've kept it subtle this time around. Ask any Hungarian cook, and they may as well say to double or triple the amount of paprika - too much is never enough! If you ever travel to the country and dive into a bowl of halászlé (fisherman's soup), you'll never look at paprika the same way again.
Hungarian sausages have a wide range of flavors, the main spices being garlic, black pepper, and paprika. You'll often find them with caraway, nutmeg, or marjoram too. Dried or smoked is the traditional way to go, though any Paleo sausage will do!
As you explore the cuisine of Hungary and learn how to make lecsó, a Hungarian tomato pepper and, yes, paprika, stew, your taste buds will thank you for reaching out to new flavor combinations.
Make it thicker and use it as a salsa, eat it plain and simple with boiled potatoes, or serve it with a tender and mouthwatering Dutch oven beef roast. Let cultures collide and meld into new beginnings.
This recipe is adapted from South Your Mouth.
Sausage And Potato Goulash Recipe
Serves: 4 Prep: 15 min Cook: 20 min
Ingredients
4 sausages, sliced (Hungarian if you can find them)
4 russet or sweet potatoes, diced
1 onion, sliced
2 garlic cloves, minced
3 tsp. paprika
2 cups chicken stock
1 tbsp. flat-leaf parsley, minced
Cooking fat
Sea salt and freshly ground black pepper
Preparation
Melt some cooking fat in a skillet over medium-high heat.
Brown the sliced sausages until cooked through, about 4 to 5 minutes. Set aside.
Add the onion and garlic to the skillet and cook for 3 to 4 minutes.
Add the diced potatoes and paprika, and season to taste. Stir and brown for 4 to 5 minutes.
Pour in the chicken stock, cover, and cook for 8 to 10 minutes until the potatoes are fork-tender.
Bring the sausages back to the skillet and stir. Cook until everything is warmed through.
Adjust the seasoning and serve topped with fresh parsley.
📖 Recipe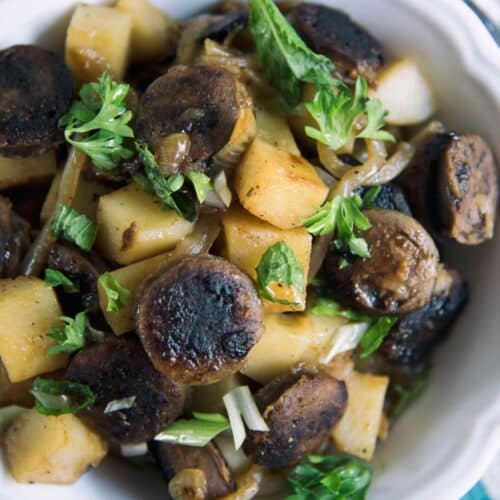 Sausage And Potato Goulash Recipe
Goulash or gulyás, pronounce it however you can. More importantly, cook it up quickly and delight the appetite with paprika, sausage, and potatoes.
Ingredients
4

sausages

sliced (Hungarian if you can find them)

4

russet or sweet potatoes

diced

1

onion

sliced

2

garlic cloves

minced

3

tsp.

paprika

2

cups

chicken stock

1

tbsp.

flat-leaf parsley

minced

Cooking fat

Sea salt and freshly ground black pepper
Instructions
Melt some cooking fat in a skillet over medium-high heat.

Brown the sliced sausages until cooked through, about 4 to 5 minutes. Set aside.

Add the onion and garlic to the skillet and cook for 3 to 4 minutes.

Add the diced potatoes and paprika, and season to taste. Stir and brown for 4 to 5 minutes.

4 russet or sweet potatoes,

3 tsp. paprika,

Sea salt and freshly ground black pepper

Pour in the chicken stock, cover, and cook for 8 to 10 minutes until the potatoes are fork-tender.

Bring the sausages back to the skillet and stir. Cook until everything is warmed through.

Adjust the seasoning and serve topped with fresh parsley.

1 tbsp. flat-leaf parsley
Nutrition
Calories:
521
kcal
Carbohydrates:
55
g
Protein:
20
g
Fat:
25
g
Saturated Fat:
8
g
Polyunsaturated Fat:
4
g
Monounsaturated Fat:
11
g
Trans Fat:
0.2
g
Cholesterol:
65
mg
Sodium:
842
mg
Potassium:
1249
mg
Fiber:
9
g
Sugar:
13
g
Vitamin A:
34263
IU
Vitamin C:
14
mg
Calcium:
102
mg
Iron:
4
mg