If the idea of a short prep time has you jumping for joy, then we know you will be pleased with these sheet pan fajitas - they are guaranteed to simplify your dinnertime and, with any luck, there will be leftovers for lunch, but don't count on that!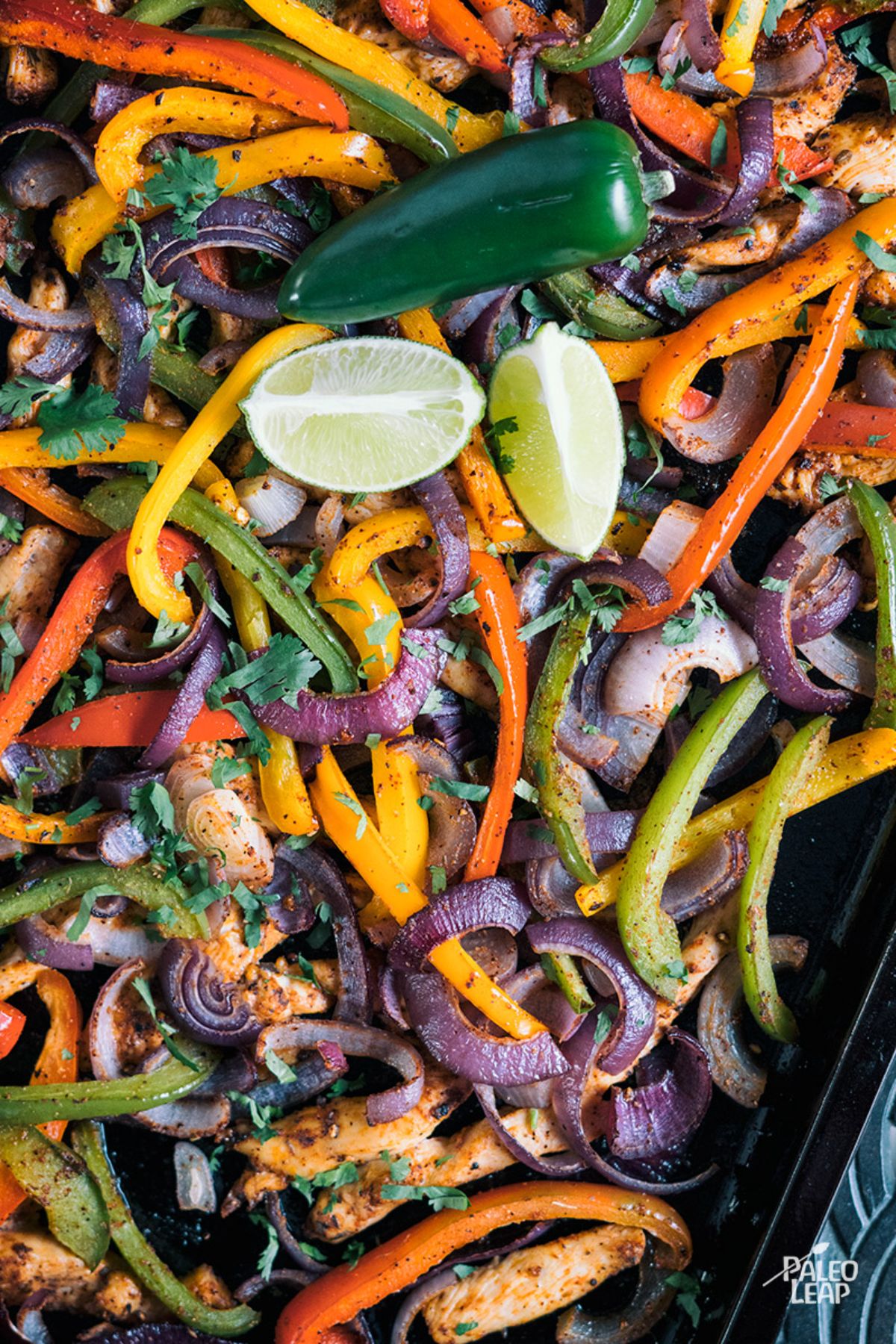 To counter the thought of not having enough, for now, or later, you can always bake a second sheet as a backup plan, just in case someone is extra cheeky...
If you eat Mexican or Tex-Mex on a regular basis, you will already have the essential spices on hand to bake this meal quickly. If chili powder, cumin, paprika, and oregano are not your go-to spices, then take a quick trip to the store and pick some up because they also belong to fire-roasted salsa and Mexican-style ribs - two more recipes that you should definitely try.
Serve these fajitas with some avocado straight up or a quick and easy guacamole - dress the chicken and vegetables in a lettuce wrap or add some hot sauce to take it up a notch.
If you are really adventurous, you can invent your own sheet pan fajita recipes using other ingredients, such as chili-lime-shrimp or basil-beef. Make dinners simple and bake them on one sheet!
Sheet Pan Fajitas Recipe
Serves: 4 Prep: 15 min Cook: 30 min
Ingredients
3 to 4 chicken breasts, skinless and boneless, sliced
2 to 3 bell peppers, sliced
2 onions, sliced
¼ cup olive oil or avocado oil
2 tbsp. fresh lime juice
2 garlic cloves, minced
½ tbsp. chili powder
1 tsp. paprika
1 tsp. cumin powder
½ tsp. dried oregano
Fresh cilantro and lime to garnish
Sea salt and freshly ground black pepper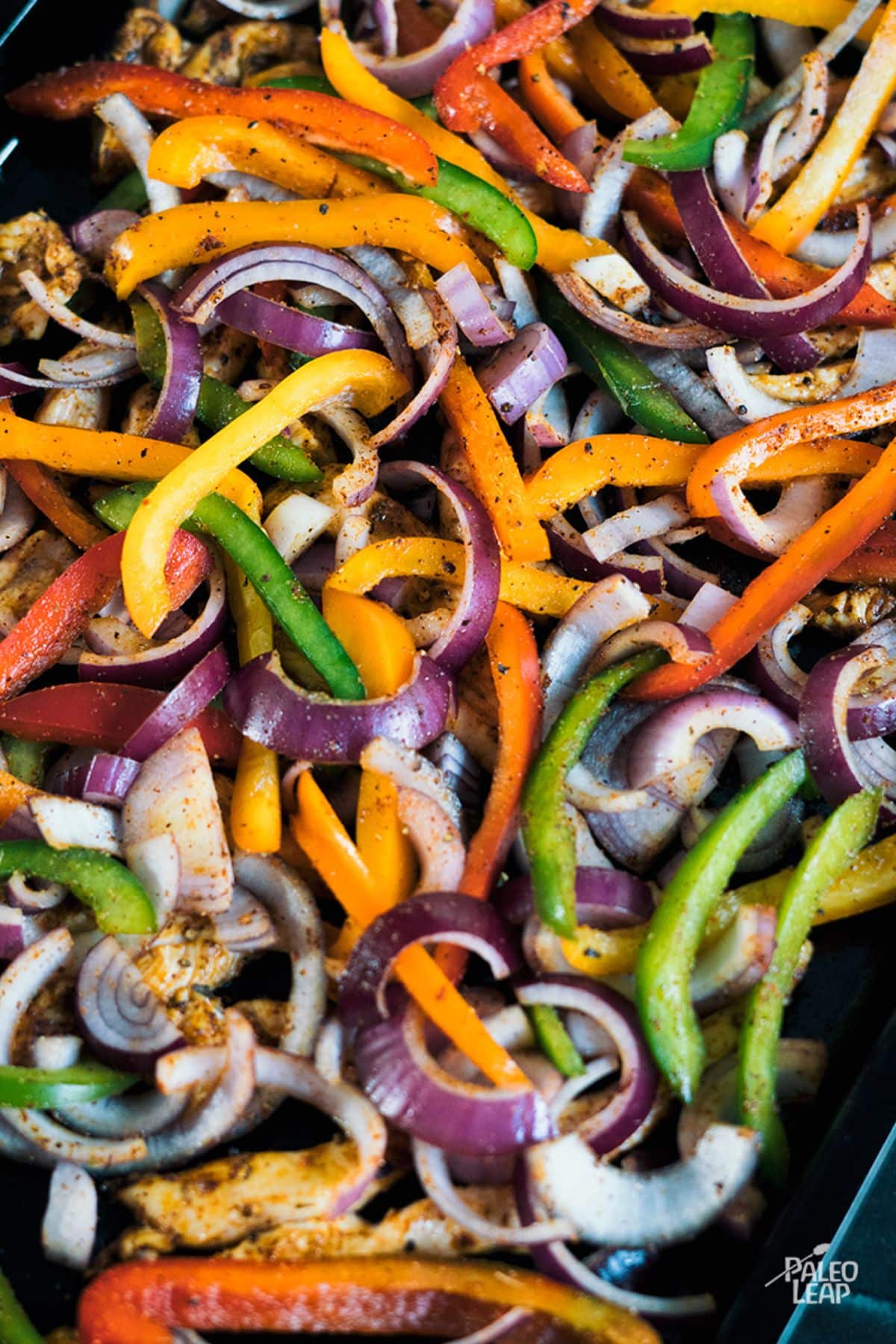 Preparation
Preheat oven to 400 F.
In a bowl, combine the olive oil, lime juice, garlic, chili powder, paprika, cumin, and oregano; season to taste.
Place chicken and vegetables in separate bowls and pour half of the mixture over the bell peppers and onions and the other over the sliced chicken; toss both until well combined.
Place the baking sheet in the oven for 5 to 6 minutes to preheat it.
Remove the baking sheet from the oven (careful, it's hot!) and place chicken on it. Put back in the oven and bake for 8 to 10 minutes.
Turn chicken over and top with the sliced vegetables, put back in the oven, and cook another 15 to 20 minutes, or until chicken is cooked through and vegetables are tender.
Serve topped with cilantro and lime wedges.
📖 Recipe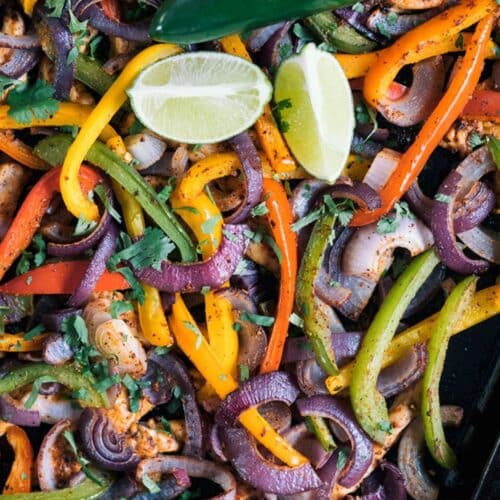 Sheet Pan Fajitas Recipe
This will be your first of many go-to meals that everyone will love - sheet pan fajitas can be adjusted to any level of hotness, protein or vegetable.
Instructions
Preheat oven to 400 F.

In a bowl, combine the olive oil, lime juice, garlic, chili powder, paprika, cumin, and oregano; season to taste.

¼ cup olive oil or avocado oil,

2 tbsp. fresh lime juice,

2 garlic cloves,

½ tbsp. chili powder,

1 tsp. paprika,

1 tsp. cumin powder,

Sea salt and freshly ground black pepper,

½ tsp. dried oregano

Place chicken and vegetables in separate bowls and pour half of the mixture over the bell peppers and onions and the other over the sliced chicken; toss both until well combined.

3 to 4 chicken breasts,

2 to 3 bell peppers,

2 onions

Place the baking sheet in the oven for 5 to 6 minutes to preheat it.

Remove the baking sheet from the oven (careful, it's hot!) and place chicken on it. Put back in the oven and bake for 8 to 10 minutes.

Turn chicken over and top with the sliced vegetables, put back in the oven, and cook another 15 to 20 minutes, or until chicken is cooked through and vegetables are tender.

Serve topped with cilantro and lime wedges.

Fresh cilantro and lime to garnish
Nutrition
Calories:
389
kcal
Carbohydrates:
12
g
Protein:
42
g
Fat:
19
g
Saturated Fat:
3
g
Polyunsaturated Fat:
3
g
Monounsaturated Fat:
12
g
Cholesterol:
110
mg
Sodium:
134
mg
Potassium:
645
mg
Fiber:
4
g
Sugar:
5
g
Vitamin A:
3076
IU
Vitamin C:
83
mg
Calcium:
70
mg
Iron:
3
mg