Are you pining for summertime? Do you catch yourself staring out the window, hoping against hope for a hint of something green?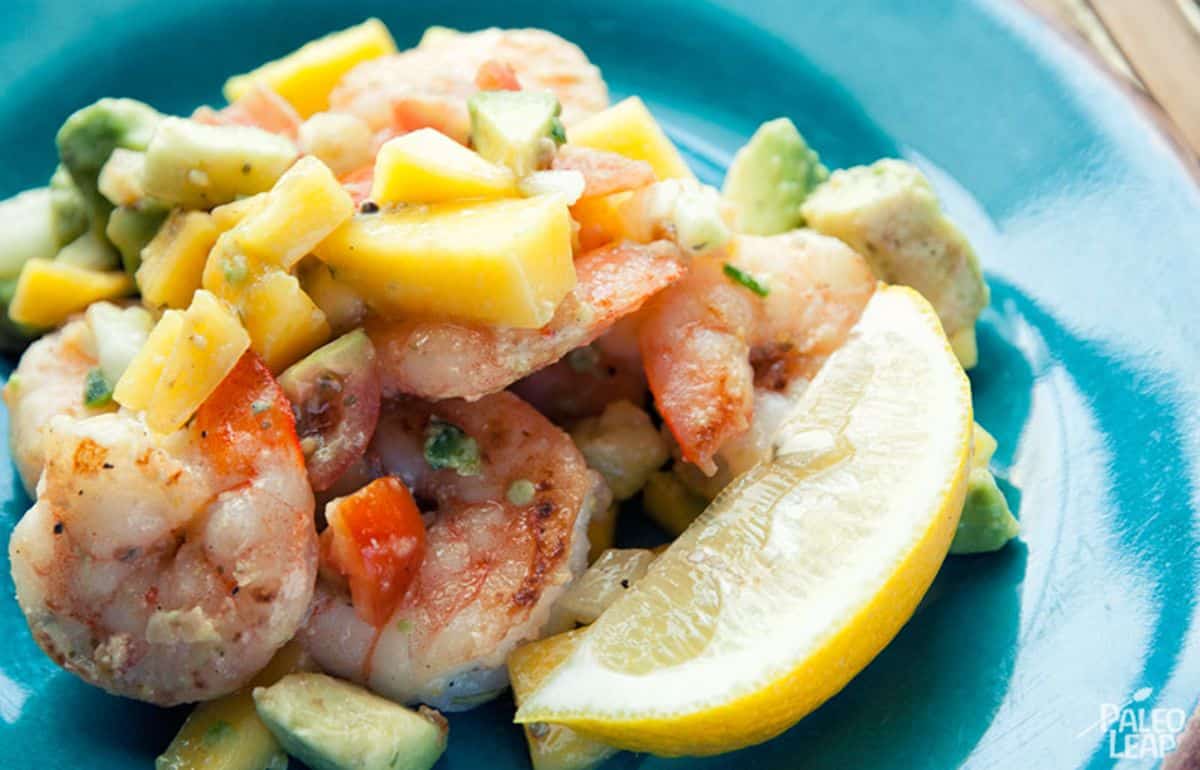 The daffodils might be a ways off yet, but you can always bring a little summer into your kitchen with a fresh, tropical combination of shrimp and mango, brightened up with a squeeze of lime juice and the pleasant bite of green onions.
The avocado adds body and nutrients, not to mention a great creamy texture that brings out the juicy crunch of the other ingredients. Leave it as-is, or finish it off with a spicy jalapeño kick.
Fresh fruit isn't just delicious as a reminder of warmer weather; it's also a great food to eat in the winter from a health perspective because it's so high in Vitamin C.
Any plant food will give you some Vitamin C, but cooking tends to destroy a significant amount of it – so if you've been relying on slow-cooked roasts and pan-fried vegetables, now might be a good time to mix it up with something raw to keep your body going strong through the tail end of cold and flu season.
Because the shrimp is the only thing in this recipe that you have to cook, it's done in just a few minutes. This would actually make a wonderful breakfast if you're looking to get out of an eggs-and-bacon rut, but it works just as well for a late brunch or a lighter meal at any time of day.
Try it with a glass of lemonade or raspberry-lime water, and enjoy a little infusion of sunshine even in the middle of the dreariest February snowstorms.
Shrimp With Avocado And Mango Recipe
Serves: 2 Prep: 20 min Cook: 5 min
Ingredients
1 lb. raw shrimp, shelled and deveined;
1 large mango, peeled and diced;
1 medium avocado, diced;
1 medium tomato, diced;
¼ cup chopped green onions;
4 garlic cloves, minced;
½ jalapeño, seeded and finely chopped; (optional)
1 tbsp. fresh lime juice;
Lemon or lime wedges (to serve);
Sea salt and freshly ground black pepper;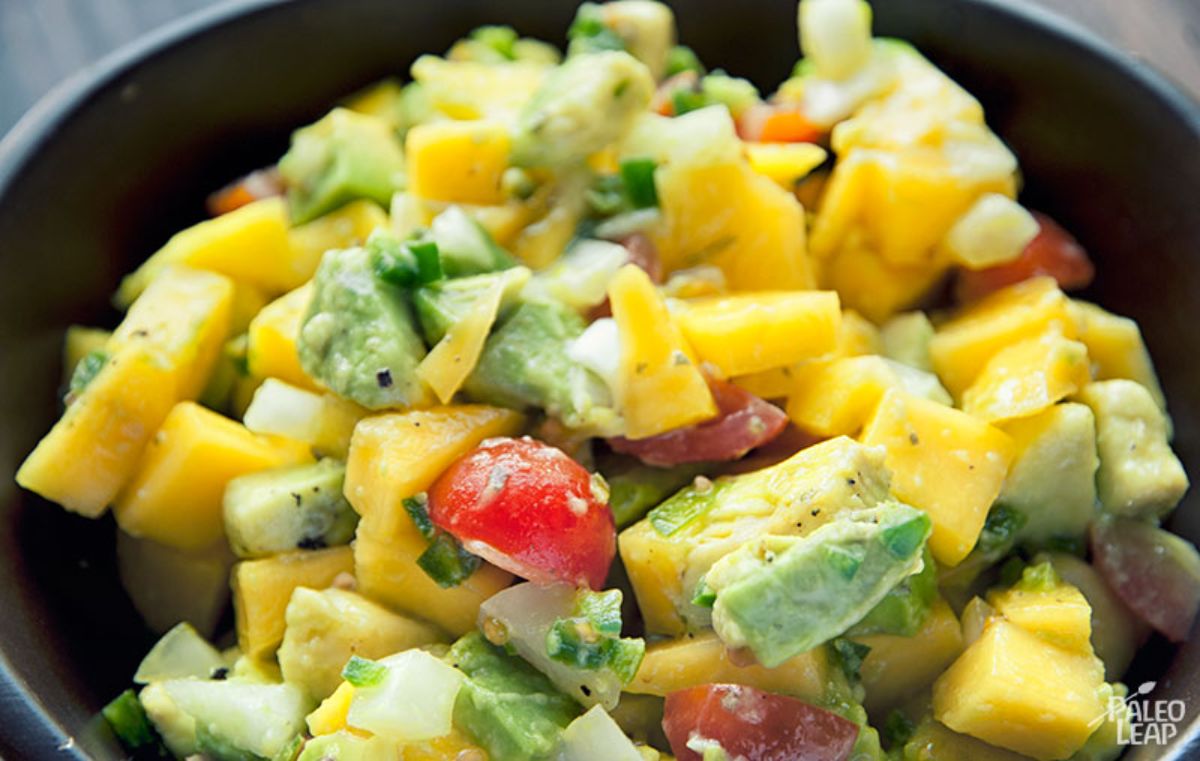 Preparation
In a bowl, combine the mango, avocado, tomato, green onion, jalapeño, and lime juice. Give everything a good stir.
Melt some cooking fat in a skillet placed over medium-high heat.
Add the garlic to the skillet and cook until golden (about 2 minutes).
Add the shrimp to the skillet and cook until pink (about 5 minutes).
Combine the shrimp with the mango and avocado mixture and serve with lemon or lime wedges.
📖 Recipe
Shrimp With Avocado And Mango Recipe
Cold weather got you down? Brighten up your day with a summery treat to remind you that winter doesn't last forever.
Instructions
In a bowl, combine the mango, avocado, tomato, green onion, jalapeño, and lime juice. Give everything a good stir.

1 large mango,

1 medium avocado,

1 medium tomato,

¼ cup chopped green onions,

½ jalapeño,

1 tbsp. fresh lime juice

Melt some cooking fat in a skillet placed over medium-high heat.

Add the garlic to the skillet and cook until golden (about 2 minutes).

Add the shrimp to the skillet and cook until pink (about 5 minutes).

Combine the shrimp with the mango and avocado mixture and serve with lemon or lime wedges.

Lemon or lime wedges,

Sea salt and freshly ground black pepper
Nutrition
Calories:
410
kcal
Carbohydrates:
32
g
Protein:
35
g
Fat:
18
g
Saturated Fat:
3
g
Polyunsaturated Fat:
2
g
Monounsaturated Fat:
10
g
Trans Fat:
0.02
g
Cholesterol:
286
mg
Sodium:
1298
mg
Potassium:
1131
mg
Fiber:
10
g
Sugar:
17
g
Vitamin A:
2318
IU
Vitamin C:
63
mg
Calcium:
173
mg
Iron:
2
mg