Delicious, healthy, amazingly flavorful sausage with an added element of the sea - all in one meal! If that is what you crave, that is exactly what you are going to receive with this dish. And it always feels great to get exactly what we want, doesn't it?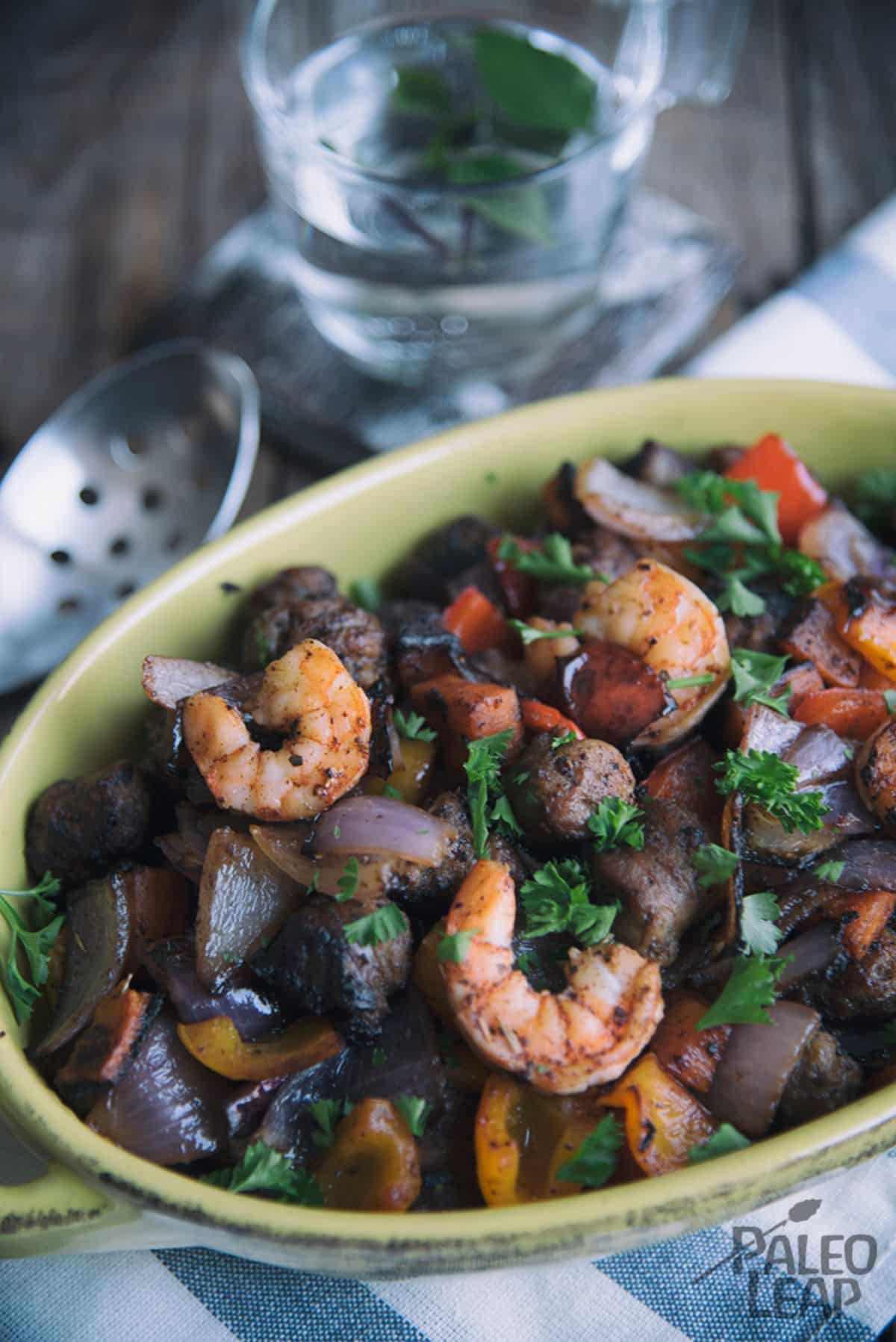 Take your favorite Paleo Italian sausages and combine them with a pound of cleaned shrimp, then allow the meal to naturally fall into place; your best skillet is quite useful for this job. Irresistible aromas will soon be wafting out of your kitchen, much to the delight of those invited to the dinner table.
When on the hunt for the best Paleo sausages around, there are several things to consider. While sausages on the lower end of the price scale may equate to "junk food" or overly processed meat, with the upper end over-priced, there are many options in the middle.
First things first, search for sausages with a natural casing, then take a quick peek at the list of ingredients - the shorter the list, the better. Stay away from any sausages with fillers such as flour (gluten-free or not), gums, or texturized vegetable protein made from soy flour. When in doubt, you can always make your own sausages at home.
Time can be demanding, so when hunger strikes, pick the best of the best and get to the stove - home-cooked meals are unbeatable! If you are inspired by Cajun spices, you may want to try a Cajun-style steak with spicy mango glaze the next time around - it is fabulous.
Shrimp And Sausage Cajun Skillet Recipe
Serves: 4 Prep: 20 min Cook: 25 min
Ingredients
4 Italian sausages, sliced
1 lb. shrimp, peeled and deveined
2 bell peppers, diced
1 zucchini, chopped
1 onion, diced
¼ cup chicken stock
2 garlic cloves, minced
1 tbsp. Cajun spices
Cooking fat
Fresh parsley, minced (for garnish)
Sea salt and freshly ground black pepper
Preparation
Heat some cooking fat in a skillet over medium-high heat.
Brown the sausages until cooked through, 8 to 10 minutes.
Add the onion, zucchini, and bell pepper. Cook for 4 to 5 minutes.
Then toss in the garlic, and cook for another minute or two.
Add the shrimp and cook until pink, about 2 to 3 minutes.
Sprinkle everything with Cajun spices and season to taste.
Pour in the chicken stock, toss well and cook 3 minutes longer.
Adjust the seasoning, and serve topped with fresh parsley.
📖 Recipe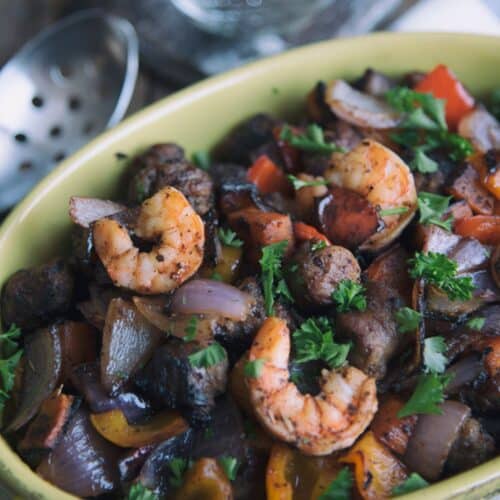 Shrimp And Sausage Cajun Skillet Recipe
A mouthwatering one-skillet meal with sausage, shrimp, bell peppers, zucchini, onion, and garlic spiced up with Cajun seasoning.
Instructions
Heat some cooking fat in a skillet over medium-high heat.

Brown the sausages until cooked through, 8 to 10 minutes.

Add the onion, zucchini, and bell pepper. Cook for 4 to 5 minutes.

1 zucchini,

1 onion,

2 bell peppers

Then toss in the garlic, and cook for another minute or two.

Add the shrimp and cook until pink, about 2 to 3 minutes.

Sprinkle everything with Cajun spices and season to taste.

1 tbsp. Cajun spices,

Sea salt and freshly ground black pepper

Pour in the chicken stock, toss well and cook 3 minutes longer.

Adjust the seasoning, and serve topped with fresh parsley.

Fresh parsley,

Sea salt and freshly ground black pepper
Nutrition
Calories:
803
kcal
Carbohydrates:
11
g
Protein:
105
g
Fat:
41
g
Saturated Fat:
13
g
Polyunsaturated Fat:
5
g
Monounsaturated Fat:
16
g
Cholesterol:
1378
mg
Sodium:
4842
mg
Potassium:
683
mg
Fiber:
4
g
Sugar:
6
g
Vitamin A:
3782
IU
Vitamin C:
90
mg
Calcium:
504
mg
Iron:
11
mg