If you're looking for a classic comfort food that's both paleo and keto-friendly, look no further than this simple paleo meatloaf recipe. This dish is perfect for a hearty family dinner, and it's easy to make with just a few simple ingredients.
Jump to:
The prep time for this recipe is only 10 minutes, and it takes only 1 hour to cook, making it a great option for busy weeknights. And with its delicious combination of ground beef, almond flour, onion, garlic, herbs, tomato paste, and eggs, this meatloaf is sure to please even the pickiest of eaters.
When it comes to serving, this basic paleo meatloaf is great all on its own, but you can also serve it with a side of roasted vegetables or a simple green salad. I love pairing this with these roasted cherry tomatoes. It can also be a great sandwich or wrap if you have a paleo-approved bread or tortilla option on hand!
Want something just a bit different? Check out this bacon and marinara meatloaf. Or, you can go a whole new direction and make this pork and apple meatloaf recipe instead!
Simple Paleo Meatloaf
Serves: 4 Prep Time: 10 minutes Cook Time: 1 hour
Ingredients
1 onion
2 pounds of ground beef
1 cup almond meal
2 eggs
1 (6oz) can of tomato paste
1 tablespoon garlic
2 tablespoons dried basil
1 teaspoon dried marjoram
Sea salt and freshly ground black pepper
Cooking fat
Not sure what to choose? Check out this guide to paleo cooking fats!
How to Make a Basic Paleo Meatloaf
Begin by preheating your oven to 350°F.
In a mixing bowl, combine all the ingredients for the meatloaf except for the cooking fat.
Take a loaf-sized glass baking dish and lightly grease it.
Press the meat mixture into the dish, shaping it into a loaf.
Pour melted cooking fat over the top of the loaf.
Place the meatloaf in the oven and let it bake for about an hour, or until it is fully cooked and no longer pink in the center.
Once the meatloaf is cooked through, take it out of the oven and let it rest for a few minutes before slicing and serving. This will give the meatloaf time to set and will also help to keep it moist and juicy.
More Paleo Ground Beef Recipes
Whether you bake one of these recipes, or you try this basic paleo meatloaf, staying on track is easier than ever. This is a perfect option for those following a paleo or keto diet, and it's sure to become a regular staple in your meal rotation. With its delicious taste and easy prep, it's a recipe that you'll come back to again and again.
📖 Recipe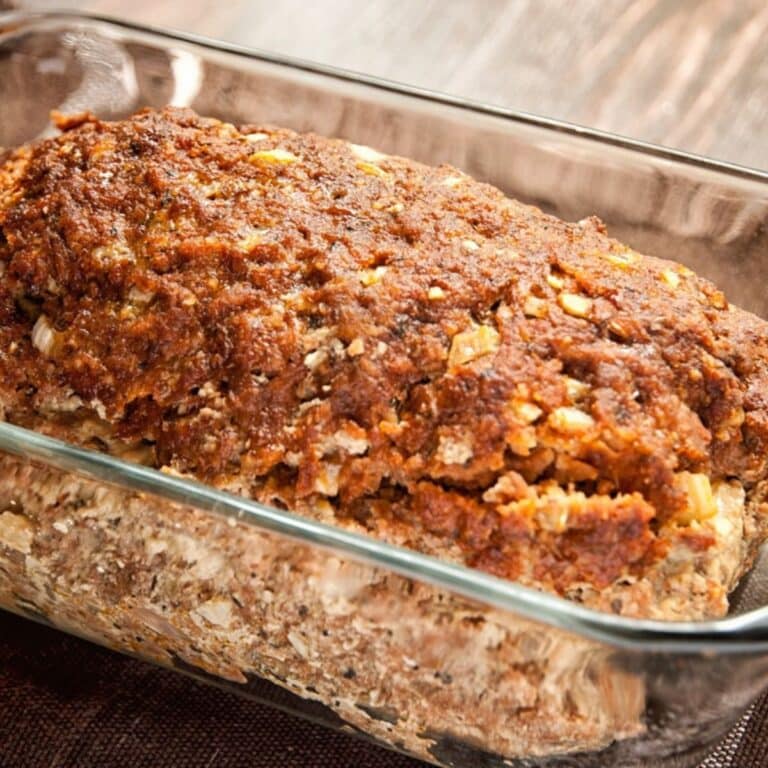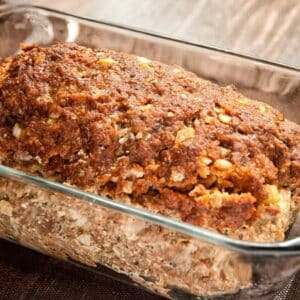 Simple Paleo Meatloaf
A simple paleo meatloaf is pulled together in just 10 minutes to easily cook while you prepare your favorite paleo side dishes for the ultimate comfort food meal!
Instructions
Preheat your oven to 350°F.

In a bowl, mix all the ingredients together except the cooking fat.

1 onion,

2 lbs ground beef,

1 cup almond meal,

2 eggs,

6 oz tomato paste,

1 tablespoon garlic,

2 tablespoon dried basil,

1 teaspoon marjoram,

Sea salt and freshly ground black pepper

Melt the cooking fat and set it aside.

Grease a loaf sized glass baking dish and press the meat mixture in it to form a loaf.

Cover the top of the loaf with melted cooking fat.

Bake in the oven for about 1 hour, until cooked through and the meat is no longer pink in the middle and has reached 160°F internally
Notes
For added flavor, use half ground beef and replace the other half with ground pork or ground sausage. 
Feel free to add additional spices or herbs to enrich the flavor.
To make sure the meatloaf is cooked through but not dried out, use a meat thermometer to monitor the interior temperature as it cooks. 
Nutrition
Calories:
907
kcal
Carbohydrates:
18
g
Protein:
50
g
Fat:
72
g
Saturated Fat:
21
g
Polyunsaturated Fat:
6
g
Monounsaturated Fat:
25
g
Trans Fat:
3
g
Cholesterol:
243
mg
Sodium:
522
mg
Potassium:
1167
mg
Fiber:
6
g
Sugar:
7
g
Vitamin A:
785
IU
Vitamin C:
11
mg
Calcium:
179
mg
Iron:
9
mg