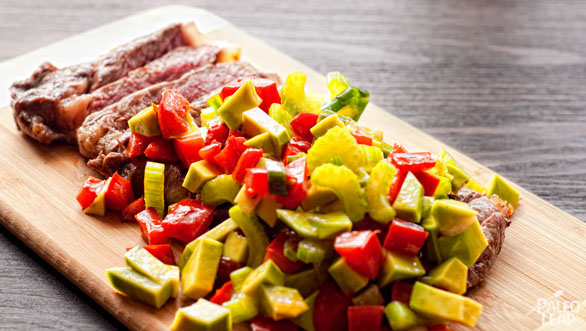 If you're eating dinner outside on a beautiful summer evening, the last thing you want is to be stuck inside sweating over the stove for hours beforehand. This fresh summer recipe is ready in just a few minutes but doesn't compromise on taste. Crisp red peppers and celery slices are a refreshing contrast to the fatty steak and avocado. You could also serve it with some homemade lemonade to bring out the lemon in the salad. For any kind of dinner party, this is an especially great recipe because it's so easy to scale. If you have more people over, just add more steak.
For this recipe, you'll want a nicely ripe avocado. Underripe avocados are hard and wooden, and overripe ones are mushy and full of unattractive black streaks. Hass avocados (the most popular kind) turn a very deep green when they're ready to eat. Find one that's almost black, and give it a squeeze test to make sure. If you squeeze it gently, the avocado should have a little "give" to it. If it's rock-hard, it's underripe, and if it's mushy, it's too old. If you're planning ahead for this recipe, buy an avocado that's a little underripe, to give it time to ripen before you use it.
On top of being absolutely delicious and mouth watering, this recipe is also highly nutritious because of all the ingredients that are loaded in micronutrients. For example, the avocado is full of potassium, vitamin E and soluble fiber, the red bell pepper and lemon juice are full of vitamin C and the steaks, especially if you choose grass-fed steaks, are full of iron, vitamin B12, B vitamins, zinc and selenium, among others.
Here I decided to go with sirloin steaks, which are tender enough for my tastes and are cheaper than other premium cut steaks like the rib eye or the T-bone.
You can get creative with the presentation of the dish, as in this example where I decided to serve the individual portions on small wooden cutting boards. It really gave a rustic feel to the meal.
Sirloin Steak With Avocado Salad Recipe

SERVES: 4

PREP: 15 min.

COOK: 8-10 min.

Values are per portion. These are for information only & are not meant to be exact calculations.
Ingredients
2 big sirloin steaks;
1 avocado, peeled and diced;
1 big red bell pepper, diced;
½ cup of celery, sliced;
2 green onions, chopped;
2 tbsp. extra virgin olive oil;
1 tbsp. lemon juice;
2 tbsp. Paleo cooking fat;
Sea salt and freshly ground black pepper;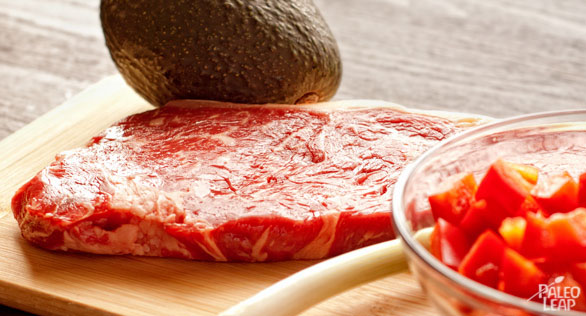 Preparation
In a skillet big enough to cook two steaks, melt 1 tbsp. of the cooking fat over medium-high heat.
Cook the red bell peppers until soft but still crunchy (about 2 to 3 minutes) and set aside.
Season the 2 steaks with sea salt and freshly ground black pepper to taste.
In the same skillet, add the cooking fat and brown the two sirloins on each side, until done to your liking. 2-3 minutes on each side will give you a nice medium-rare steak.
Remove the steaks from the skillet and let them rest for about 5 minutes.
In a big bowl, combine the roasted red bell peppers, the avocado, the green onions, the celery, the lemon juice, and the olive oil to prepare the salad.
Season to taste with sea salt and freshly ground black pepper.
Cut the steak into slices, and serve with the avocado salad on top.