A word of caution: this dish is for mango lovers only.
The instant thought of mouthwateringly sweet delicious mangoes has us imagining a glass filled to the brim with a rich mango lassi, sipping it greedily in the summer heat... Has anyone created a Paleo-friendly mango lassi? If so, we are on the hunt to find it!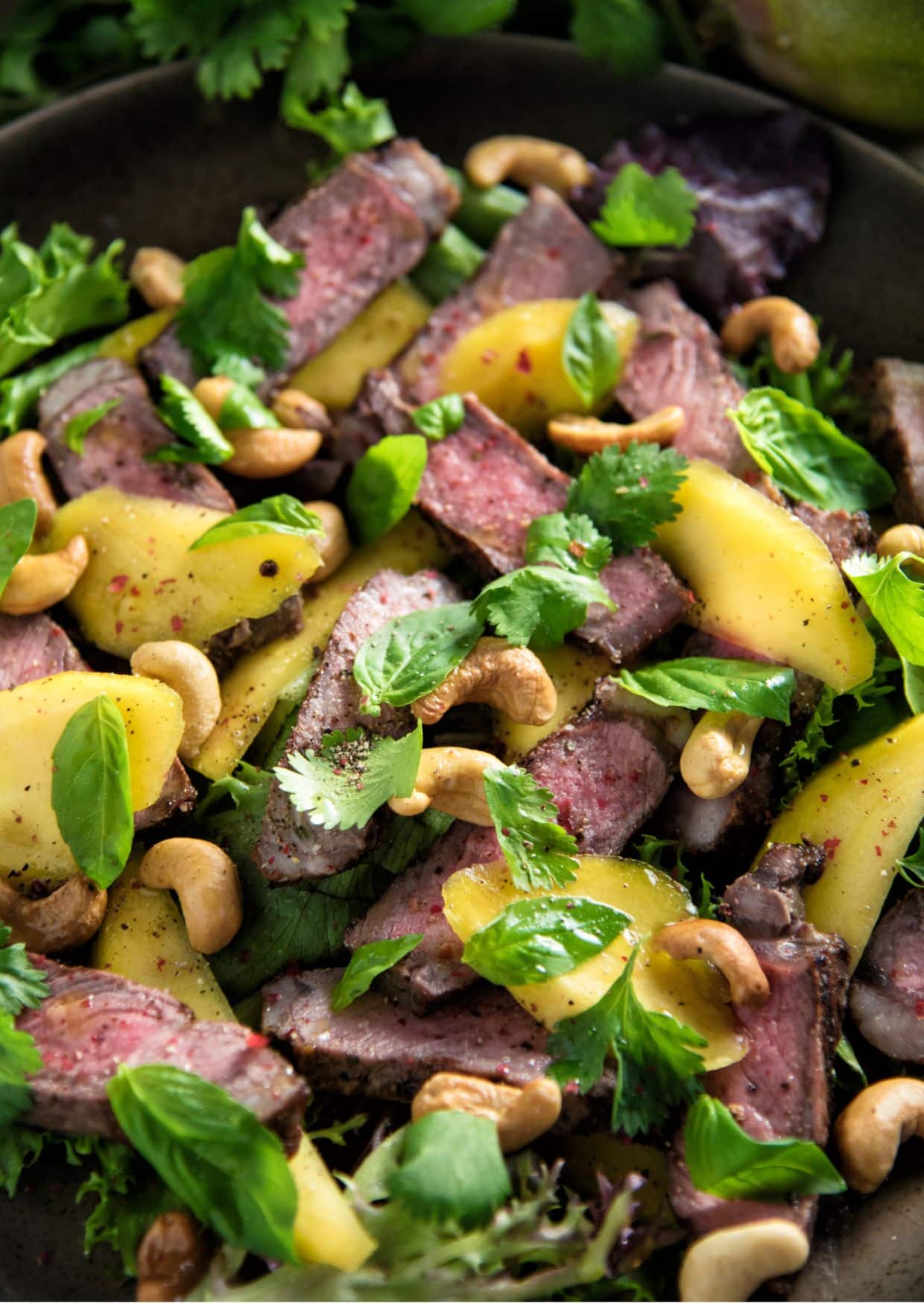 In the meantime, we will surrender ourselves to a refreshing banana mango coconut smoothie. Simply ambrosial!
Outside of searching high and low for ripe exotic fruit, you'll also find yourself hunting down the most local grass-fed beef you can find. Sirloin steaks are best when they are pan-seared, which is fine if you are cooking inside and/or if you don't have a grill.
However, if you are cooking outside over hot embers, we have a couple of quick tips for grilling the perfect sirloin steak: for starters, let the steak come to room temperature before cooking - remove it from the fridge about 30 minutes before you plan to cook.
Secondly, if you are about to grill a thick sirloin steak with a strip of nourishing fat on the side, sear that part first by holding it over the highest heat with a pair of tongs. And don't overcook the steak! Medium-rare is a good standard to shoot for.
Combine slices of sirloin steak and fresh mango over a bed of diverse, mixed greens, and all will be right in your world, if only for the duration of a meal.
Sirloin Steak And Mango Salad Recipe
Serves: 4 Prep: 15 min Cook: 15 min
Ingredients
4 sirloin steaks
4 cups mixed greens
2 large mangos, peeled and cut into thin wedges
⅓ cup cashew nuts, roasted, coarsely chopped
¼ cup chopped fresh cilantro
¼ cup fresh basil, minced
Juice of 1 lime
¼ cup olive oil
Red pepper flakes (optional, to garnish)
Preparation
Preheat the grill to high.
Season the steak to taste with sea salt and freshly ground black pepper.
Grill the sirloin steaks for 3 to 4 minutes on each side, depending on thickness and desired doneness.
Let the steaks rest for 4 to 5 minutes, then thinly slice.
Serve the meat on top of fresh mixed greens topped with fresh herbs, cashews, and mango slices.
Drizzle olive oil and lime juice, and season with red pepper flakes to taste.
📖 Recipe
Sirloin Steak And Mango Salad Recipe
Few meals are easier to prepare than sirloin steak with mango salad and mixed greens. What's for dessert? Strawberry and mango sorbet.
Instructions
Preheat the grill to high.

Season the steak to taste with sea salt and freshly ground black pepper.

Grill the sirloin steaks for 3 to 4 minutes on each side, depending on thickness and desired doneness.

Let the steaks rest for 4 to 5 minutes, then thinly slice.

Serve the meat on top of fresh mixed greens topped with fresh herbs, cashews, and mango slices.

4 cups mixed greens,

2 large mangos,

⅓ cup cashew nuts,

¼ cup chopped fresh cilantro,

¼ cup fresh basil

Drizzle olive oil and lime juice, and season with red pepper flakes to taste.

Juice of 1 lime,

¼ cup olive oil,

Red pepper flakes
Nutrition
Calories:
491
kcal
Carbohydrates:
5
g
Protein:
52
g
Fat:
29
g
Saturated Fat:
7
g
Polyunsaturated Fat:
3
g
Monounsaturated Fat:
17
g
Cholesterol:
138
mg
Sodium:
141
mg
Potassium:
917
mg
Fiber:
0.4
g
Sugar:
1
g
Vitamin A:
534
IU
Vitamin C:
10
mg
Calcium:
75
mg
Iron:
5
mg