Can you think of the best thing about cooking larger batches of tasty food at once? The leftovers. Notice, we said tasty food.
Simmer, braise, bake, or slow cook it right the first time, and every reheating will be a delight. It is also nice to invest your time in "bulk" meals because you only have to spend time cooking/stirring/tending once.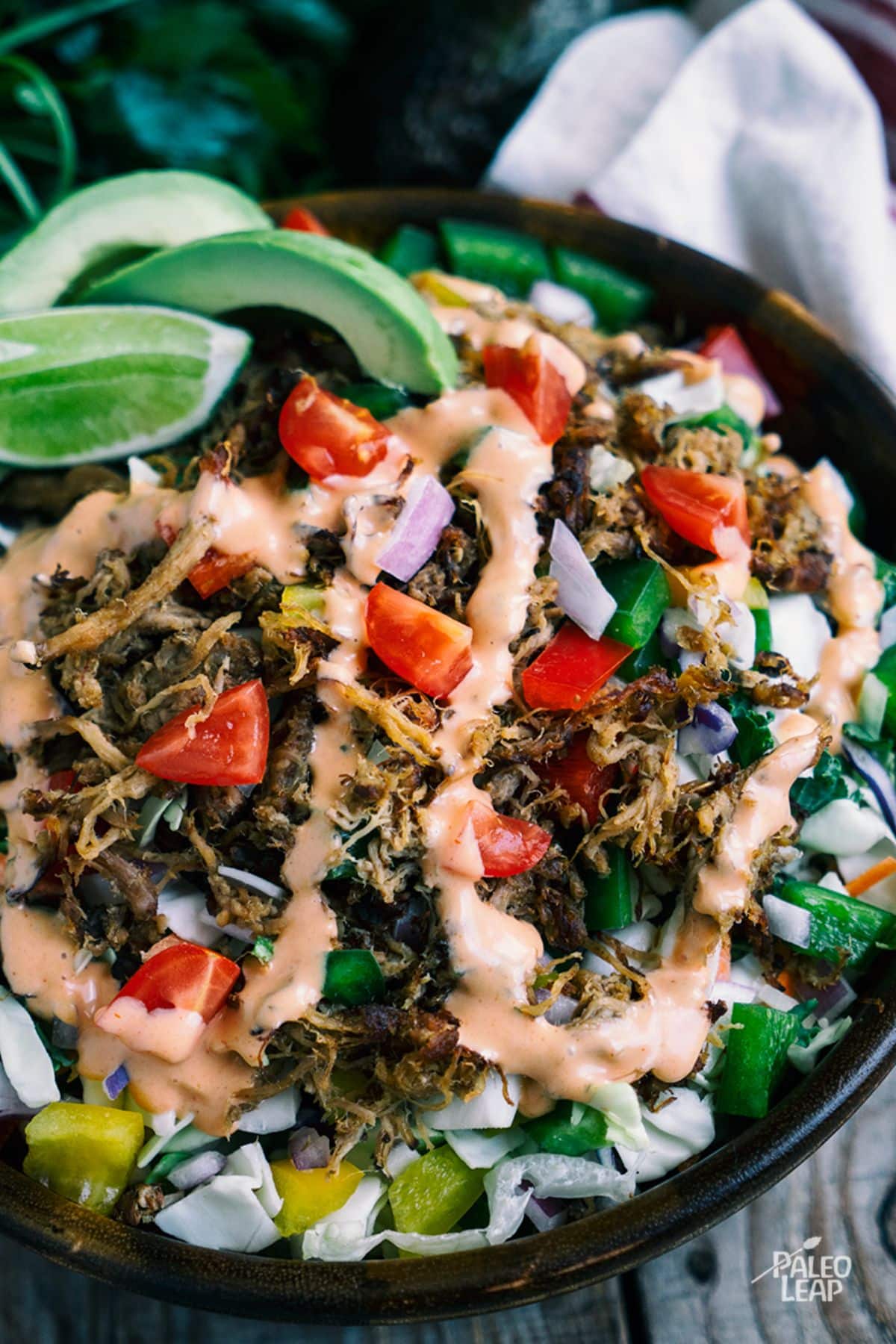 And the biggest mess happens just once, then you can refrigerate or freeze the leftovers. Heat it up again, and you have an (almost) instant meal on your plate, which is far better than opting for convenient, fast food.
If you have managed to eat all of your leftover pork carnitas or pulled pork, then congratulations, they must have been tasty! Now it is time to make another batch.
Think big this time around. Next on the list, you'll want to spend a little extra time to make the dressing by whipping up your own homemade mayonnaise. Use some now, save some for later - you never know when the craving will strike to dip your fresh veggies...
As you are preparing the salad, feel free to sneak a nibble or two of pepper, onion, carrot or avocado. Just remember to save enough for others!
A meal in itself, this Southwest-style pulled pork salad needs no additional companion on the plate, though an occasional dessert of a sweet potato brownie never hurts.
Southwest Pulled Pork Salad Recipe
Serves: 4 Prep: 20 min Cook: 5 min
Ingredients
2 cups leftover pulled pork or pork carnitas
1 bell pepper, diced
1 small red onion, diced
1 carrot, shredded
2 cups mixed greens, chopped
1 cup cabbage, chopped
1 avocado, sliced
Fresh cilantro, to garnish
Lime slices, to garnish
Southwest Dressing Ingredients
¼ cup homemade mayonnaise
¼ cup olive oil
¼ cup fresh lime juice
1 garlic clove, minced
2 tbsp. hot pepper sauce
½ tsp. chili powder
½ tsp. ground cumin
¼ tsp. paprika
Sea salt and freshly ground black pepper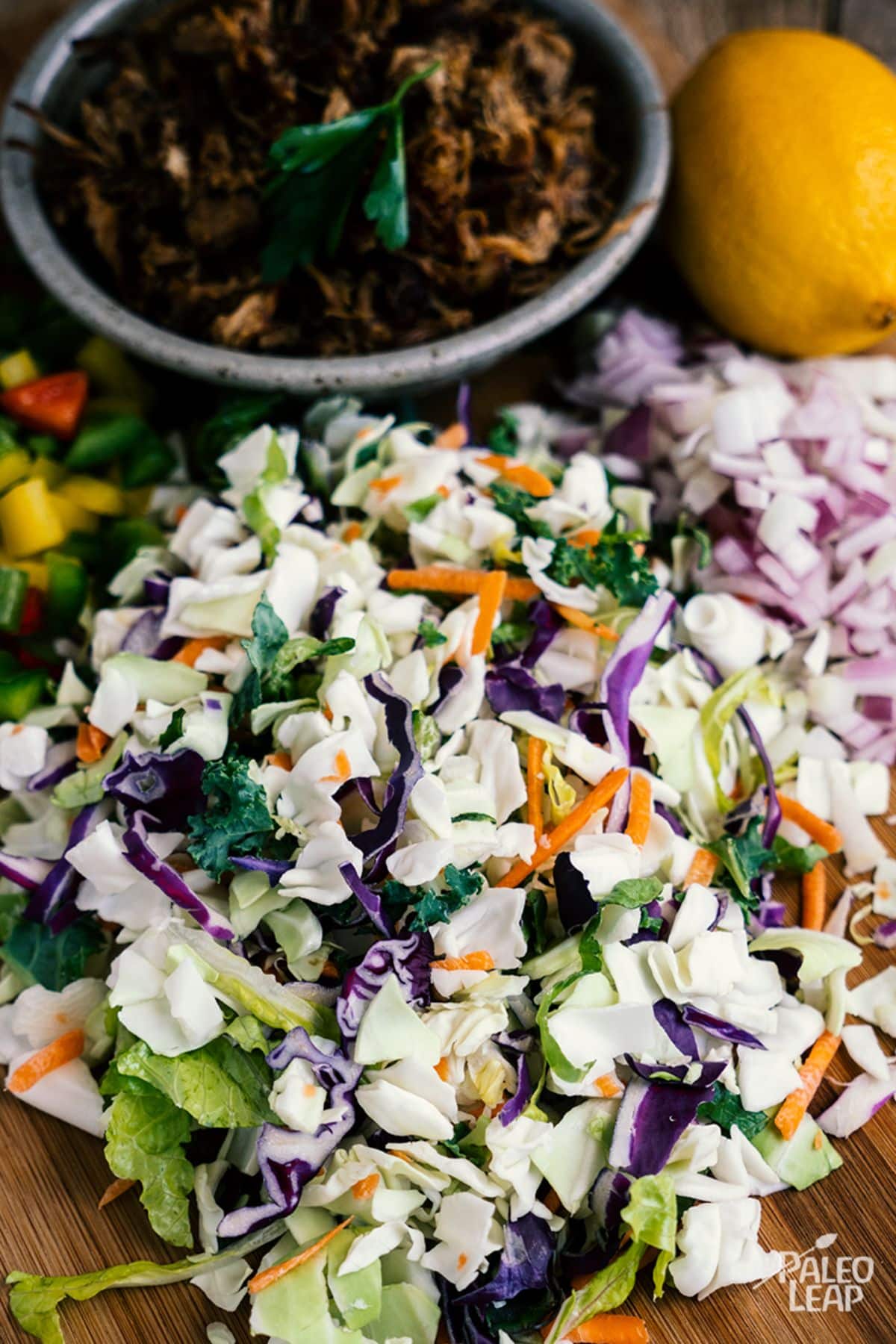 Preparation
In a bowl, combine all the ingredients for the dressing; season to taste and whisk until well emulsified.
Reheat the pulled pork in a skillet over medium heat.
In a salad bowl, combine the cabbage, mixed greens, carrot, red onion, and bell pepper, and toss gently.
Top the salad with the pulled pork and sliced avocado.
Drizzle the Southwest dressing on top and serve with fresh cilantro and lime slices.
📖 Recipe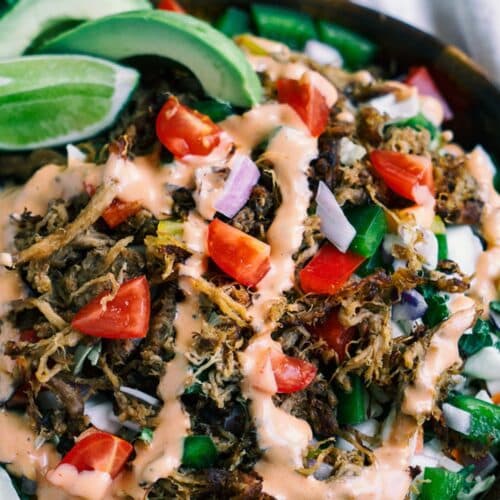 Southwest Pulled Pork Salad Recipe
Pulled pork leftovers do not need a bun. What they need is a nice, refreshing salad with a Paleo mayonnaise-Southwest dressing that covers them in a scrumptious sauce.
Ingredients
Southwest Dressing Ingredients
Instructions
In a bowl, combine all the ingredients for the dressing; season to taste and whisk until well emulsified.

¼ cup homemade mayonnaise,

¼ cup olive oil,

¼ cup fresh lime juice,

1 garlic clove,

2 tbsp. hot pepper sauce,

½ tsp. chili powder,

½ tsp. ground cumin,

¼ tsp. paprika,

Sea salt and freshly ground black pepper

Reheat the pulled pork in a skillet over medium heat.

2 cups leftover pulled pork or pork carnitas

In a salad bowl, combine the cabbage, mixed greens, carrot, red onion, and bell pepper, and toss gently.

1 small red onion,

1 carrot,

2 cups mixed greens,

1 cup cabbage,

1 bell pepper

Top the salad with the pulled pork and sliced avocado.

Drizzle the Southwest dressing on top and serve with fresh cilantro and lime slices.

Fresh cilantro,

Lime slices
Nutrition
Calories:
557
kcal
Carbohydrates:
35
g
Protein:
18
g
Fat:
40
g
Saturated Fat:
7
g
Polyunsaturated Fat:
9
g
Monounsaturated Fat:
17
g
Trans Fat:
0.03
g
Cholesterol:
57
mg
Sodium:
1026
mg
Potassium:
524
mg
Fiber:
6
g
Sugar:
22
g
Vitamin A:
4346
IU
Vitamin C:
70
mg
Calcium:
102
mg
Iron:
3
mg