To make a proper enchilada steak, you'll first have to create a savory sauce from tomatoes, chili, cumin, and other spices. Good news: we've got the perfect recipe to create a Paleo enchilada sauce from scratch.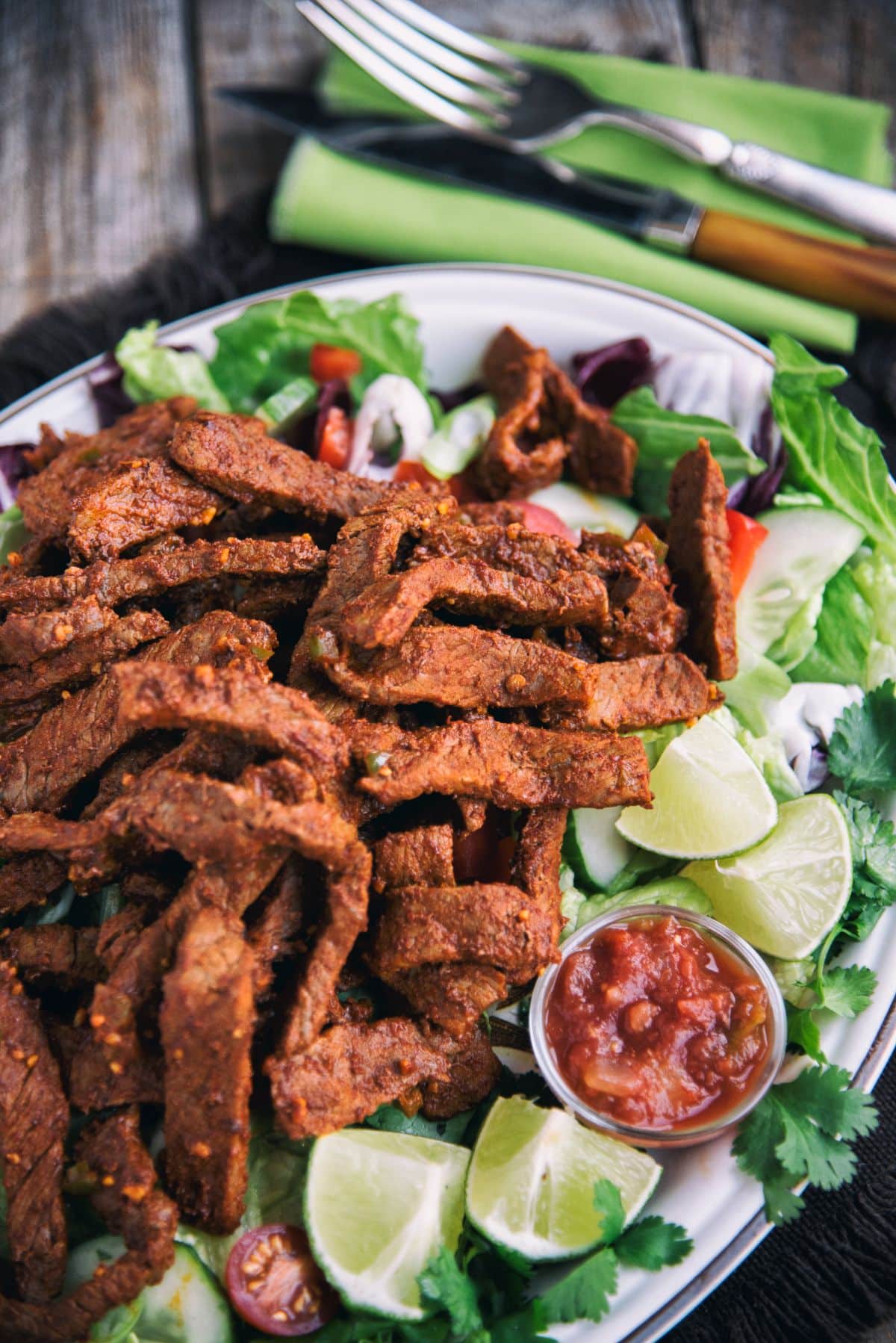 Note that it is perfectly acceptable to make this sauce, or just about any other, without thickeners such as flour or cornstarch. Simply omit the "traditional" ingredients, and get on with your cooking. Once you smell the steak frying on the stove top, nothing else matters.
Before you get too advanced in cooking, you'll want to make sure to slice your flank steak nicely into long strips, so they sit nicely atop the salad. The presentation does matter - even if you are snuggled up to your bowl all alone.
Make your dinner a piece of art, and you'll enjoy the flavors and color combinations that much more. That being said, use a diverse assortment of mixed greens as the base for your enchilada salad. Seek out purple heirloom tomatoes, juxtaposed with baby orange and yellow ones.
Use green, red, or yellow bell peppers, and sprinkle some micro greens for added nutrition to the top. Have fun with both cooking and eating, then share the joy with others.
With a steak enchilada salad as the main dish, you may feel full at the end of this well-rounded meal. If it just so happens that you have a wee bit of room for a scoop of mango and strawberry sorbet, go for it! It will be pleasantly cooling after all those extra chilies.
Steak Enchilada Salad Recipe
Serves: 4 Prep: 15 min Cook: 12 min
Ingredients
1 lb. flank steak, sliced
¾ cup enchilada sauce
2 tbsp. green chilies, minced
2 tsp. minced garlic
1 ½ tsp. onion powder
1 tsp. cumin
2 tbsp. lime juice
Sea salt and freshly ground black pepper
Salad ingredients
6 cups mixed greens
1 bell pepper, sliced
1 red onion, diced
1 avocado, diced
1 Roma tomato, diced
¼ cup extra virgin olive oil
2 garlic cloves, minced
Juice of 1 lime
2 tbsp. fresh cilantro, minced
1 tsp. chili powder
Lime wedges (optional)
Preparation
In a bowl, combine the enchilada sauce, green chilies, garlic, onion powder, cumin, and lime juice, and season to taste.
Melt cooking fat in a skillet over medium-high heat.
Sauté the sliced beef in the skillet until browned, about 4 to 5 minutes.
Add the enchilada sauce and continue cooking, while stirring, for another 4 to 5 minutes.
For the salad, mix together the olive oil, garlic, lime juice, and chili powder in a small bowl.
Add all of the remaining salad ingredients to a salad bowl, pour over the dressing, and toss until well combined.
Serve the salad topped with spicy steak slices and lime wedges.
📖 Recipe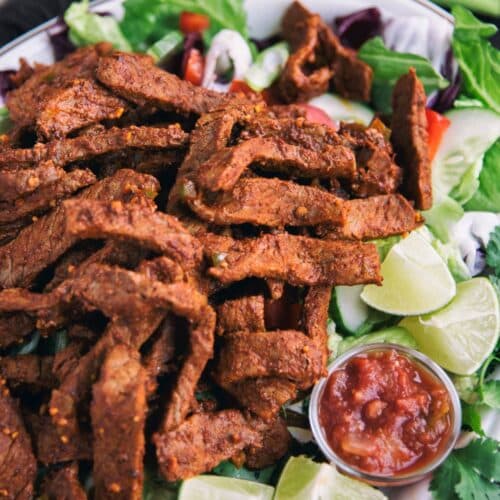 Steak Enchilada Salad Recipe
Ever tried to make your own enchilada sauce at home? Tonight is the perfect moment to try it out, on your spicy and colorful steak enchilada salad!
Instructions
In a bowl, combine the enchilada sauce, green chilies, garlic, onion powder, cumin, and lime juice, and season to taste.

¾ cup enchilada sauce,

2 tbsp. green chilies,

2 tsp. minced garlic,

1 ½ tsp. onion powder,

1 tsp. cumin,

2 tbsp. lime juice,

Sea salt and freshly ground black pepper

Melt cooking fat in a skillet over medium-high heat.

Sauté the sliced beef in the skillet until browned, about 4 to 5 minutes.

Add the enchilada sauce and continue cooking, while stirring, for another 4 to 5 minutes.

For the salad, mix together the olive oil, garlic, lime juice, and chili powder in a small bowl.

¼ cup extra virgin olive oil,

2 garlic cloves,

Juice of 1 lime,

1 tsp. chili powder

Add all of the remaining salad ingredients to a salad bowl, pour over the dressing, and toss until well combined.

Serve the salad topped with spicy steak slices and lime wedges.

1 bell pepper,

1 red onion,

1 avocado,

1 Roma tomato,

Lime wedges,

2 tbsp. fresh cilantro
Nutrition
Calories:
430
kcal
Carbohydrates:
20
g
Protein:
29
g
Fat:
27
g
Saturated Fat:
5
g
Polyunsaturated Fat:
3
g
Monounsaturated Fat:
17
g
Cholesterol:
68
mg
Sodium:
525
mg
Potassium:
1001
mg
Fiber:
7
g
Sugar:
7
g
Vitamin A:
3000
IU
Vitamin C:
69
mg
Calcium:
84
mg
Iron:
4
mg