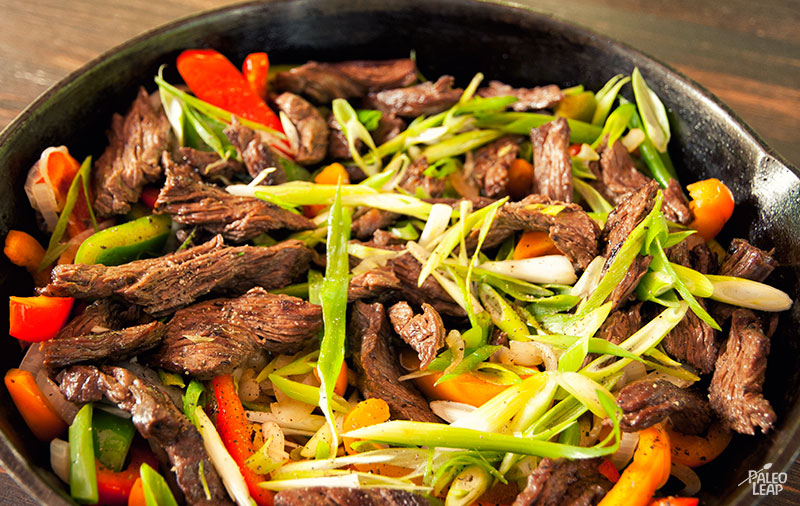 If you ever need to win a speed-cooking contest, this is the recipe to save for the occasion. Meat, vegetables, and fat, all in one pan with minimal prep and cooking time – and yet, somehow it comes out delicious (that's the magic of using fresh, whole foods to cook with: you don't actually need a bunch of fancy prep work!). There's not even a marinade to worry about; you can pull everything out of the fridge at the last minute and have dinner ready in just a few minutes.
It's also a recipe that would be very easy to adapt depending on what you have handy. No bell peppers? Use mushrooms, broccoli, cooking greens, or anything else you can toss in a skillet. No flank steak? Substitute anything else you can slice into bite-size pieces.
If you'd like some starch to go with your meal, just toss a potato or sweet potato in the microwave when you start cooking the meat: it'll be ready to go with the rest of your meal, with almost no effort required. For the travelers in the audience, this is also a recipe that refrigerates (or even freezes) and re-heats very well: you can make a double recipe for dinner and take the leftovers for lunch the next day. In fact, you could even call it breakfast; there's no rule that breakfast has to be "breakfast food," and a big pile of steak and vegetables might be just the thing to help you start the day off on the right foot.
Steak With Bell Peppers Skillet Recipe

SERVES: 4

PREP: 15 min.

COOK: 18 min.

Values are per portion. These are for information only & are not meant to be exact calculations.
Ingredients
1 lb. flank steak, sliced;
1 large sweet onion, thinly sliced;
3 shallots, sliced;
3 bell peppers, sliced;
1 garlic clove, minced;
2 tbsp. cooking fat
Sea salt and freshly ground black pepper;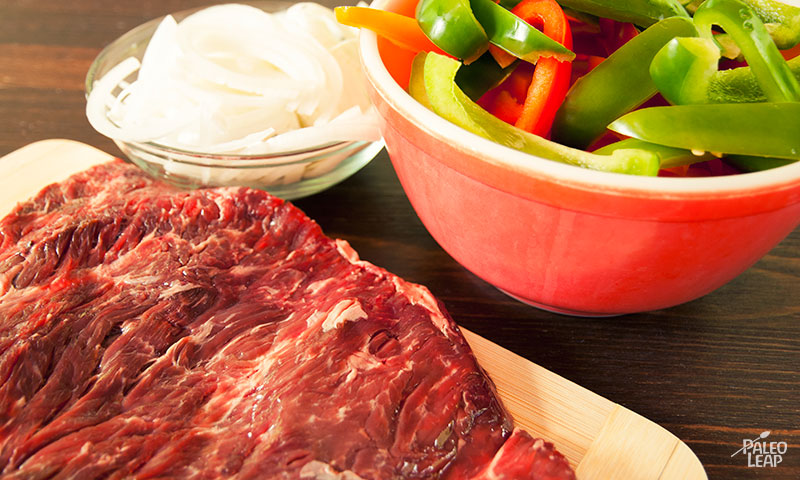 Preparation
Heat up 1 tbsp. of cooking fat in a large skillet placed over a medium heat.
Toss in the onions and garlic and cook for about 4 to 5 minutes.
Transfer the onion and garlic to a plate and set aside.
In the same skillet, add the other tablespoon of cooking fat and keep at a medium-high heat.
Add the beef to the skillet. Cook for about 6 minutes, or until browned to desired doneness, and set aside.
Add the bell peppers and shallots, and cook until the peppers start to soften (about 5 minutes).
Toss the onions and beef back into the pan. Cook until everything is warm (about 2 minutes), and serve.