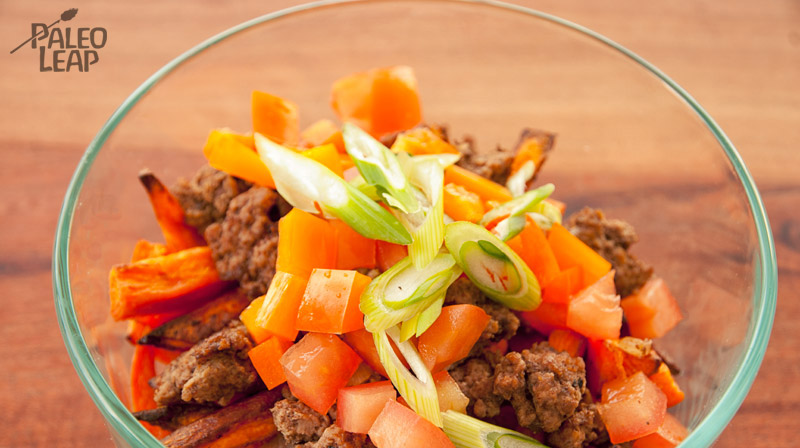 Looking for something a little more substantial than salad as a healthier option for taco night? Try these fries instead: taco-seasoned beef spooned over a crispy bed of oven-roasted sweet potatoes, and topped off with a garnish of green onions and juicy tomato chunks for extra crunch and flavor. And it's even easy to eat without a mess: no need to worry about anything falling out the back of the taco shell while you're trying to take a bite.
This is a recipe that lends itself well to your favorite taco variations, like strips of marinated steak instead of ground beef, or even substituting seafood for the meat; you can also change it up just by substituting your favorite toppings (do you like a little shredded lettuce? Avocado? Maybe some cabbage for extra crunch?). For a slightly different base flavor with no extra work, you could also use spicy fries or regular white potatoes instead of sweet potatoes.
Another option that's great for bigger families is to lay out all the toppings in separate serving dishes, and just give everyone a bowl of fries to garnish as they like. If you're having vegetarian guests, you could even set out some sautéed mushrooms for them to use in place of meat (just make sure they also get in some protein from something else!). Sprinkle some lime juice on top and serve it with homemade salsa, or just set out a bowl of homemade ketchup for dipping any extra potatoes in, and enjoy a hearty, healthy dinner.
Taco Fries Recipe

SERVES: 4

PREP: 20 min.

COOK: 35 min.

Values are per portion. These are for information only & are not meant to be exact calculations.
Add to Meal Plan
Ingredients
6-8 sweet potatoes, peeled and cut into wedges;
1 lb. ground beef;
2 tomatoes, chopped;
2 green onions, sliced;
2 bell pepper, chopped;
1 onion, chopped;
1 garlic clove, minced;
1 tsp. chilli powder;
1 tsp. paprika;
½ tsp. ground cumin;
Sea salt and freshly ground black pepper to taste;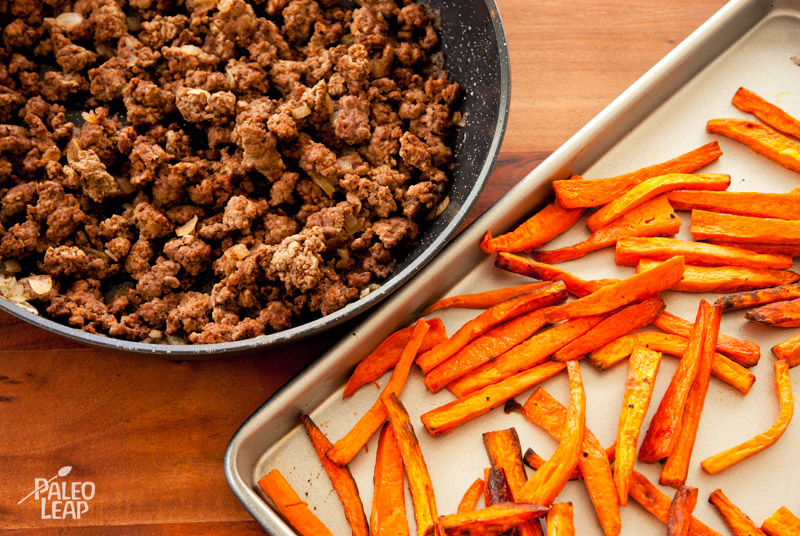 Preparation
Preheat your oven to 425 F.
Combine the potato wedges in a bowl with some melted cooking fat, and season to taste with sea salt and black pepper.
Place the wedges on a baking tray in a single layer, and roast in the oven for 30 minutes or until fries are crisp.
Preheat a skillet over a medium-high heat, and melt some cooking fat in it.
Add the garlic and onion to the skillet and cook a few minutes, until the onions are soft.
Add the ground beef to the skillet and cook for about ten minutes (or until beef is browned).
Add the chili powder, paprika, and cumin. Give everything a nice stir and cook for a minute or two before removing from the heat.
Place the fries in a bowl and top with the taco meat, tomatoes, and bell pepper, and sprinkle some sliced green onion on top.
Serve with some homemade salsa or ketchup.