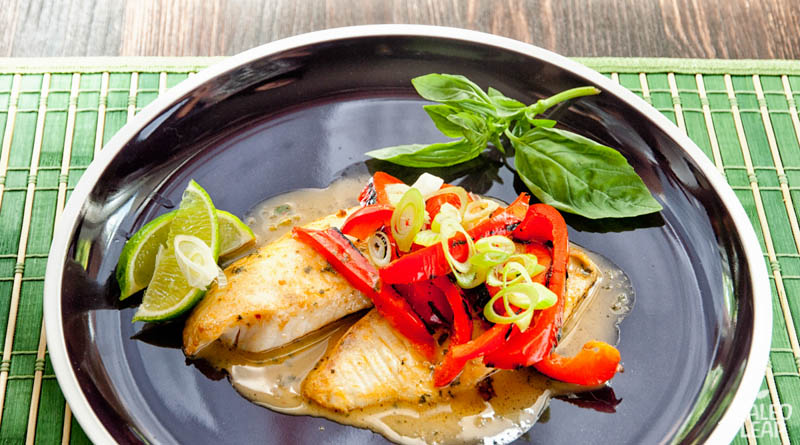 If you always thought tilapia was bland and boring "health food," think again: when you're not afraid to add fat and spices to your dinner, the fish can really shine. Coconut curry sauce gives every bite of this fish a bold, spicy flavor, backed by the underlying richness of coconut milk, and highlighted by the sharp crunch of the onions on top. It's still healthy, but now it's a health food you'll actually want to eat.
The great thing about white fish recipes is how versatile they are: mahi mahi or another white fish would work just as well as tilapia. The same goes for the curry, too. I made this recipe with red curry, but you could easily use green or yellow instead. Each different color has a unique taste: green is the tongue-burning hot, while yellow and red are slightly less intense, and focus more on the other flavors of the spices they contain. Even ordinary grocery stores usually have a small selection in the ethnic food aisle; just make sure to check the ingredients if you buy something pre-made.
Since the recipe itself is so spicy, it would pair beautifully with a simple side dish: asparagus ribbons would be tasty if you wanted to get fancy with the presentation, but a quick and easy side of cauliflower "rice" would also be fitting, especially since you'll have to take out the food processor to make the curry sauce anyway. Or just throw another vegetable on the grill as well, and make your side dish while you're preparing the recipe itself. Plate it all up, and you have a quick and delicious dinner ready to go.
Tilapia With Thai Curry Recipe

SERVES: 4

PREP: 10 min.

COOK: 25 min.

Values are per portion. These are for information only & are not meant to be exact calculations.
Ingredients
4 tilapia fillets;
2 cans (14 oz. each) full-fat coconut milk;
2 large red bell peppers, sliced;
2 green onions, sliced;
1 cup fresh basil leaves;
2 tbsp. fish sauce;
4 tbsp Thai curry paste;
½ cup of water;
Extra-virgin olive oil;
8 lime wedges;
Sea salt and freshly ground black pepper to taste;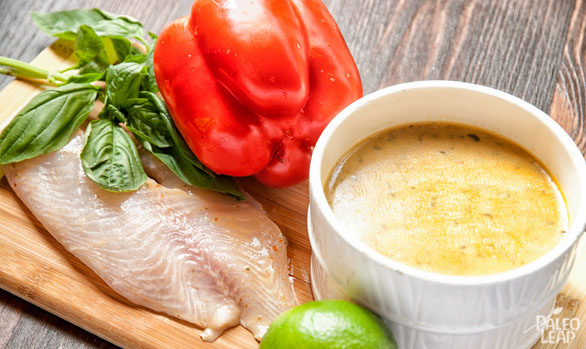 Preparation
Turn the grill up to around 450 F.
In a food processor, combine the basil leaves, curry paste and 1 can of coconut milk, and pulse until the basil is nicely chopped.
In a saucepan over a medium heat cook the coconut curry mixture for about 3 minutes. Then add the other can of coconut milk, the water and the fish sauce.
Stir and cook until the sauce has thickened, about 10 minutes.
Coat the fish and peppers with a little olive oil and season both with sea salt and black pepper.
Grill the peppers, turning once, about 5 minutes total.
Grill the fish, turning once, about 5 to 6 minutes. (Be delicate when you turn them; the fish can easily break apart.)
Place the fish on a plate, drizzle with the curry sauce, top with the bell peppers, drizzle with a little more sauce, sprinkle with the green onions, and serve with the lime wedges.