There is no feast without gravy. We aren't sure who said that, though we have all had a similar thought at the back of our minds a time or two.
Perhaps we are channeling a Paleo spirit, yet we appreciate the sentiment of "feasting gravy", for gravy is an absolute essential at holiday meals.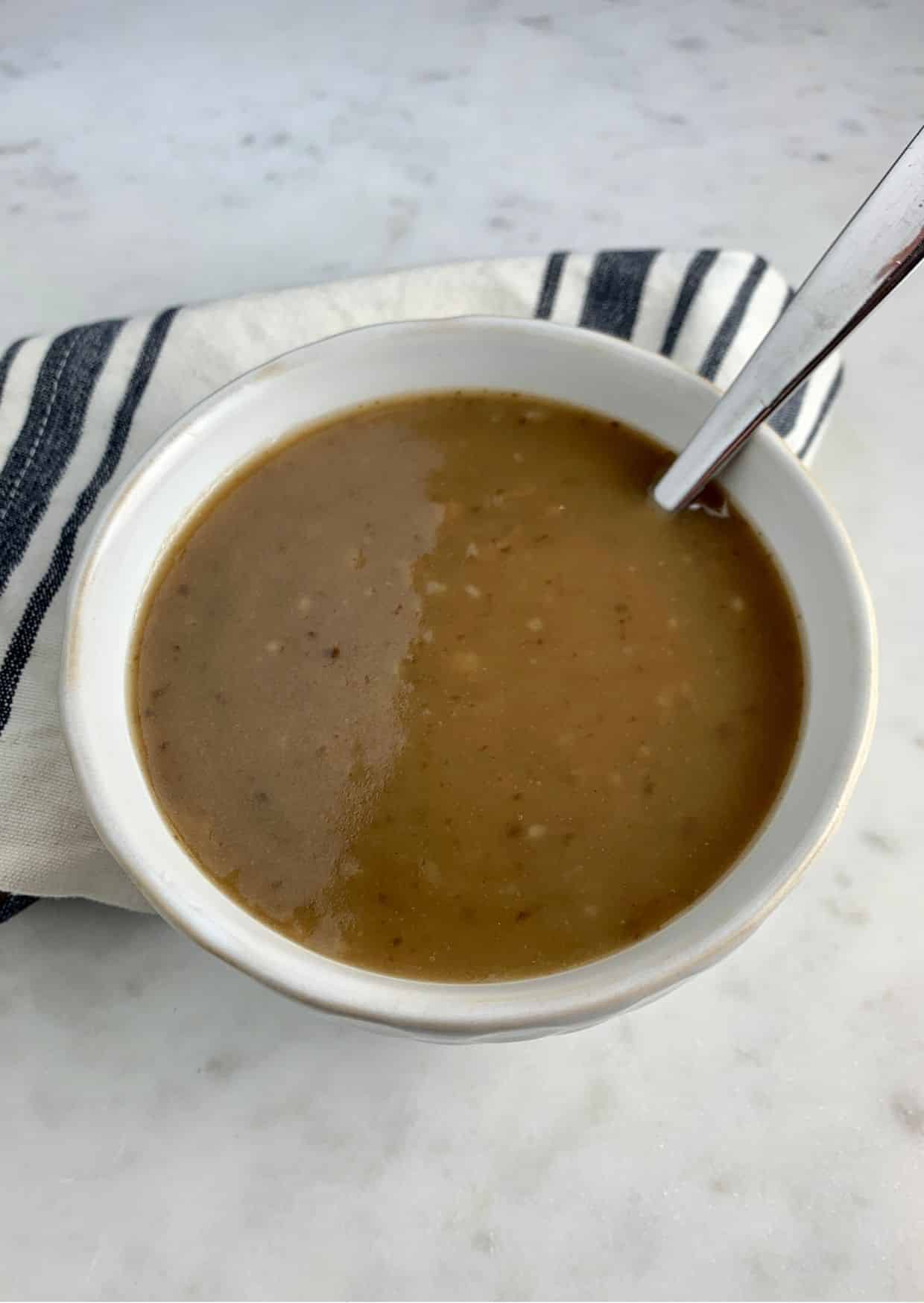 And as much as we adore steaks with mushroom gravy, it just doesn't quite match the festivity of a well-baked turkey, mashed potatoes and a side of green bean casserole.
If you've never made gravy at home before, now is your chance to up your kitchen skills and test it on family, including grandparents!
To start, you'll need a few ingredients to make this gravy a success: chicken broth, turkey drippings, and cassava flour. Follow the directions carefully and make sure to stir and/or whisk well, so that no lumps form in the process.
Make it as smooth as possible, and if you are a little overzealous with the thickener, simply add more heated broth or a touch of hot water to bring it back in balance. This holds true for reheating the gravy as well.
If you can't find cassava flour near you, there are other gluten-free options for thickening gravy, but you may need to experiment with amounts - or go as slowly as possible, stir vigorously, and taste-test often.
Thickening substitutes include almond flour, tapioca flour, potato starch, or arrowroot starch. When you find a winner, stick with it!
Paleo Turkey Gravy Recipe
Serves: 6 Prep: 15 min Cook: 1 h 30 min
Ingredients
2 cups chicken broth
1 cup turkey drippings, fat skimmed
¼ cup fat from turkey drippings
4 tbsp. cassava flour
Turkey giblets from uncooked turkey, minus the liver (optional)
1 tbsp. cooking fat (optional)
Sea salt and freshly ground pepper
Preparation
Note: Use any combination of 3 cups broth/drippings as you wish, depending on how much your turkey yields. If there is not enough fat from the drippings, use ghee or grass-fed butter instead.
If incorporating the giblets, heat cooking fat in a saucepan over medium-low heat and add giblets. Cook for 15 minutes, stirring until the giblets are browned.
Add in the chicken broth, cover, and simmer for 1 hour.
Strain the giblets from the broth. Discard, or chop finely for later use if desired.
Heat a saucepan over medium heat and add in fat. Sprinkle cassava flour over the fat, constantly stirring until the flour begins to brown to make a roux. Keep an eye out as cassava flour will brown faster than traditional wheat flour.
Slowly add in warm chicken stock while stirring to avoid lumps.
Bring to a boil and then reduce heat slightly.
Pour in turkey drippings and giblets (if using) and let simmer for about 10 minutes, or until gravy thickens.
Season to taste and serve hot.
📖 Recipe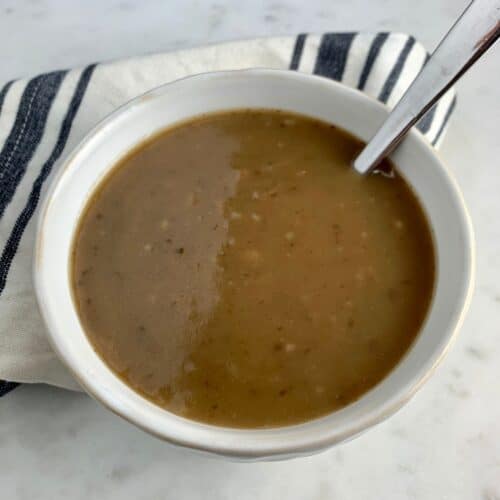 Paleo Turkey Gravy Recipe
Bring on the baked bird and mashed potatoes, this gluten-free turkey gravy is ready to be poured, ladled and spooned onto all manner of holiday fixings!
Ingredients
2

cups

chicken broth

1

cup

turkey drippings

fat skimmed

¼

cup

fat from turkey drippings

4

tbsp.

cassava flour

Turkey giblets from uncooked turkey

minus the liver (optional)

1

tbsp.

cooking fat

optional

Sea salt and freshly ground pepper
Instructions
Note: Use any combination of 3 cups broth/drippings as you wish depending on how much your turkey yields. If not enough fat from the drippings, use ghee or grass-fed butter instead.

If incorporating the giblets, heat cooking fat in a saucepan over medium-low heat and add giblets. Cook for 15 minutes, stirring until giblets are browned.

Turkey giblets from uncooked turkey,

1 tbsp. cooking fat

Add in the chicken broth, cover and simmer for 1 hour.

Strain the giblets from the broth. Discard, or chop finely for later use if desired.

Heat a saucepan over medium heat and add in fat. Sprinkle cassava flour over fat, stirring constantly until the flour begins to brown to make a roux. Keep an eye out as cassava flour will brown faster than traditional wheat flour.

¼ cup fat from turkey drippings,

4 tbsp. cassava flour

Slowly add in warm chicken stock while stirring to avoid lumps.

Bring to a boil and then reduce heat slightly.

Pour in turkey drippings and giblets (if using) and let simmer for about 10 minutes, or until gravy thickens.

Season to taste and serve hot.

Sea salt and freshly ground pepper
Nutrition
Calories:
267
kcal
Carbohydrates:
22
g
Protein:
13
g
Fat:
13
g
Saturated Fat:
3
g
Polyunsaturated Fat:
5
g
Monounsaturated Fat:
5
g
Trans Fat:
0.02
g
Cholesterol:
10
mg
Sodium:
18829
mg
Potassium:
246
mg
Fiber:
0.2
g
Sugar:
14
g
Vitamin A:
2
IU
Vitamin C:
1
mg
Calcium:
162
mg
Iron:
1
mg