Zoodles are the perfect Paleo noodle as they are naturally gluten-free and made from the same nourishing vegetable that we all know and love - zucchini.
Zucchini noodles top the mock-pasta list, though a large variety of vegetables can be spiralized into fun shapes for both pasta-inspired dishes and salads.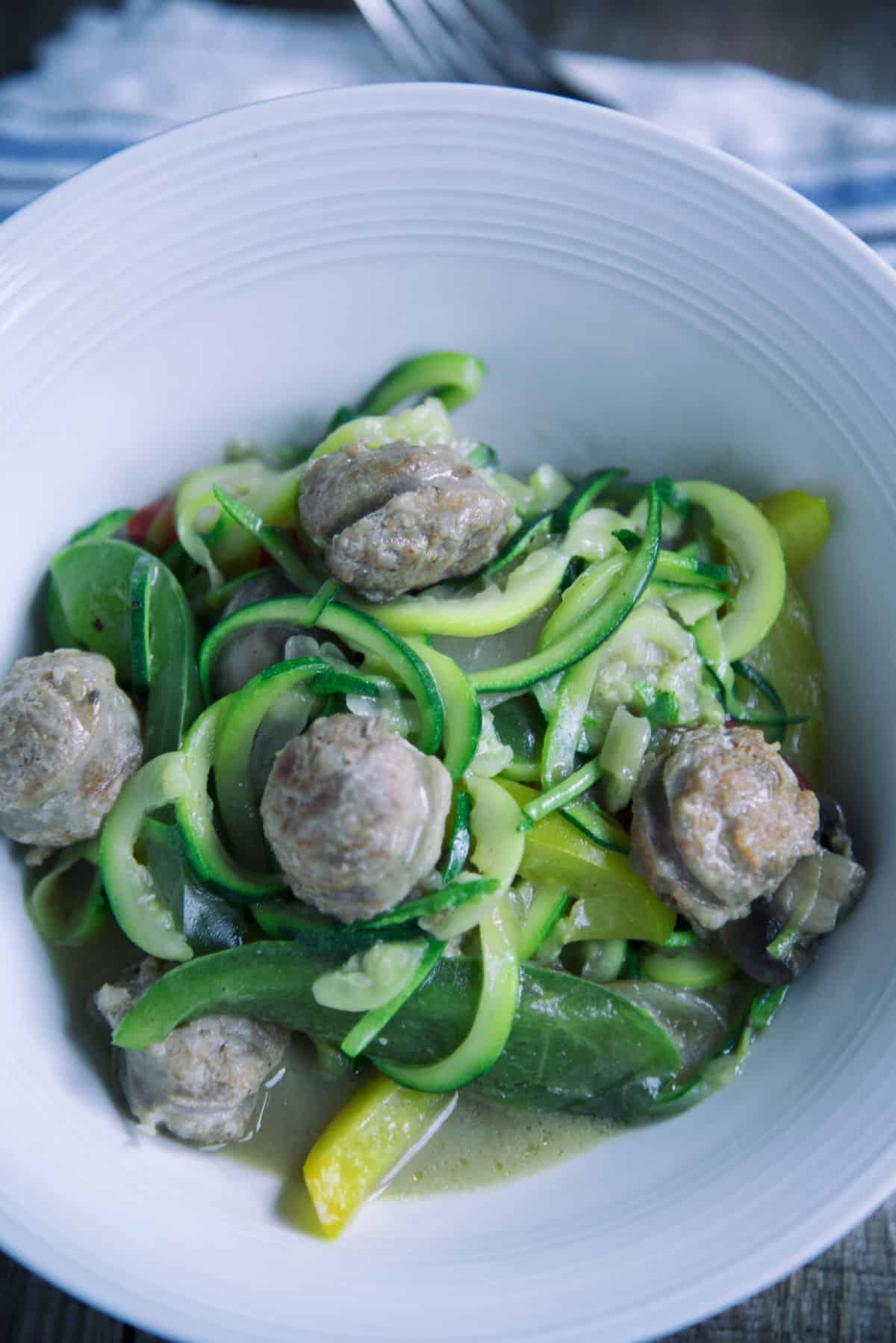 Some of our favorite vegetables to spiralize are butternut squash, celeriac, beets, carrots, black radishes, turnips, and kohlrabi - not in any particular order or preference.
If you don't own a true spiralizer, you may already have the tools in your kitchen needed to make these zoodles happen. A vegetable peeler and a steady hand work wonders with zucchini, though a small investment in a julienne peeler will outlive many abundant seasons of zucchini.
A standard box grater will give you fairly long, thin shreds of zucchini, while using a knife will produce a somewhat rustic result - the flavor is always there, though the presentation may be different every time.
In the case of zucchini noodles, be sure to use the firmest outside flesh and set the inner seeded core aside for a later vegetable or chicken bone stock.
It goes without saying that the choice of Paleo sausages is up to your discretion. Pork is a common sausage found in most stores, though as your cooking skills grow and your Paleo enthusiasm peaks, you may want to branch out and discover the benefits of eating (and thoroughly enjoying!) bison, beef, or turkey sausages too.
Zucchini Noodles With Sausage Recipe
Serves: 4 Prep: 20 min Cook: 15 min
Ingredients
4 pork sausages, sliced
4 zucchinis, spiralized
1 onion, sliced
1 bell pepper, sliced
½ cup mushrooms, sliced
2 garlic cloves, minced
1 cup chicken stock
½ cup coconut milk
2 tbsp. fresh parsley, minced
2 tbsp. coconut oil
Sea salt and freshly ground black pepper
Preparation
Heat the coconut oil in a skillet over medium-high heat.
Cook the sausages until browned, about 4 to 5 minutes.
Add the onion, bell pepper, mushrooms, and garlic, and cook for another 2 minutes.
Pour in the coconut milk and chicken stock, and stir well for 1 to 2 minutes longer.
Add in the zucchini noodles and cook until the zucchini is nice and soft about 4 to 5 minutes.
Season to taste and sprinkle with fresh parsley before serving.
📖 Recipe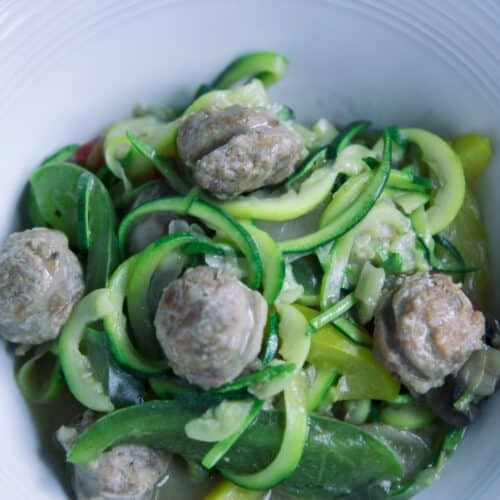 Zucchini Noodles With Sausage Recipe
Dinner in half an hour? Yes, please! Make that a plate of zucchini noodles with sausage to satisfy everyone's needs, approved by kids too!
Instructions
Heat the coconut oil in a skillet over medium-high heat.

Cook the sausages until browned, about 4 to 5 minutes.

Add the onion, bell pepper, mushrooms, and garlic, and cook for another 2 minutes.

1 onion,

1 bell pepper,

½ cup mushrooms,

2 garlic cloves

Pour in the coconut milk and chicken stock, and stir well for 1 to 2 minutes longer.

½ cup coconut milk,

1 cup chicken stock

Add in the zucchini noodles and cook until the zucchini is nice and soft about 4 to 5 minutes.

Season to taste and sprinkle with fresh parsley before serving.

2 tbsp. fresh parsley,

Sea salt and freshly ground black pepper
Nutrition
Calories:
542
kcal
Carbohydrates:
15
g
Protein:
23
g
Fat:
45
g
Saturated Fat:
22
g
Polyunsaturated Fat:
5
g
Monounsaturated Fat:
14
g
Trans Fat:
0.2
g
Cholesterol:
83
mg
Sodium:
832
mg
Potassium:
1101
mg
Fiber:
4
g
Sugar:
8
g
Vitamin A:
2033
IU
Vitamin C:
87
mg
Calcium:
73
mg
Iron:
5
mg