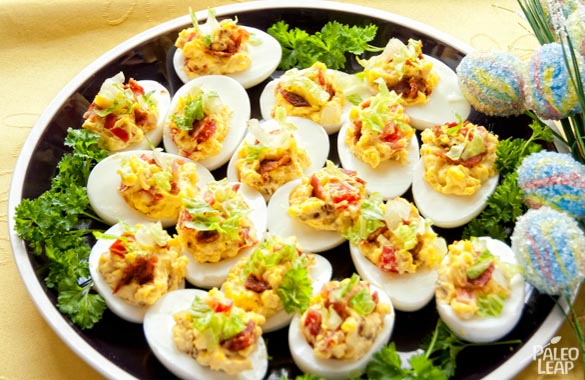 Dressed eggs (also called deviled eggs) have an international popularity that's easy to understand considering how simple they are to make and how easy they are to customize. Caviar, olives, and a wide range of spices are popular additions in various parts of Europe, but the dressed-egg crown in the USA has to go to the South, and there's no better addition to Southern food than bacon! This recipe adds tomatoes and a garnish of salad veggies for a cheeky Paleo take on the traditional BLT sandwich.
To give the yolks their creamy texture, these eggs use Paleo mayonnaise, a favorite treat without the seed oils and preservatives that lurk in the grocery store versions. If you don't already have a jar of Paleo mayo on hand, you're missing out! It's simple to whip up a batch, and you can use it in all kinds of recipes like a salad to go with your eggs… If you can stop yourself from eating it with a spoon right out of the jar.
These eggs are always an impressive special-occasion appetizer, especially since they're quite simple to cook. To get that perfect pale yellow yolk color, be careful not to over-boil them, or the egg yolks will turn gray. The best way to avoid this is to cook them at a slightly lower temperature. First put the eggs in the pot in cold water. Then turn on the stove, let the water come to a boil, and immediately turn it off again. Leave the pot on the stove, and let the eggs sit undisturbed for 10-15 minutes in the hot water – this way, they cook all the way through, but they don't get that unappetizing gray color and chalky texture of overcooked yolks.
BLT Dressed Eggs Recipe

SERVES: 24

PREP: 22 min.

COOK: 20 min.

Values are per portion. These are for information only & are not meant to be exact calculations.
Ingredients
12 large eggs;
4 slices of bacon;
6 cherry tomatoes, minced;
4 tbsp. minced lettuce;
¼ cup of Paleo mayonnaise;
Sea salt and freshly ground black pepper to taste;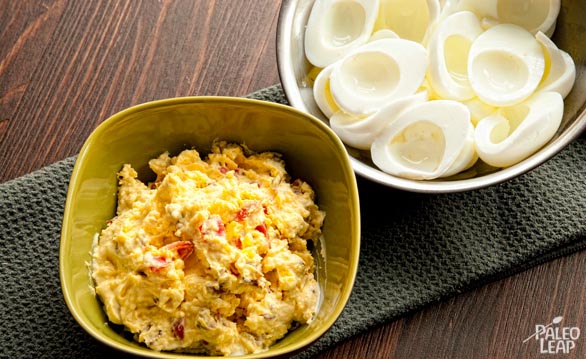 Preparation
On the stove, hard-boil the eggs (this usually takes 10 to 12 minutes, see instructions in the introduction of this recipe). Once the eggs are done, remove the shells.
While the eggs are cooking, cook the bacon over a medium-high heat until nice and crispy, about 4 to 5 minutes. Mince the cooked bacon into tiny pieces.
Cut the eggs in half lengthwise, and remove the yolks. Place all the yolks in a medium bowl, and keep the whites aside.
Add the mayonnaise to the egg yolks, and combine with a fork until you get a nice soft texture.
Add the bacon and tomatoes to the egg yolk and mayonnaise.
Season with sea salt and black pepper to taste, and mix again.
Fill each egg white with the yolk mixture, about 1 tbsp. each, and garnish with minced lettuce.
Refrigerate about 20 minutes before serving.