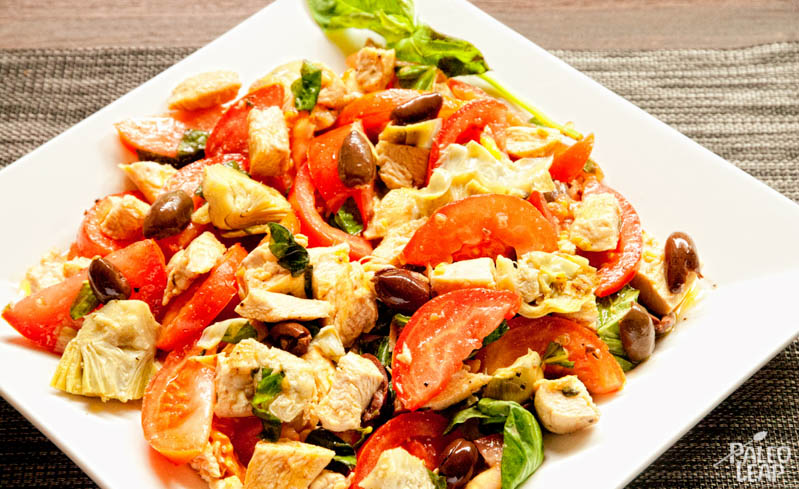 Like eggplant cannelloni or chicken bruschetta, panzanella is yet another example of how simple it is to adapt traditional wheat-based recipes to a Paleo menu. All it takes is a little ingenuity – in this case, I replaced the usual pieces of bread with chicken. This quick salad is a perfect way to use up any leftover chicken you aren't sure what to do with, especially because the juiciness of the tomatoes prevents it from tasting dry (always a risk with skinless chicken breast).
The really unique part of this recipe is the artichoke hearts, which are a hidden treasure in the grocery store because most people are put off by their appearance. They might look a little prickly, but artichokes are actually very tasty, and grilling them before you toss them in adds a wonderful depth of flavor to the salad. They're also full of folate (Vitamin B9), magnesium, and Vitamin K, and they contain notably high levels of antioxidants.
Fresh artichokes can be a pain to cook with if you're not familiar with them, so if this is your first artichoke recipe, I'd recommend buying just the hearts. You can get these frozen or canned, or sometimes in packages with the salad greens. Just always make sure to check the ingredients: the packaged ones are often marinated in unhealthy seed oils.
Chicken And Artichoke Panzanella Recipe

SERVES: 4

PREP: 10 min.

COOK: 4 min.
Values are per portion. These are for information only & are not meant to be exact calculations.
Ingredients
2 cups skinless, boneless chicken breast, diced, cooked
2 cups artichoke hearts (frozen or fresh)
3 large tomatoes, cut into small wedges
1 cup black olives, halved
¾ cup fresh basil, chopped
Ingredients for the Panzanella vinaigrette
2/3-cup extra-virgin olive oil
2 tbsp. white wine vinegar
1 tbsp. lemon juice
Sea salt and freshly ground black pepper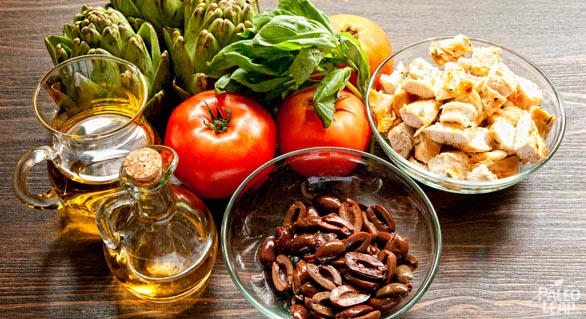 Preparation
Preheat a grill to medium-high.
Drizzle some olive oil on the artichoke hearts and season to taste.
Grill the artichoke about 2 minutes on each side, or until golden-brown. Then transfer them to a large salad bowl.
Add the chicken, the tomatoes, the olives, and the fresh basil to the bowl, and toss to combine.
In a small bowl, combine the ingredients for the vinaigrette. Season to taste and mix well.
Drizzle the vinaigrette over the salad, toss, and serve.