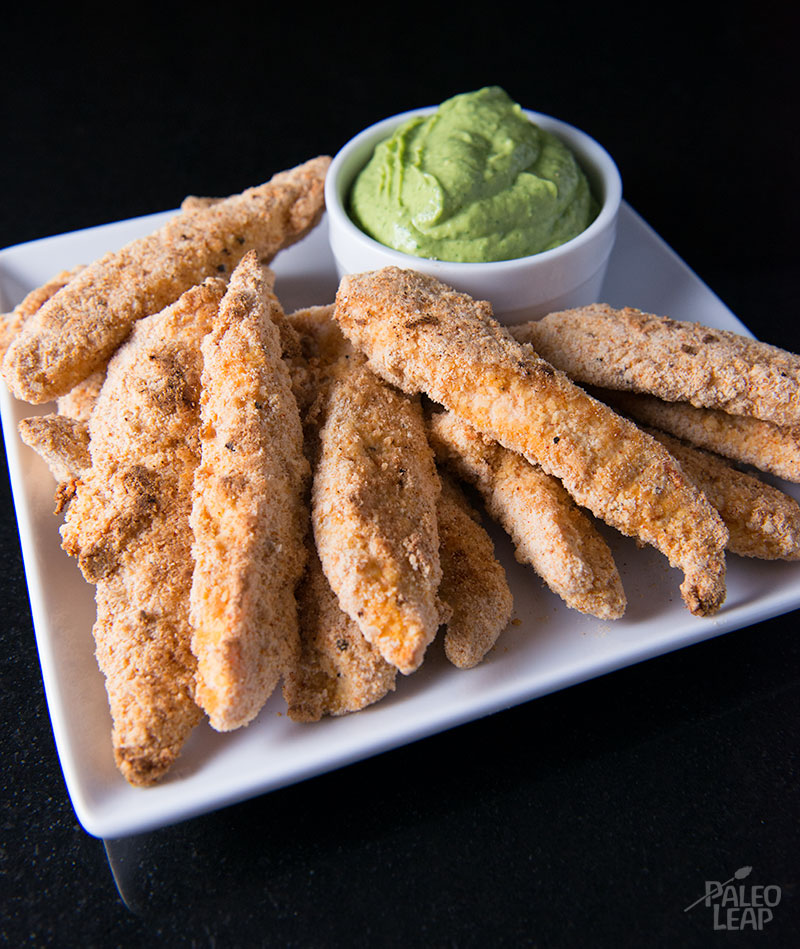 The following recipe will for sure fill a gap in the chicken nugget department if you've been missing them. You'll be getting the same good taste you're used to from tenders, minus all the fillers, wheat breadcrumbs, preservatives and bad oils. Of course, it's still a meal with baked almond flour, which can be suboptimal if consumed frequently, but it doesn't hurt as a treat if you tolerate nuts well.
We gave these Paleo chicken tenders a spicy kick by adding some homemade Sriracha sauce to the egg mixture and also by mixing in some paprika and cayenne pepper with the almond and coconut flour mixture. You could just as easily go without the Sriracha if it's not too practical for you to make your own.
The freshness and tanginess of the avocado-cilantro dipping sauce contrast really well with the zestiness of the tenders. The dipping sauce is also excellent with fajitas or tacos. In fact, it's probably a good idea to make double and enjoy it with something completely different in the following day or two.
Chicken Tenders With Avocado-Cilantro Dip Recipe

SERVES: 4

PREP: 20 min.

COOK: 15 min.
Values are per portion. These are for information only & are not meant to be exact calculations.
Ingredients
1 1⁄2 lbs chicken tenders, cut in half lengthwise
3 eggs
3 tbsp homemade Sriracha sauce (optional)
3⁄4 cups almond flour
3⁄4 cups coconut flour
1 tsp garlic powder
1 tsp paprika
1⁄2 tsp onion powder
1⁄2 tsp cayenne pepper
Sea salt and freshly ground black pepper to taste
Ingredients for the avocado-cilantro dip
1 large avocado
1⁄2 cup fresh cilantro, packed
1 green onion, sliced
1 garlic clove
Juice of 2 limes
Sea salt to taste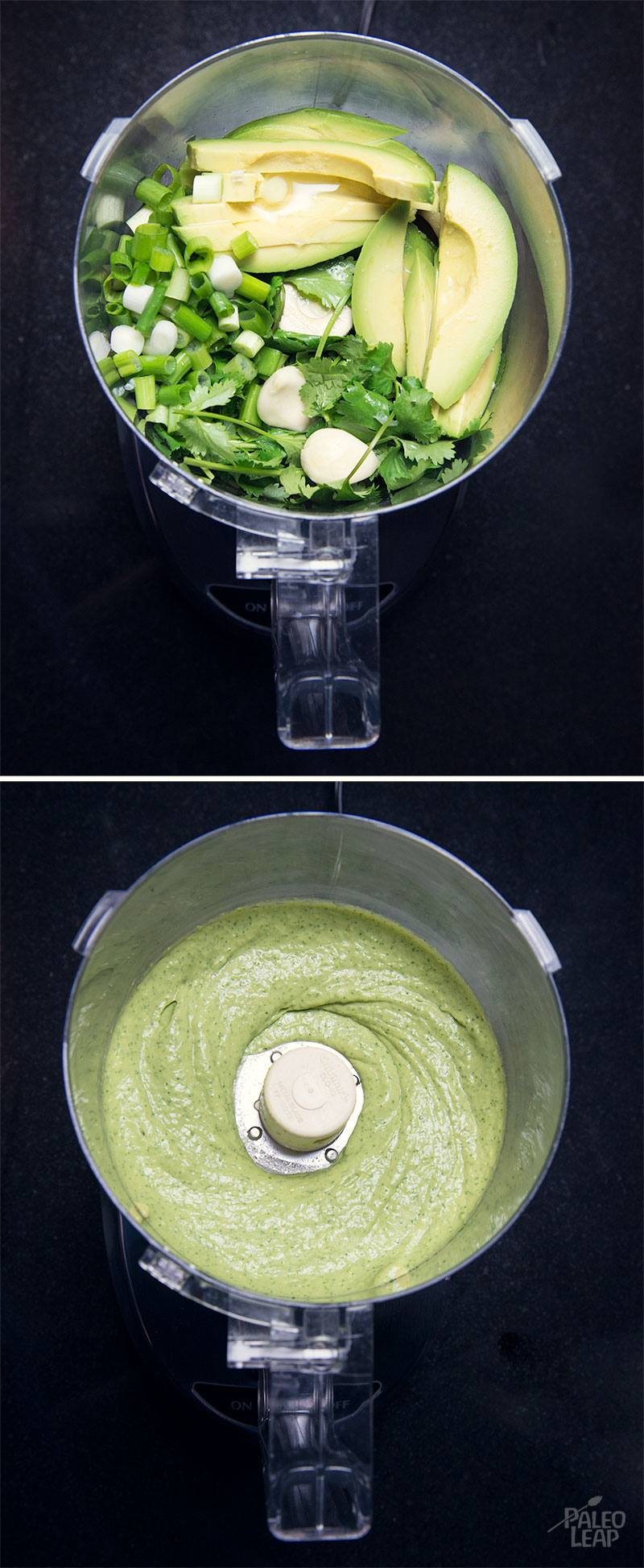 Preparation
Preheat your oven to 425 F.
Line a baking sheet with parchment paper.
Whisk the eggs and Sriracha sauce together in a small bowl until well incorporated.
In a shallow bowl, mix together the almond flour, coconut flour, garlic powder, paprika, onion powder, cayenne pepper, salt and pepper.
Dip the chicken into the egg mixture, then transfer to the flour mixture and coat well.
Shake off any excess flour and arrange a single layer on the prepared baking sheet.
Repeat with the remaining chicken tenders.
Once all of the chicken tenders are on the baking sheet season with salt and place in the oven.
Bake for 15 minutes, or until the chicken is cooked through, flipping the tenders once in-between.
While the chicken is in the oven, place all of the ingredients for the dipping sauce into a food processor. Start with the juice of 1 lime.
Blend until smooth and all ingredients are blended, stopping to scrape the sides with a spatula as needed.
Taste and adjust with more lime juice if needed.
Transfer to a bowl and store in the refrigerator until ready to serve.
The dip will stay good stored in an airtight container in the refrigerator for up to 3 days.