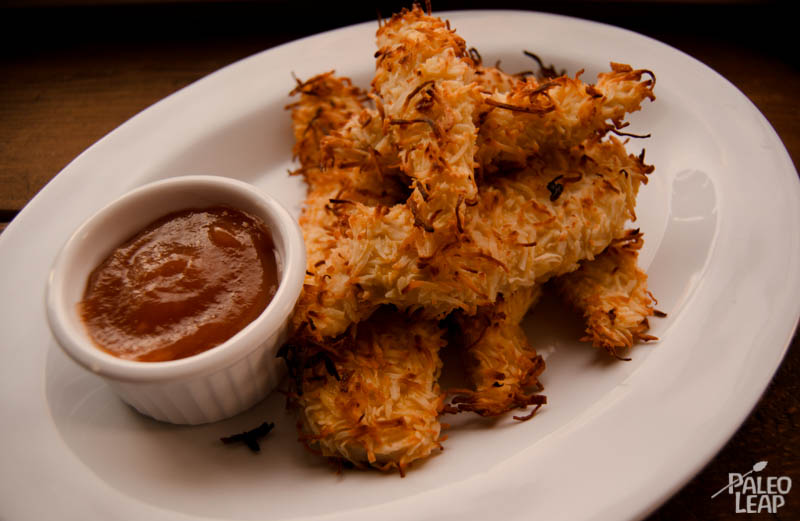 I came up with the idea of doing a recipe along these lines because I'm quite fond of combining coconut flavors with chicken. Some of my favourite Thai dishes are based on this combination and in order to keep them as favourites, I have to introduce some new dishes, otherwise, I will eat myself sick of them. So I decided to create something new isn't Thai and this is what I've come up with; coconut crusted chicken strips. Sounds pretty delicious right? Probably the best thing about this recipe is the fact that it's probably one of the healthiest chicken strip recipes you'll ever come across. The chicken is obviously not battered in anything unhealthy and they're also baked instead of fried. This is not to say that frying food is always a bad idea, but if you do it, the oil or fat used when doing it has to have a very high tolerance to heat.
This dish is amazing as a main, with a simple salad as a side, but it also works just as well as a finger food, or appetizer. I can only imagine it being a hit a some Super Bowl party and equally so if it were for a Sunday night dinner with the kids. It's very easy to prepare with little preparation and cooking time, which also makes it the perfect recipe to get your kids involved in the preparation process. Applying the coconut batter to the chicken strips is especially fun for kids. Simply make sure that the little ones get a good hand wash after touching the raw chicken.
If you decide to enjoy those chicken strips as a main, some good ideas for sides are the special sweet potato salad, the raspberry and spinach salad, the mushroom salad or the guacamole with radish and oranges. A simple coleslaw, like one that can be found in the cookbook, is also a great idea.
The recipe I'm sharing with you is quite basic. It's great this way, but do not be shy to use some extra seasoning if you feel like it. It can be difficult to find the right type of seasoning to use, because the coconut is naturally a sweeter nutty flavour that doesn't not always blend well with other strong flavor. With that being said, if you don't stray too far from the traditional Thai seasonings, you shouldn't run into any problems.
Coconut crusted chicken strips recipe

SERVES: 2
Values are per portion. These are for information only & are not meant to be exact calculations.
Ingredients
2 boneless, skinless chicken breasts;
1/2 cup (or less) coconut flour;
2 eggs;
A splash of full-fat coconut milk;
1 cup (more or less) shredded coconut;
Sea salt and freshly cracked black pepper to taste;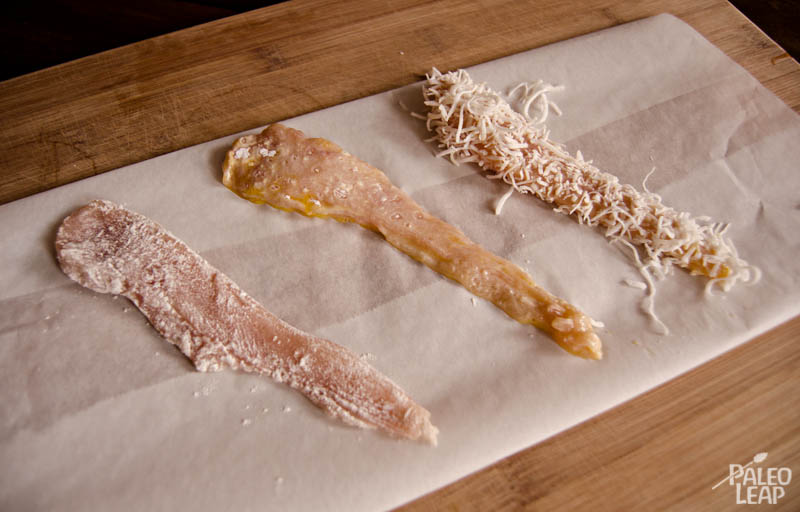 Preparation
Preheat your oven to 400 F.
Using a heavy object, like a rolling pin, hammer the chicken breasts so that they flatten to an even thickness. Cut the chicken into long strips that are about 3/4″ to 1″ in width.
You will need three bowls; one for the coconut flour, one for the coconut milk and egg mixture (just beat the eggs and milk together) and one for the shredded coconut.
Coat each chicken strip in the coconut flour, then dunk in the egg and coconut milk mixture and finally coat in the shredded coconut. When finished, place the chicken strips on a large baking sheet, leaving some space between each strip and cook for 10 to 12 minutes, or until chicken has completely cooked through.
Serve with some paleo ketchup or a homemade plum or chilli sauce and enjoy!