If you usually eat eggs and a sweet potato for breakfast, here's something a little bit different to do with them – it's not a total culinary revolution, but it's colorful and fun and nice for breaking up the routine on the spur of the moment (read: you don't have to go out and get any extra groceries, since you have all the ingredients already).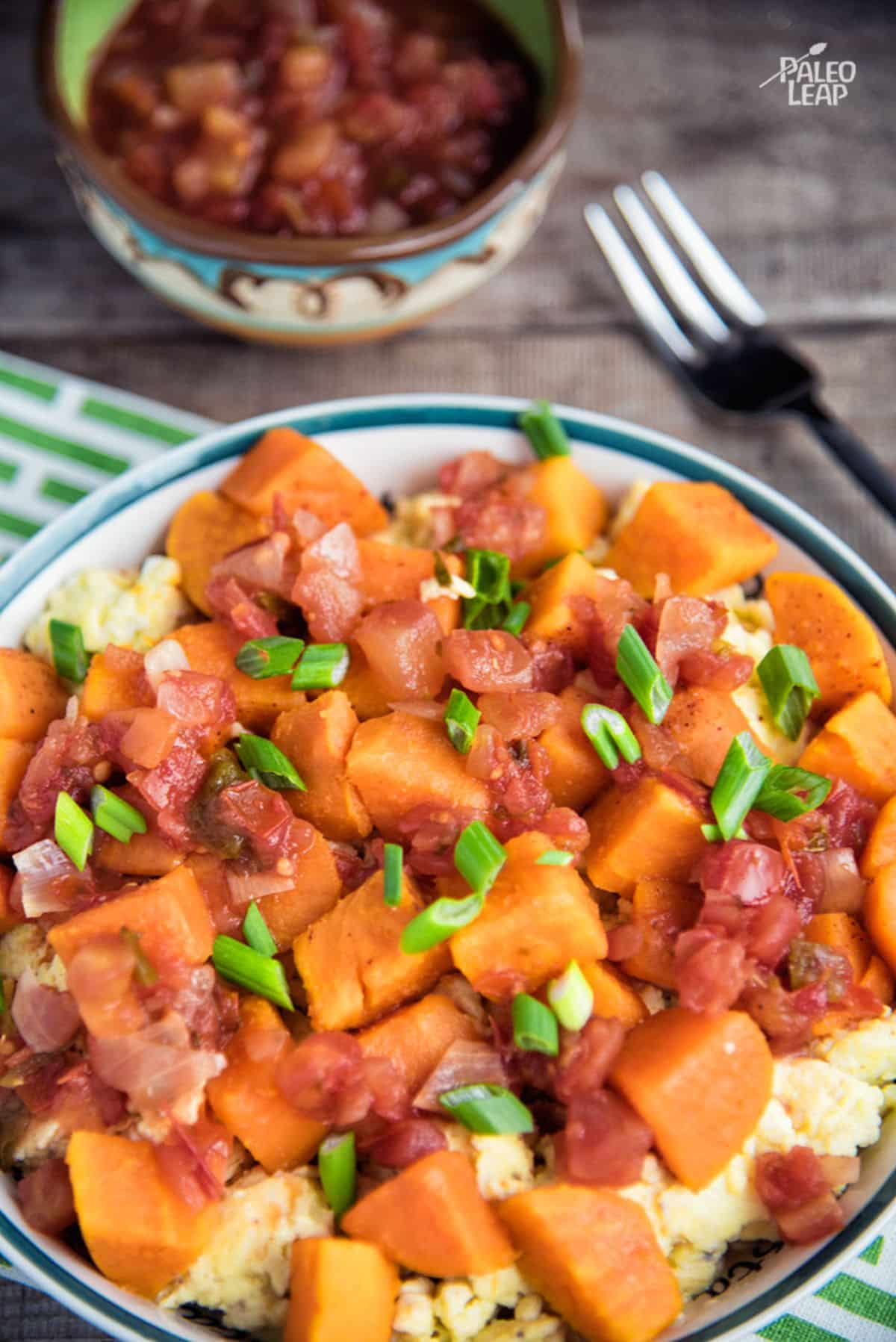 The eggs get a little seasoning boost with chili powder and oregano before they're topped off with sweet potatoes and, finally, your salsa of choice – so the salsa gets to add flavor to the potatoes, too.
You could use any favorite kind of salsa to change the flavor effect of this dish – go with spicy salsa for a bit of a kick, or stick with a classic sweeter variety for a gentler taste.
This would be an easy breakfast for a morning when you're not in a rush, but it would also make a simple, kid-friendly breakfast-for-dinner on a busy night.
Egg and Sweet Potato Breakfast Scramble Recipe
Ingredients
2 cups sweet potatoes, diced
8 eggs
¼ cup coconut or almond milk
1 green onion, thinly sliced (Use just the green parts for low-FODMAP)
2 tsp. chili powder
2 tsp. dried oregano
½ cup fresh salsa
2 tbsp. ghee
Sea salt and freshly ground black pepper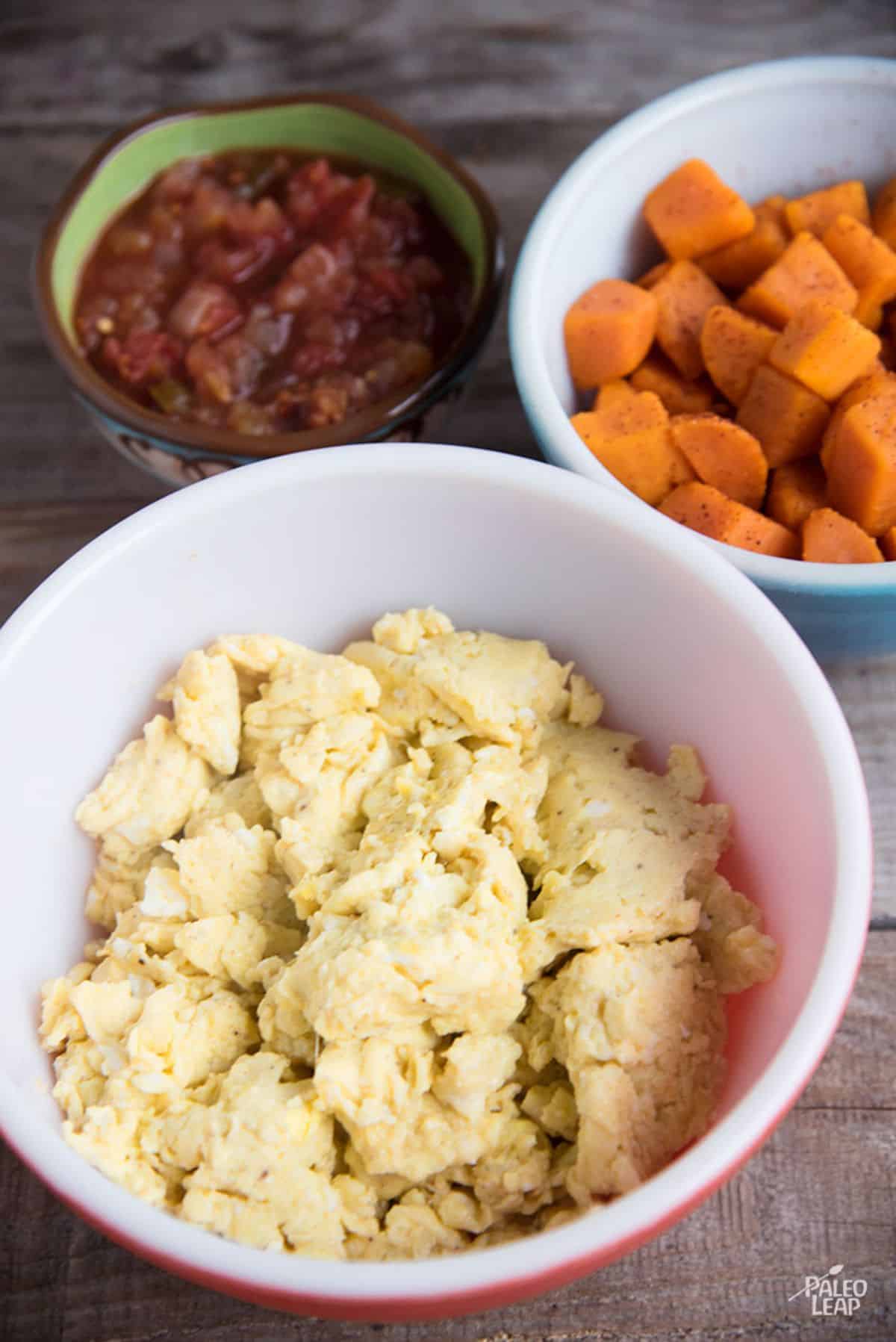 Preparation
Bring a pot of water to a light boil. Add the sweet potatoes and cook for 8 to 10 minutes or until they start to soften. Drain the water, season to taste, and set aside.
In a bowl, whisk together the eggs, coconut milk, chili powder, oregano, and season with salt and pepper to taste.
Melt the ghee in a skillet over medium-high heat.
Pour the egg mixture into the skillet and cook, stirring gently, until the eggs are set.
Serve the scrambled eggs topped with sweet potatoes, fresh salsa, and green onions.
📖 Recipe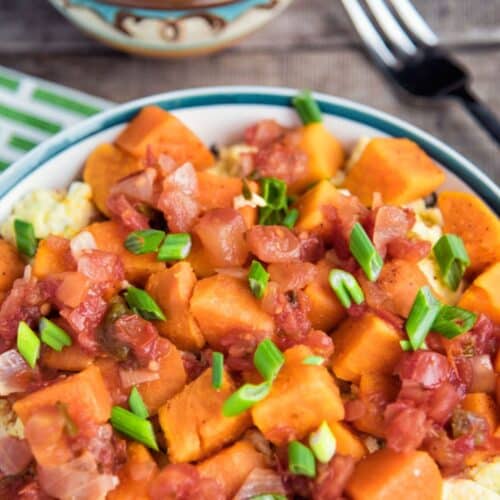 Egg and Sweet Potato Breakfast Scramble Recipe
Try this easy, colorful way to perk up a plate of scrambled eggs with sweet potatoes and your favorite fresh salsa.
Instructions
Bring a pot of water to a light boil. Add the sweet potatoes and cook for 8 to 10 minutes or until they start to soften. Drain the water, season to taste, and set aside.

2 cups sweet potatoes,

Sea salt and freshly ground black pepper

In a bowl, whisk together the eggs, coconut milk, chili powder, oregano, and season with salt and pepper to taste.

8 eggs,

¼ cup coconut or almond milk,

2 tsp. chili powder,

2 tsp. dried oregano,

Sea salt and freshly ground black pepper

Melt the ghee in a skillet over medium-high heat.

Pour the egg mixture into the skillet and cook, stirring gently, until the eggs are set.

Serve the scrambled eggs topped with sweet potatoes, fresh salsa, and green onions.

1 green onion,

½ cup fresh salsa
Nutrition
Calories:
274
kcal
Carbohydrates:
19
g
Protein:
13
g
Fat:
16
g
Saturated Fat:
7
g
Polyunsaturated Fat:
2
g
Monounsaturated Fat:
6
g
Trans Fat:
0.03
g
Cholesterol:
346
mg
Sodium:
437
mg
Potassium:
517
mg
Fiber:
5
g
Sugar:
5
g
Vitamin A:
10868
IU
Vitamin C:
3
mg
Calcium:
147
mg
Iron:
3
mg