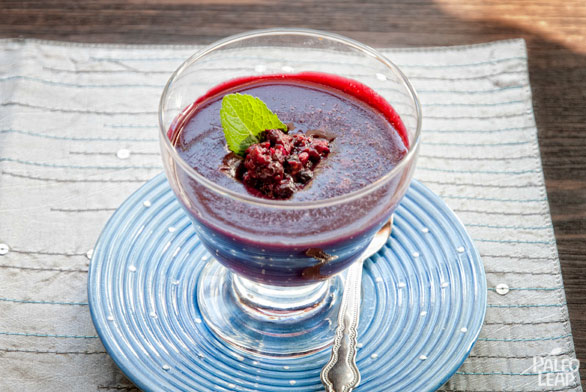 Are you hankering for something cold and sweet to finish off a summertime dinner? Maybe something a little more sophisticated than popsicles, but not quite as time-consuming as ice cream? Then you've come to the right place – this creamy fruit pudding is simple to throw together and easy to dress up or down, in goblets for a fancy party, or just served in bowls for a family evening on the porch.
The tapioca starch in the ingredients list might look a little suspect, but there's nothing to worry about here. Tapioca is a dry powder extracted from cassava roots, which are a safe starch and perfectly safe to eat. You might also find it in the grocery store as "cassava starch" or "yucca starch." In the pudding, tapioca starch works as a thickener, to help the pudding stay together. The overall effect is a texture that's a creamier and smoother than a pure fruit puree like applesauce, more like a typical dessert.
When you're choosing the ingredients for your pudding, you can use whatever kind of fruit you like; it's a great way to use something that would otherwise go bad. For the orange juice, make sure you're getting the real deal – check the label for any added sugar or preservatives. You could also juice your own for the absolutely purest and freshest flavor available. But even with store-bought juice, this recipe is healthy and delicious, a sweet end to a long day.
Fruit Pudding Recipe

SERVES: 4

PREP: 2h.

COOK: 20 min.

Values are per portion. These are for information only & are not meant to be exact calculations.
Ingredients
1 lb. frozen fruit (blueberries, raspberries, strawberries, etc. – use your favorite kind);
2 cups of freshly pressed orange juice;
5 tbsp. tapioca starch;
4 fresh mint leaves; (optional)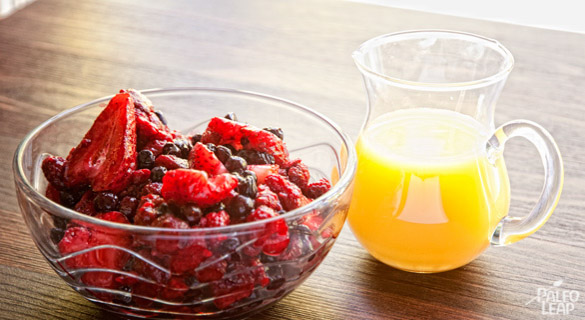 Preparation
In a saucepan over a medium heat, bring the fruit and the orange juice to a simmer for a few of minutes to then strain through a fine mesh sieve into a clean bowl.
Place the fruit that's left in the sieve in a separate bowl and refrigerate it.
Pour the strained fruit juice back into the saucepan and bring it back to a simmer.
While the mixture is simmering,  combine the tapioca starch with a little bit of water and some of the fruit juice in a small bowl. Add to the saucepan, stirring it well until the mixture thickens.
Pour the mixture into 4 serving glasses, and chill for at least two hours or overnight in the refrigerator.
Serve with a splash of the cold cooked fruits and a fresh mint leaf.