If you are one of those people who could eat salad for breakfast, lunch, and dinner, then this salad is for you. And if you eat salads just occasionally, well, then it is for you too. And if you love strawberries and chicken? Go for it. It is such an easy, go-to recipe that you will soon know it by heart.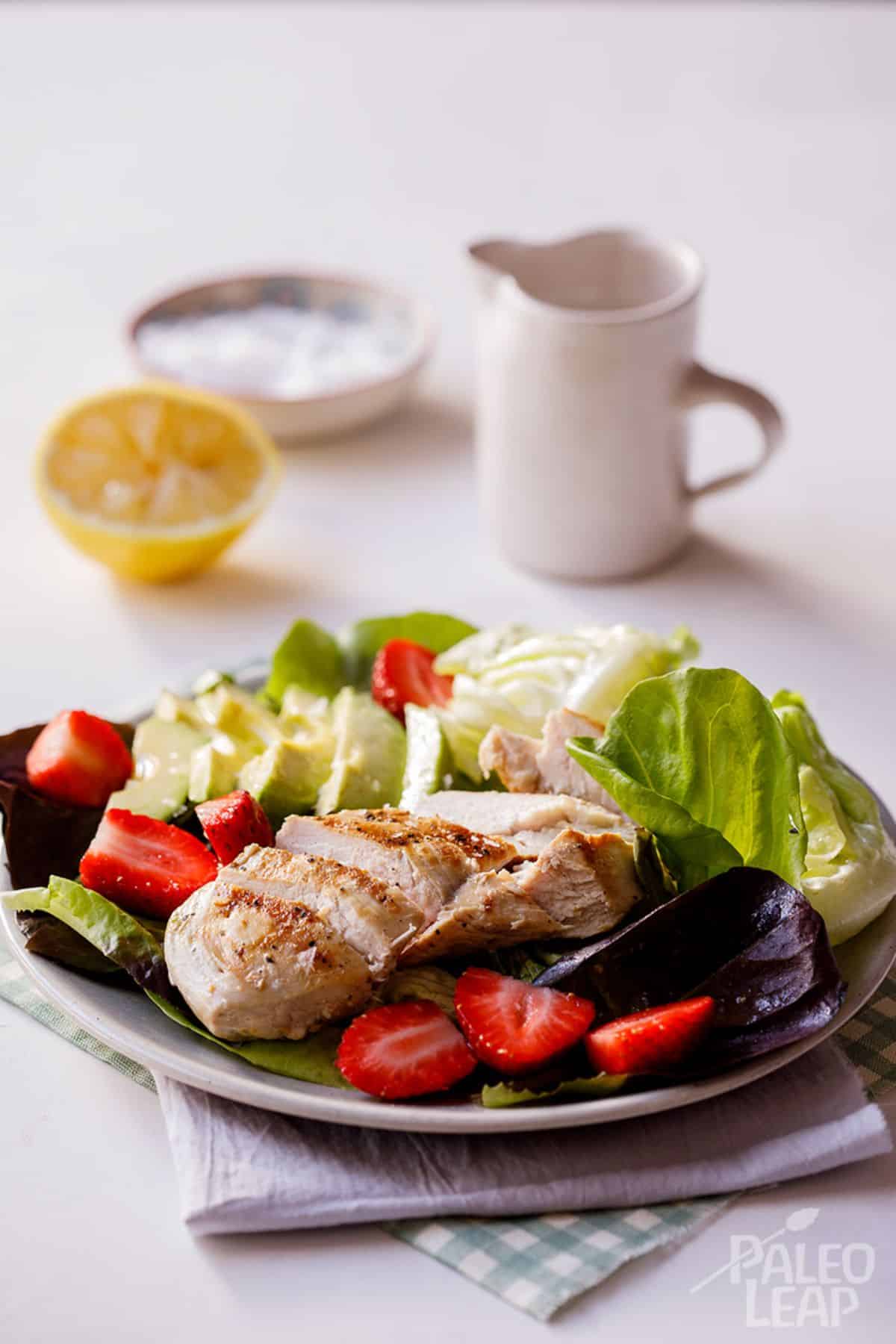 Strawberries are what make this salad festively summery. They are one of those foods, when in season, that shout "Buy me. Buy Me!" at the farmers market, and the organic ones should be voicing their opinion the loudest.
Strawberries are extremely rich in antioxidants, vitamin C, manganese, folate (B9), and potassium, and at one point, they were believed to be an aphrodisiac. Another interesting fact is that, in certain cases, strawberries can help regulate blood sugar levels by slowing digestion.
And the goodness just keeps going; you can also eat the leaves raw or cooked, and you can even make an infusion from the leaves for an extra boost of iron and calcium in your diet.
If you happen to purchase too many strawberries and need to use them up quickly in other ways, why not add them to your luxurious morning Paleo smoothie?
Or chop them up in a strawberry and raspberry salsa that combines perfectly with any chicken, pork, or salmon. We have also found that strawberries are a surprisingly superb match with - asparagus. Who would have thought about that?
Grilled Chicken with Strawberry and Avocado Salad Recipe
Serves: 4 Prep: 10 min Cook: 15 min
Ingredients
4 skinless, de-boned chicken breasts
2 tbsp. avocado oil
Juice of ½ lemon
Salt & pepper to taste
Lettuce
2 avocados
2 cups strawberries, hulled and halved
Olive oil for dressing
Lemon juice for dressing
Preparation
Pour the oil and lemon juice over the chicken breasts and coat well. Season with salt and pepper to taste.
Grill the chicken in a hot griddle pan until cooked through. Remove and allow to cool for 5 minutes.
To assemble the salad, place a generous amount of lettuce on a serving plate, then top it with the sliced avocado, chicken strips, and strawberries.
Dress with olive oil and a generous squeeze of lemon juice, then lightly season with salt.
📖 Recipe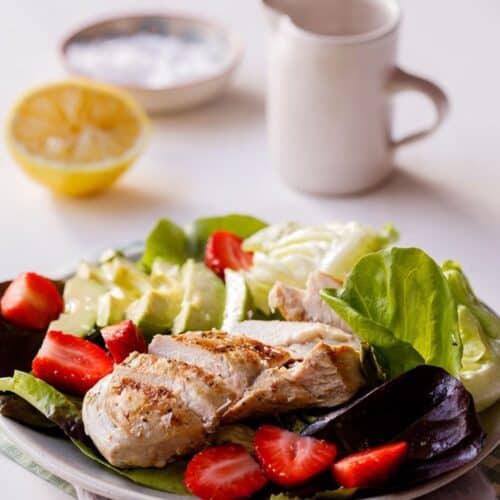 Grilled Chicken with Strawberry and Avocado Salad Recipe
When strawberries are in season add them to everything! Strawberries in your smoothie and strawberries in your chicken salad for a delicious summer treat.
Ingredients
4

skinless

de-boned chicken breasts

2

tbsp.

avocado oil

Juice of ½ lemon

Lettuce

2

avocados

2

cups

strawberries

hulled and halved

Olive oil for dressing

Lemon juice for dressing
Instructions
Pour the oil and lemon juice over the chicken breasts and coat well. Season with salt and pepper to taste.

4 skinless,

Juice of ½ lemon,

Salt & pepper to taste,

2 tbsp. avocado oil

Grill the chicken in a hot griddle pan until cooked through. Remove and allow to cool for 5 minutes.

To assemble the salad, place a generous amount of lettuce on a serving plate, then top it with the sliced avocado, chicken strips, and strawberries.

Lettuce,

2 avocados,

2 cups strawberries

Dress with olive oil and a generous squeeze of lemon juice, then lightly season with salt.

Salt & pepper to taste,

Lemon juice for dressing,

Olive oil for dressing
Video
Nutrition
Calories:
404
kcal
Carbohydrates:
14
g
Protein:
27
g
Fat:
28
g
Saturated Fat:
4
g
Polyunsaturated Fat:
4
g
Monounsaturated Fat:
17
g
Trans Fat:
0.02
g
Cholesterol:
117
mg
Sodium:
131
mg
Potassium:
904
mg
Fiber:
8
g
Sugar:
4
g
Vitamin A:
197
IU
Vitamin C:
52
mg
Calcium:
36
mg
Iron:
2
mg