A slice of meatloaf or a platter of meatballs? We are torn when it comes to deciding between the two, but when it really comes down to it, finger food is the best option for all ages, especially for parties, game days, and lunches.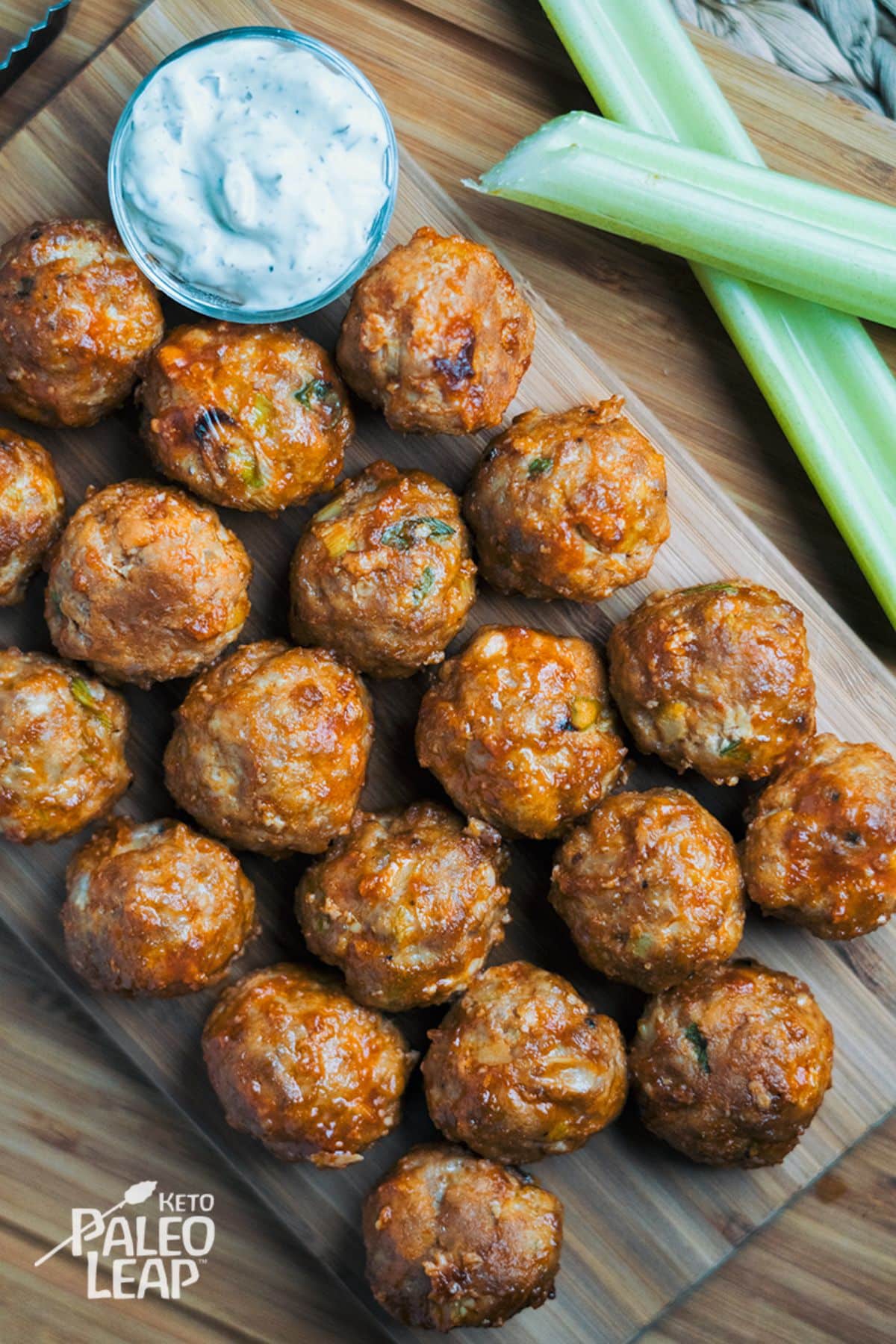 It's a part primal instinct, part convenience, and all about the flavor, of course. Have you ever dipped meatloaf into a creamy, homemade ranch dressing? It is a more likely situation to dip the perfectly formed, and baked, meatball into that deliciousness - just make sure that the meatball is about 1 inch in diameter.
You might already know how easy meatballs are to make, too, particularly if you are a connoisseur of them, whether they be beef, pork, or turkey. What you need to know about cooking with ground chicken is that it is not enough to mix some lean chicken meat with spices and call it a meal.
That just won't do! It is an absolute must to add moisture and a hint of fat (or use less lean meat) so that your creation does not dry out. And forget the breadcrumbs; those are so passé; coconut flour works wonderfully to hold everything together.
It may be a bit of an overkill, but while we are salivating over the idea of our meatballs drowning in a spicy buffalo sauce, chicken with a buffalo ranch coleslaw comes immediately to mind - maybe we'll save that for later in the week. Right now, however, this meal is in need of a cooling cucumber salad.
Keto Buffalo Chicken Meatballs Recipe
Serves: 4 Prep: 15 min Cook: 35 min
Ingredients
1 lb. ground chicken
1 egg, beaten
1 green onion, minced
1 celery stalk, minced
2 garlic cloves, minced
¼ cup coconut flour
1 tsp. onion powder
½ tsp. paprika
¾ cup buffalo sauce or hot pepper sauce
Sea salt and freshly ground black pepper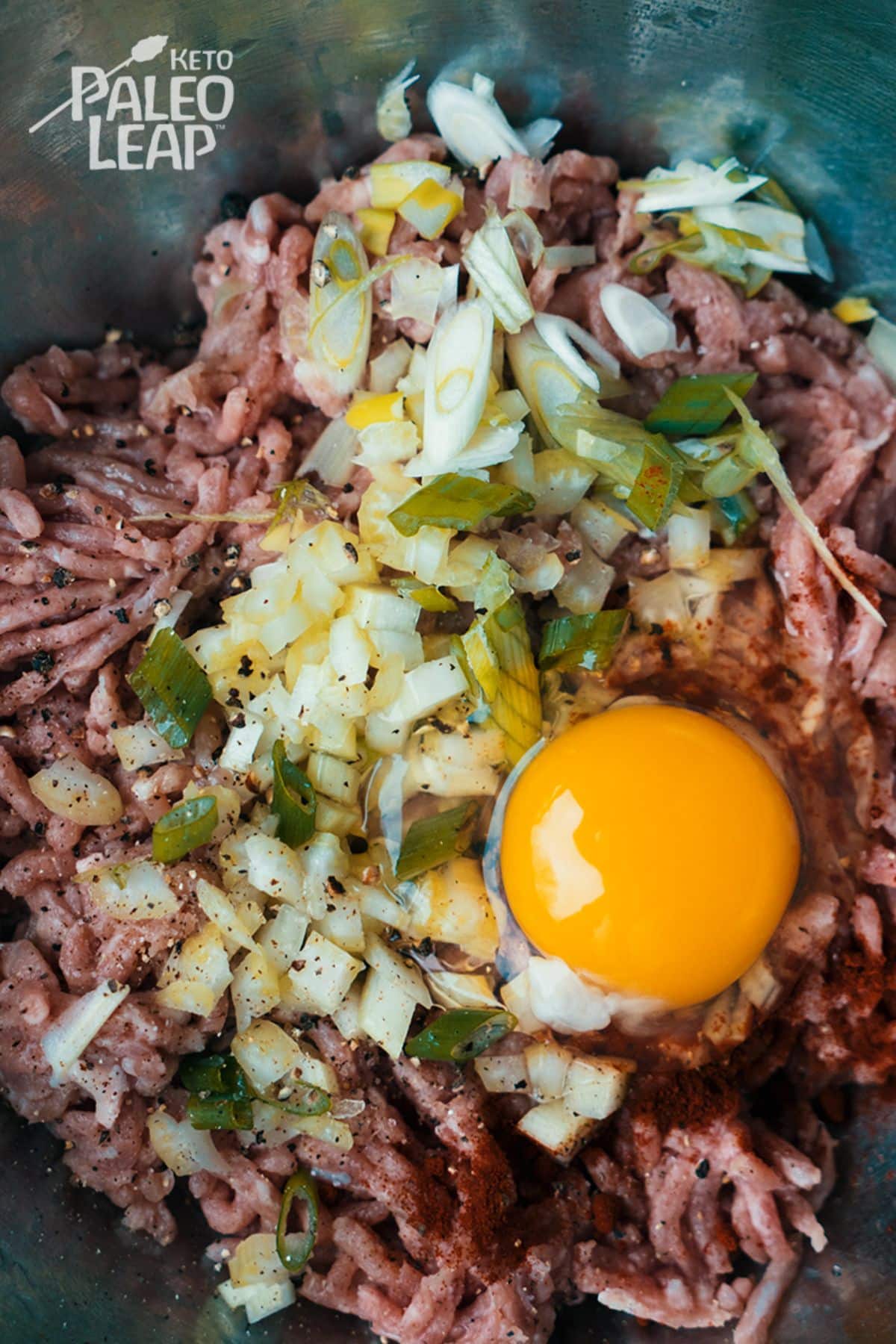 Preparation
Preheat oven to 400 F.
In a bowl, combine all ingredients, except the hot sauce, and season to taste.
Mix everything until well combined; add more coconut flour if the mixture is too runny.
Form small balls about 1 inch in diameter and place them on a parchment-lined baking sheet.
Cook in the oven for 30 to 35 minutes, or until cooked through and no longer pink.
Gently toss the meatballs with the buffalo sauce, and heat for another 4 to 5 minutes in the oven.
Serve with fresh celery sticks and homemade ranch sauce.
📖 Recipe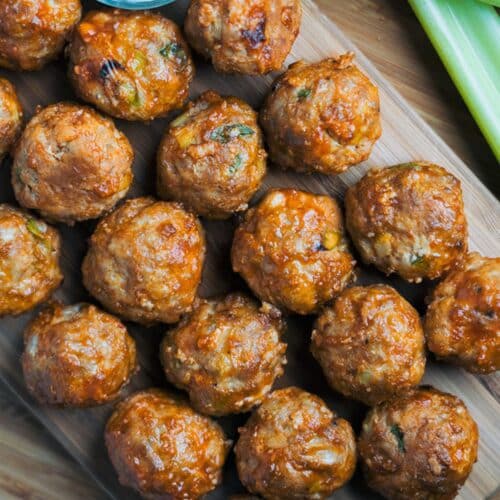 Keto Buffalo Chicken Meatballs Recipe
A little bit of spice makes a meatball tasty and nice. It is hard to eat just one, more like ten of these keto buffalo chicken meatballs.
Instructions
Preheat oven to 400 F.

In a bowl, combine all ingredients, except the hot sauce, and season to taste.

1 lb. ground chicken,

1 egg,

1 green onion,

1 celery stalk,

2 garlic cloves,

¼ cup coconut flour,

1 tsp. onion powder,

Sea salt and freshly ground black pepper,

½ tsp. paprika

Mix everything until well combined; add more coconut flour if the mixture is too runny.

Form small balls about 1 inch in diameter and place them on a parchment-lined baking sheet.

Cook in the oven for 30 to 35 minutes, or until cooked through and no longer pink.

Gently toss the meatballs with the buffalo sauce, and heat for another 4 to 5 minutes in the oven.

Serve with fresh celery sticks and homemade ranch sauce.

¾ cup buffalo sauce or hot pepper sauce
Nutrition
Calories:
219
kcal
Carbohydrates:
6
g
Protein:
23
g
Fat:
11
g
Saturated Fat:
4
g
Polyunsaturated Fat:
2
g
Monounsaturated Fat:
5
g
Trans Fat:
0.1
g
Cholesterol:
138
mg
Sodium:
1482
mg
Potassium:
650
mg
Fiber:
3
g
Sugar:
1
g
Vitamin A:
397
IU
Vitamin C:
1
mg
Calcium:
24
mg
Iron:
2
mg