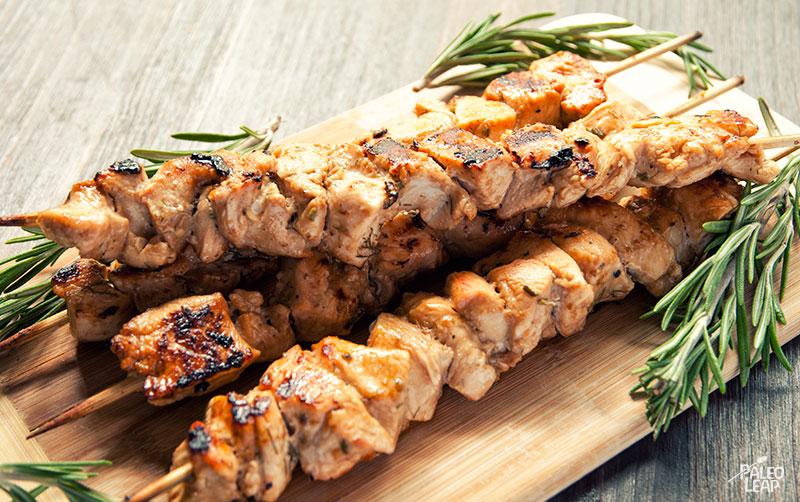 If they're getting herbal about their ranch, most people reach for dill or basil, but in this recipe, a touch of rosemary in the marinade adds a special flavor to the ranch dressing and makes it just a little more sophisticated. It's an easy way to dress up a classic sauce for a party or just for your own enjoyment. Toss it on some chicken, let everything marinate for a few minutes, and then just a few minutes of grill time are standing between you and a plate of kabobs so good you'll be licking the skewers when you're done.
I've included a recipe for ranch dressing below, but if you already have a favorite, you can just use that instead and keep the rest of the directions as written. Unfortunately, finding a store-bought ranch that isn't full of junk is nearly impossible; you can look, but you'll probably have to make your own if you want a Paleo-friendly version.
These kabobs would be perfect to throw on top of some Paleo pasta – or just slice up your favorite fresh vegetables and grill them along with the meat (why not try eggplant, zucchini, or mushroom caps?). And don't forget to grill up a few extra skewers for leftovers: ranch-coated chicken makes a great salad topping for lunch the day after your barbecue feast.
Rosemary Ranch Chicken Kabobs Recipe

SERVES: 4

PREP: 15 min + 30 min.

COOK: 12 min.
Values are per portion. These are for information only & are not meant to be exact calculations.
Ingredients
4 skinless, boneless chicken breasts, cut into 1-inch pieces;
½ cup olive oil;
½ cup homemade ranch dressing (directions below);
2 tbsp. coconut aminos;
1 tbsp. fresh rosemary, minced;
1 tsp. fresh lemon juice;
1 tsp. balsamic vinegar;
Sea salt and freshly ground black pepper;
Wood skewers;
Ingredients for the ranch dressing
½ cup homemade mayonnaise;
½ cup coconut milk;
½ tsp. onion powder;
1 garlic clove, minced;
1 tsp. fresh dill, minced;
Salt and freshly ground pepper, to taste;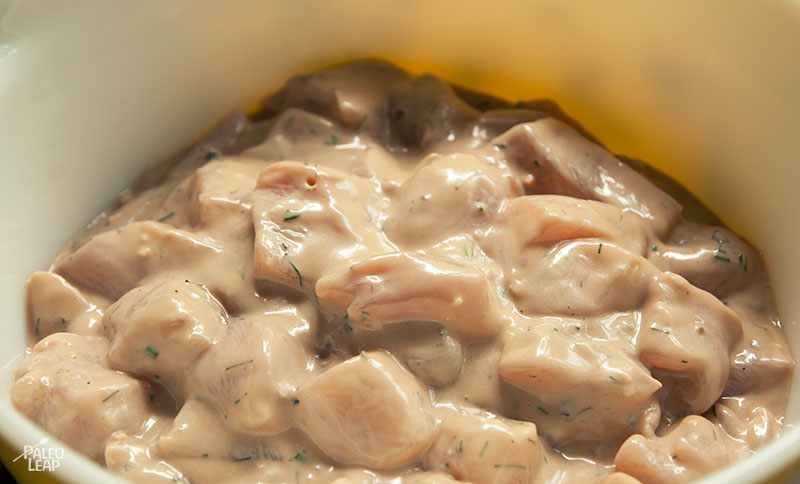 Preparation
In a bowl, whisk all the ingredients for the ranch dressing together until well combined and season to taste with salt and pepper.
In a large bowl, combine together the olive oil, ranch dressing, coconut aminos, rosemary, lemon juice, balsamic vinegar, and season with salt and pepper to taste.
Add the chicken to the bowl, and stir until well coated.
Place the bowl in the refrigerator and let it sit for at least 30 minutes.
Preheat your grill to a medium-high heat.
Thread the chicken cubes onto the skewers.
Grill the skewers on each side until the chicken is cooked through, about 10 to 12 minutes total.
Serve warm.