As you become Paleo, the sweet pancake breakfasts become fewer and fewer until you eliminate all glutenous grains, but they never become completely nonexistent... there are such sweet potato pancakes, you know.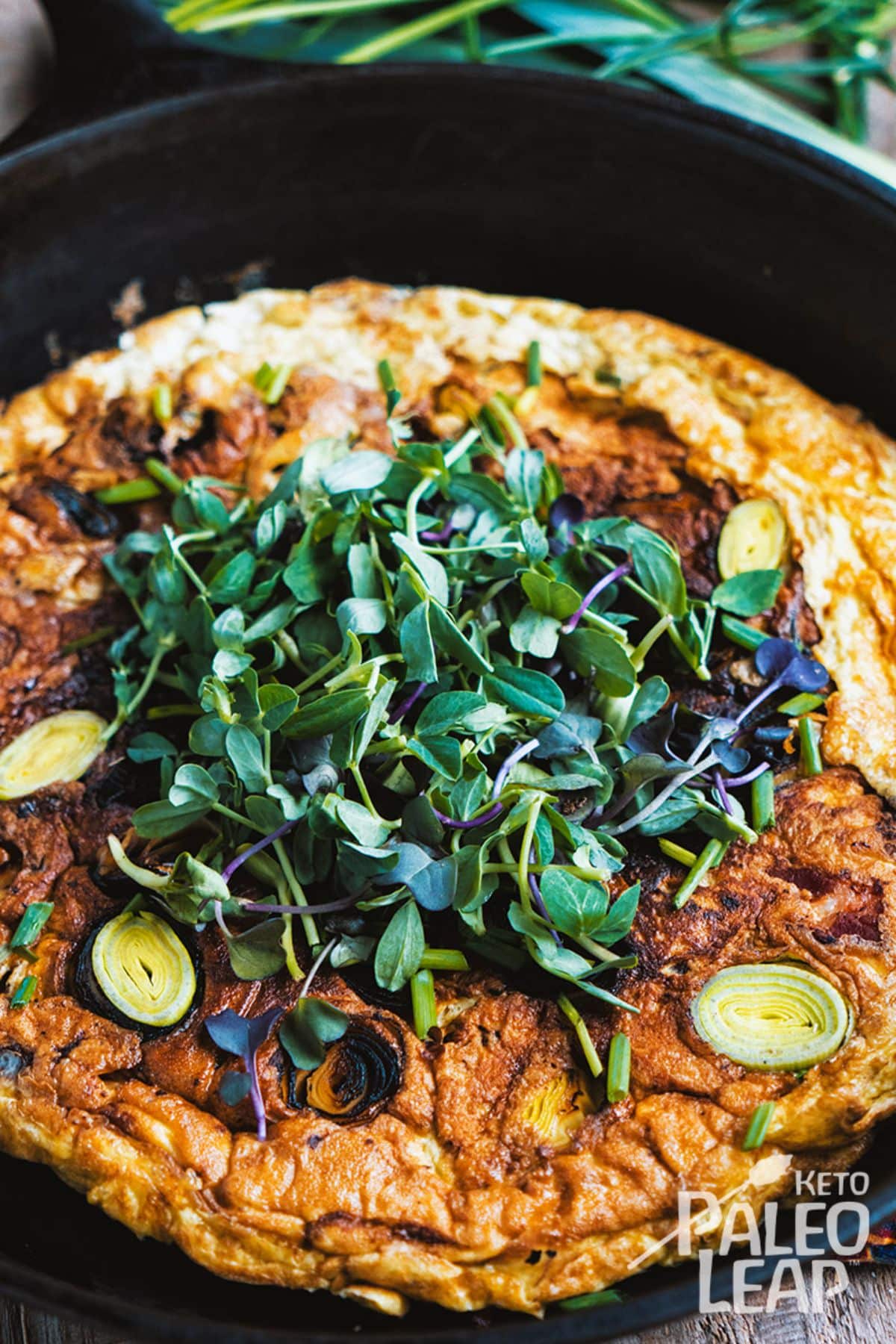 And they are incredibly tasty, but very heavy on carbs. So, what's a keto-loving person to do? Reach for the egg carton and make a nutritious leek and bacon-filled omelet instead. Your tongue will thank you, your body will thank you, and anyone else sharing breakfast will thank you too. What can be a better way to start the day than that?
Once you have perfected your omelet cooking skills, you can move on to a myriad of other keto breakfast ideas; in the meantime, back to your eggs. Eggs are nature's perfect food, but you'll want to invest in the best you can afford: organic, free-range, farm-fresh.
As a versatile food, you can find creative ways to fit them into any meal of the day, though they will always be a classic breakfast food in our book. What you want to do is to beat them gently, all 8 of them, add a pinch of salt and pepper, and let them sit for a moment.
Add your chopped leeks to a hot pan with ghee (or coconut oil if dairy-free), cook until soft, then add the eggs, pushing the cooked portions from the edge towards the center.
When the time comes, fold the omelet over (shredded cheese optional) with a quick flick of the wrist. Serve with fresh microgreens.
Keto Leek And Bacon Omelet Recipe
Serves: 4 Prep: 20 min Cook: 12 min
Ingredients
8 eggs
1 leek, sliced
4 bacon slices, cooked and chopped
2 tbsp. ghee
Fresh chives, minced
Microgreens of your choice
Sea salt and freshly ground black pepper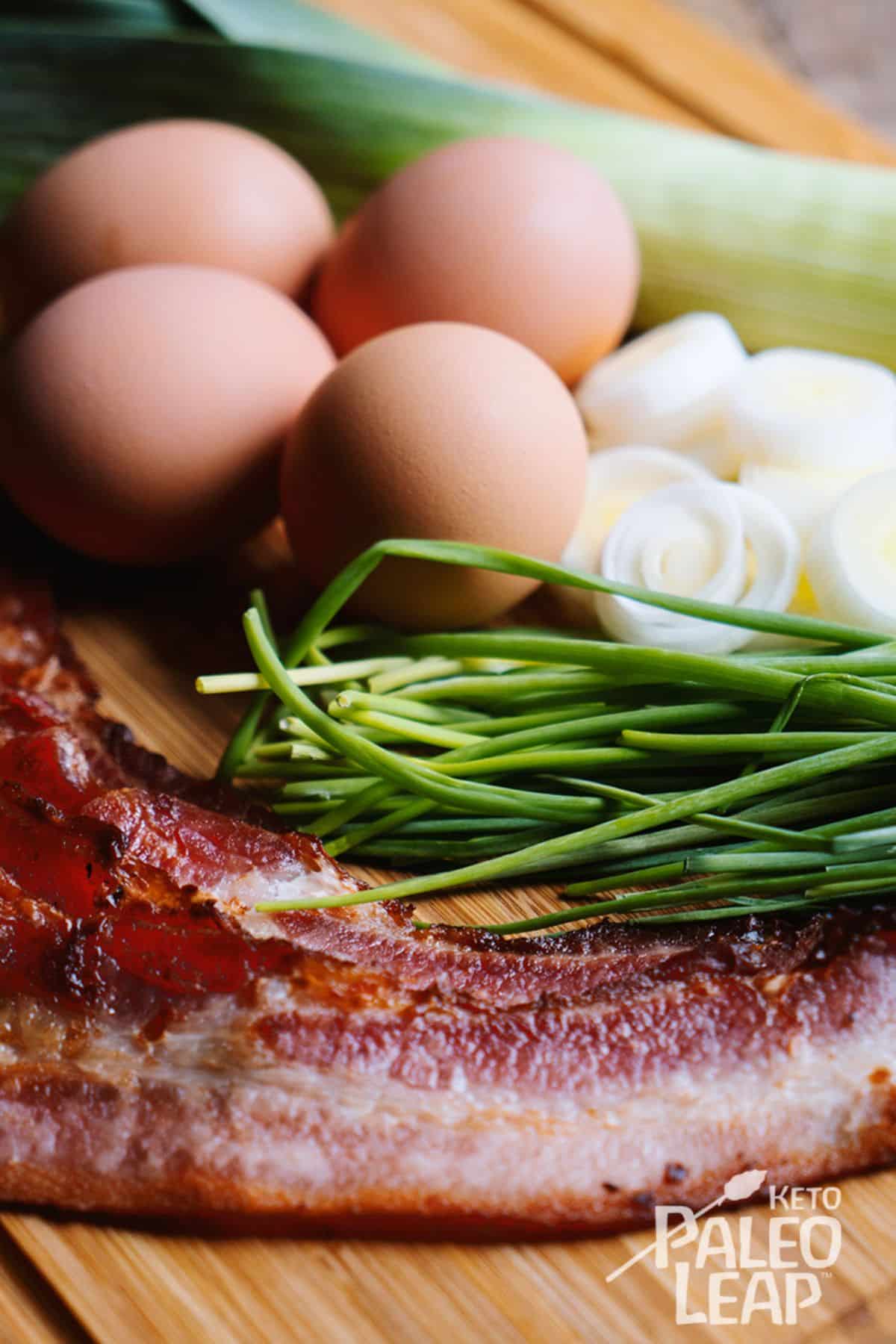 Preparation
Lightly beat the eggs in a bowl and season to taste with salt and pepper.
In a skillet, melt the ghee over medium heat.
Add the leek and cook until soft, 5 to 6 minutes, stirring frequently.
Pour in the egg mixture and add the cooked bacon pieces.
As eggs set around the edge of the skillet, gently push cooked portions toward the center of the skillet. Tilt and rotate the skillet to allow the uncooked egg to flow into empty spaces.
Carefully flip the omelet over and cook another 2 to 3 minutes until the eggs are fully cooked.
Let rest for 4 to 5 minutes and serve topped with fresh microgreens and chives.
📖 Recipe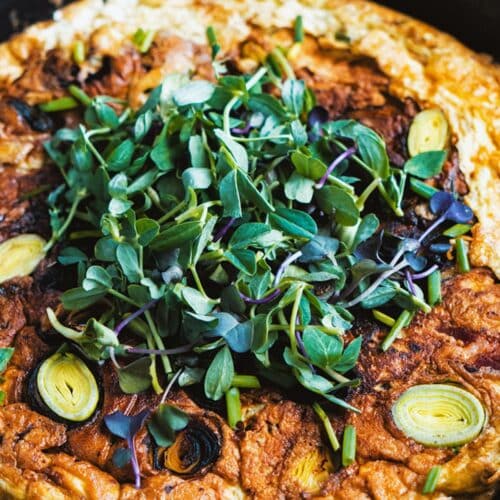 Keto Leek And Bacon Omelet Recipe
A keto leek and bacon omelet is a simple, yet wonderful way to start the day. Add your own herbs, spices, and fresh microgreens for a nutritious treat.
Ingredients
8

eggs

1

leek

sliced

4

bacon slices

cooked and chopped

2

tbsp.

ghee

Fresh chives

minced

Microgreens of your choice
Instructions
Lightly beat the eggs in a bowl and season to taste with salt and pepper.

8 eggs,

Sea salt and freshly ground black pepper

In a skillet, melt the ghee over medium heat.

Add the leek and cook until soft, 5 to 6 minutes, stirring frequently.

Pour in the egg mixture and add the cooked bacon pieces.

As eggs set around the edge of the skillet, gently push cooked portions toward the center of the skillet. Tilt and rotate the skillet to allow the uncooked egg to flow into empty spaces.

Carefully flip the omelet over and cook another 2 to 3 minutes until the eggs are fully cooked.

Let rest for 4 to 5 minutes and serve topped with fresh microgreens and chives.

Fresh chives,

Microgreens of your choice
Nutrition
Calories:
296
kcal
Carbohydrates:
4
g
Protein:
14
g
Fat:
25
g
Saturated Fat:
10
g
Polyunsaturated Fat:
3
g
Monounsaturated Fat:
9
g
Trans Fat:
0.1
g
Cholesterol:
361
mg
Sodium:
275
mg
Potassium:
205
mg
Fiber:
0.4
g
Sugar:
1
g
Vitamin A:
854
IU
Vitamin C:
3
mg
Calcium:
64
mg
Iron:
2
mg