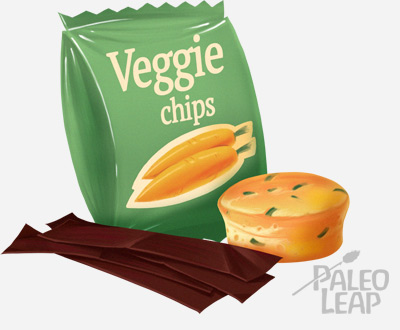 Snacking is an area where many people struggle when it comes to staying in a Paleo and healthy territory. At first glance, it might seem like the choices are quite limited and that snacking is less than ideal altogether.
While very different than most snacks-in-a-box popular on the SAD (Standard American Diet), it only takes a little imagination and willingness to try out new things to discover a whole new world of healthy possibilities. For example, numerous healthy dips can be prepared with good fats and flavors from citrus fruits like lemons or limes as well as herbs and spices. Such dips can be enjoyed with simple raw vegetables or with chips made with starchy vegetables like plantains or sweet potatoes.
One thing that can be perceived negatively though is that most of the more elaborate snack options, while delicious, take more time to be able to enjoy than simply grabbing a box at the grocery store and eating its contents. Unfortunately, not many ready-made snacking options available in stores are made of only non-toxic and nutritious ingredients. Remember that the extra time spent in the kitchen is a very small price to pay for lifelong health and well-being. Fortunately for us though, as the Paleo movement is getting more and more popular, some high-quality products are starting to become available online. For example, Steve's PaleoGoods is a line of products available right now that offer grain-free and sugar-free Paleo snacks like beef jerky and trail mixes.
If you're having guests or simply feel like spending a little more time cooking great food, snacks can be transformed into appetizers and suddenly take a very sophisticated look. Herbed meat skewers, stuffed mushrooms and shrimp cocktails are some examples.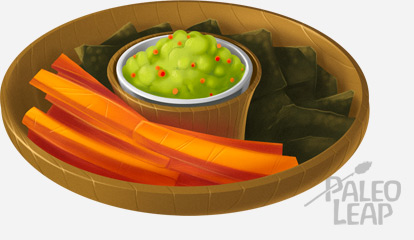 Of course, snacking is completely optional on a Paleo diet. In fact, many people end up naturally eating only two meals per day, but it doesn't mean that snacking is a bad idea, especially if the snack only contains healthy ingredients and prevents you from indulging with bad foods. They can also be great when on the go or as something to eat post workout. Just remember that your snacks should respect the basic principles of Paleo. This means that most fruits and nuts should be consumed only in moderation. Most fruits are high in the sugar fructose, which is toxic in higher doses and most nuts are high in polyunsaturated fat (PUFA), especially the omega-6 PUFA. Refer to my article on nuts and seeds to know about the best choices. This also means that snacks containing mainly saturated fat or animal protein are usually great.
In this article you'll find a list of simple and original snack ideas, pointers to recipes that are already on the site as well as four extra snack recipes: macadamia nut hummus, seasoned seaweed, spicy beef jerky, and natural fruit roll-ups.
Snacking ideas
Here is a short list of snack ideas. Some are really simple while others need more preparation, but are perfect for a special treat. Many of these ideas are included in the cookbook:
Fruit salad;
Piece of fruit;
Handful of nuts;
Smoked salmon;
Beef jerky;
Slices of high-quality salami;
Pork rinds;
Paleo granola;
Cold left-over meat with mustard or mayonnaise;
Kale / plantain / zucchini / sweet potato chips;
Olives;
Naturally fermented dill pickles or sauerkraut;
Coconut butter;
Dips: Tapenade, Baba Ghanoush, salsa, guacamole;
Can of tuna or salmon;
Hard boiled eggs;
Piece of dark chocolate;
Trail mix;
High-quality, full-fat yogurt;
Fruit balls;
Roasted fruits;
Paleo cookies;
Smoothie;
Fruits with coconut milk;
Omelet muffins;
Simple omelet;
Paleo Snack Recipes
Here are some of the snack recipes that are already on the site:
Plus, here are four additional healthy Paleo snack recipes that everybody will enjoy:
Macadamia nut hummus
Yields about 1 3/4 cups
As discussed in my article questioning nut consumption on a Paleo diet, macadamia nuts are probably the healthiest nuts available because of their high monounsaturated and low polyunsaturated fat content as well as their low levels of anti-nutrients. They can thus be enjoyed without guilt. This hummus recipe is great with anything where you would normally use regular hummus or Baba Ghanoush.
Ingredients
1 1/2 cups macadamia nuts, coarsely chopped;
2 tbsp lemon juice;
2 tbsp olive oil;
1 clove garlic;
About 1/2 tsp sea salt;
Preparation
Place the nuts, lemon juice, olive oil and garlic in a food processor or high-performance blender and process to break up the nuts somewhat. Add the sea salt.
Add about 1/2 cup water and process again until smooth. Add more water if the mixture is too thick.
Taste for seasoning and add more lemon juice or sea salt if needed.
Place in the refrigerator to chill for about 30 minutes before enjoying.
Seasoned seaweed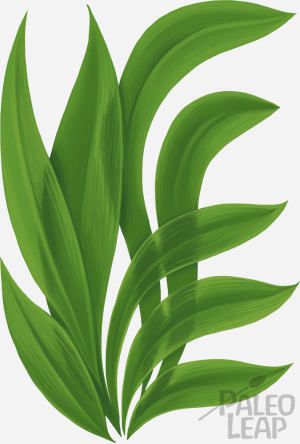 Serves 6
Edible seaweeds are too often overlooked on a Paleo diet, but they boast an unparalleled nutritional profile. Among many essential nutrients, most kinds of seaweeds are loaded with iodine, an essential trace element to life. Iodine is especially important for the proper functioning of the thyroid gland. For most people on a SAD diet, the only reliable source of iodine is iodized salt. Many people on a Paleo diet decide to shun added salt completely or to consume unrefined sea salt instead of regular iodized table salt. This is great, but with such a change, an effort should be made to eat iodine rich foods occasionally. Seaweeds are a great option.
Cooking and consuming seaweeds can be intimidating because they can seem quite bland, tough or bitter at first glance. With the proper seasonings and cooking though, they can become a real treat. In the following snack, nori sheets are simply rubbed with coconut oil, seasoned with sea salt and a small amount of sesame oil, then roasted very briefly.
Ingredients
8 nori sheets;
3 tbsp coconut oil, melted;
Sesame oil to taste;
Sea salt to taste;
Preparation
Preheat your oven to 350 F.
Place a nori sheet on a flat surface and rub 1/8th of the coconut oil on the surface. Season the sheet to taste with sea salt and a small quantity of sesame oil.
Repeat the process with the remaining nori sheets.
Stack two piles of 4 nori sheets and place them side by side on a baking sheet. Place in the preheated oven to roast for about 3 to 4 minutes.
Break the roasted nori in smaller pieces and enjoy.
Spicy beef jerky
Yields about 40 pieces
At first, making jerky might seem like a complicated task, but it's actually really simple. It takes quite a bit of time though, but big batches are easy to make all at once. Here are some helpful tips:
Choose a lean cut of meat and trim off any remaining fatty tissues to ensure that the resulting jerky won't spoil.
Cut the chosen piece of meat into really thin slices. For this, a really good chef's knife helps a lot.
Placing the roast in the freezer until it's partially frozen also helps in cutting the meat into really thin slices.
The meat is usually marinated in a salty mixture to give it taste, but also to draw moisture out of the meat and to help the jerky stay good for a longer time. Many recipes also call for a sugary component, but sugar has no use other than to add taste so there won't be any added sugar in our healthy jerky recipe.
In this recipe, the jerky is roasted at a very low temperature instead of slowly dried. This roasting requires a special attention in order not to overcook the meat and end up with pieces of wood. The jerky is ready when it doesn't break, but still bends. It'll stay good for about 3 weeks, but should be refrigerated.
Ingredients
1/2 lb lean top round or sirloin beef roast, fat trimmed and partially frozen;
2 tbsp water;
1 clove garlic, finely chopped;
1/4 tsp cayenne pepper;
1/4 tsp sea salt;
1/2 tsp freshly ground black pepper;
1 tsp chili powder;
1/4 cup Worcestershire sauce;
Preparation
With a good knife, cut the roast into thin slices, about 1/8 inch thick.
Combine the water, garlic, cayenne pepper, sea salt, black pepper, chili powder and Worcestershire sauce in a bowl.
Add the beef slices to the mixture, cover and refrigerate overnight for the flavors to penetrate the meat.
Place the beef slices, without their marinating liquid, side by side on baking sheets and roast in a 175 F oven for about 3 hours.
Turn the meat over and roast for another hour or two, until the meat is dry but still bends without breaking.
Enjoy and place the leftovers in an airtight container in the refrigerator.
Natural fruit roll-ups
Serves 10
This is a favorite for many kids and this version differs from the version in grocery stores loaded with high-fructose corn syrup and artificial ingredients. It's still sugary from the fruits, but it's still moderately healthy.
Similarly to the beef jerky, this recipe is not complicated even if it takes quite a bit of time before enjoying the end result.
This is bound to become a favorite for many kids and is simple to add to lunch boxes.
Ingredients
4 cups of your favorite fresh fruits (apples, pears, peaches and berries are good choice), pitted or cored, peeled if applicable and coarsely chopped;
2 cups water;
2 tsp lemon juice or to taste;
1 tsp cinnamon;
Preparation
Place the chopped fruits in a saucepan along with the water; bring to a simmer and simmer, covered, for about 12 minutes.
Uncover, stir the mixture and mash it with a potato masher.
Add the lemon juice and cinnamon and combine well.
Simmer, uncovered, for about another 10 minutes, until the mixture is thick.
Place the mixture in a blender or food processor and process until very smooth. Taste and adjust the amount of lemon juice or cinnamon if necessary.
Line a baking sheet with parchment paper and spread the fruit mixture evenly on the paper. It should be about 1/8 to 1/4 inch thick.
Place in a 140 F oven to slowly dry out overnight. It's ready when the fruit mixture is not longer sticky.
Cut the preparation into equal size fruit roll-ups, roll them into parchment paper and store them in an airtight container in the refrigerator.