Quality consumes time, and meaningful, mouthwatering slow food takes this to heart. Pulled pork stuffed sweet potatoes is a prime example of a meal well cooked - over the course of 8 long hours.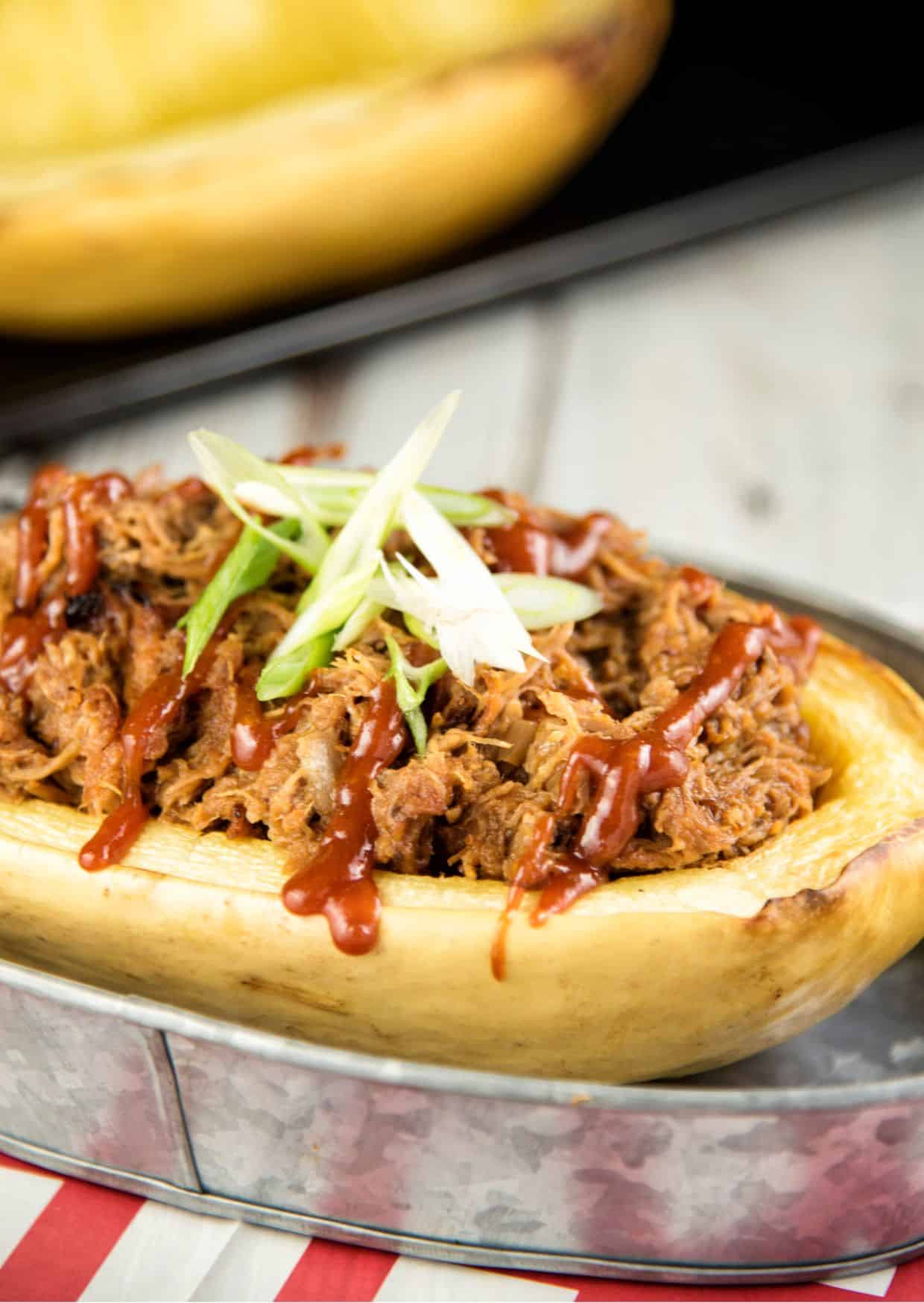 The time to invest in a slow cooker is now, no matter what month of the year you are in, because slow-cooked meals are in season all year round. If it takes longer to cook, it better be good, right? There is a reason why pulled pork is so popular, we can only blame the homemade BBQ sauce.
Once you have a generous stock of that, you are good to go (and cook) on so many levels. Now, all you have to do, is make a spicy rub for the pork shoulder, add the onion powder and chicken stock to the pot and let it simmer all day, or all night, depending on your work/life schedule.
Yes, you can go Paleo and eat this for breakfast; no one ever said slow food must be eaten exclusively for dinner! Once you get past the idea of cereal and grains at any time of day, anything goes.
Of course, you'll likely be craving some fresh greens to go with this delish dish. And we have an answer for that: a salad of mixed greens with fennel and red pear if you are deep into summer or fall, or a warm winter salad if you are approaching the season of root vegetables.
Pulled Pork Stuffed Squash Recipe
Serves: 6 Prep: 20 min Cook: 8 h
Ingredients
4 lbs. pork shoulder
1 tbsp. chili powder
1 tbsp. paprika
1 tsp. ground cumin
1 tsp. onion powder
1 cup chicken stock
2 cups homemade BBQ sauce
2 green onions, sliced
2 small spaghetti squashes, halved and seeded
Olive oil
Sea salt and freshly ground black pepper
Preparation
In a bowl, combine the chili powder, paprika, cumin, onion, and garlic powder; season to taste.
Rub the pork with the chili powder mix, making sure to coat every side.
Place the pork shoulder in the slow cooker, with the onion and the chicken stock.
Cover and cook on low for 6 to 8 hours.
Remove the pork from the slow cooker and shred it with forks.
Remove all the remaining juice from the slow cooker, place the shredded pork back, and pour in the BBQ sauce; cook another 30 minutes on low.
Preheat oven to 400 F.
Brush the flesh of the squash with olive oil, and season to taste.
Place the squash halves cut-side up on a baking sheet and roast for 40 to 45 minutes.
Remove from oven, and fill the squash with the pulled pork.
Serve with BBQ sauce and green onions on top.
📖 Recipe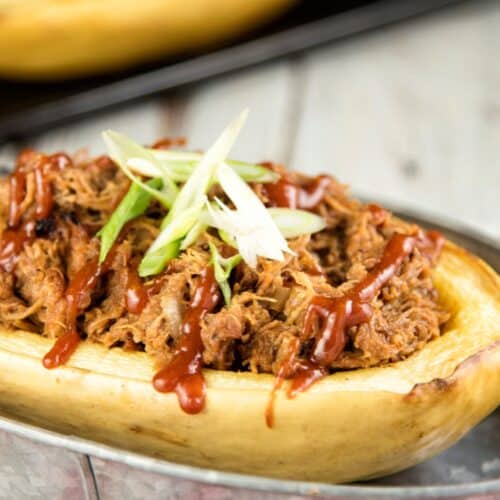 Pulled Pork Stuffed Squash Recipe
Pulled pork stuffed in sweet potatoes is a delicious treasure to dive into; the same can be said for pulled pork stuffed in spaghetti squash.
Instructions
In a bowl, combine the chili powder, paprika, cumin, onion, and garlic powder; season to taste.

1 tbsp. chili powder,

1 tbsp. paprika,

1 tsp. ground cumin,

1 tsp. onion powder,

Sea salt and freshly ground black pepper

Rub the pork with the chili powder mix, making sure to coat every side.

Place the pork shoulder in the slow cooker, with the onion and the chicken stock.

4 lbs. pork shoulder,

1 cup chicken stock,

2 green onions

Cover and cook on low for 6 to 8 hours.

Remove the pork from the slow cooker and shred it with forks.

Remove all the remaining juice from the slow cooker, place the shredded pork back, and pour in the BBQ sauce; cook another 30 minutes on low.

Preheat oven to 400 F.

Brush the flesh of the squash with olive oil, and season to taste.

2 small spaghetti squashes,

Sea salt and freshly ground black pepper,

Olive oil

Place the squash halves cut-side up on a baking sheet and roast for 40 to 45 minutes.

Remove from oven, and fill the squash with the pulled pork.

Serve with BBQ sauce and green onions on top.

2 cups homemade BBQ sauce
Nutrition
Calories:
483
kcal
Carbohydrates:
5
g
Protein:
61
g
Fat:
23
g
Saturated Fat:
8
g
Polyunsaturated Fat:
3
g
Monounsaturated Fat:
10
g
Cholesterol:
204
mg
Sodium:
332
mg
Potassium:
1211
mg
Fiber:
2
g
Sugar:
1
g
Vitamin A:
2013
IU
Vitamin C:
4
mg
Calcium:
71
mg
Iron:
5
mg