If kitchen prep and meal planning are part of your Paleo lifestyle and shredded chicken is always in your fridge or freezer ready to go, then today you are in luck, since we will be tossing 4 full cups of shredded chicken into the spicy-as-you-like-it chili.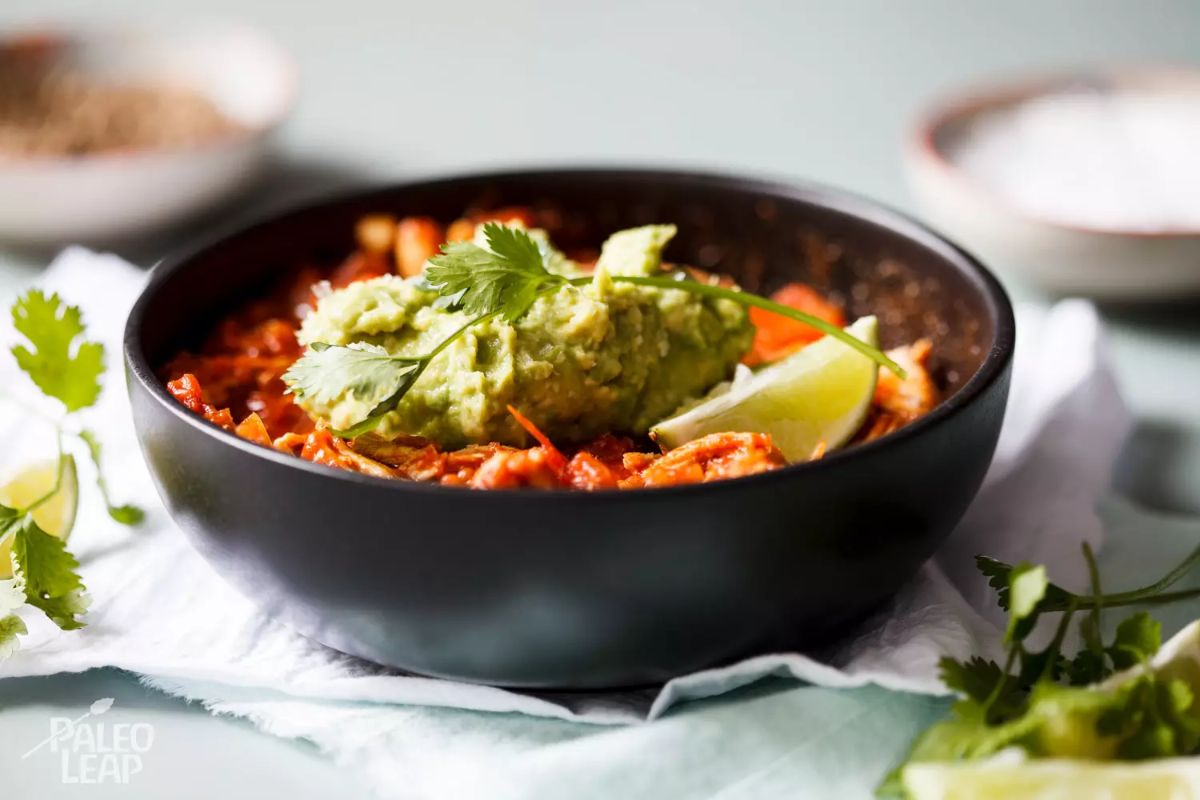 It always pays to be prepared when hunger sneaks in - or when the kids are asking for a snack - you can always add a bit of shredded chicken to sweet potato nachos to hold them over till the real dinner arrives.
And this chili will arrive with real fanfare. You'll smell it before you see it, and when you set your expectant eyes on it, you will instantly know that it is perfect for human consumption. Trust your instincts and dig in, but not without checking to see how hot it is first.
Add red pepper flakes if you wish to throw in some heat, though a single jalapeño never hurt anyone - at least not that we know of. Naturally, you will also want to add some guacamole on top, if for no other reason than it looks nice (not to mention the benefits of eating avocados too).
For some people, chili is a cold-weather food; for a chili lover, chili is a weekly event, and the season in which to consume it does not matter.
So, no matter what category you fall into, we implore you to make this shredded chicken chili, and add a spot of shredded cheese if you are into dairy; otherwise, stick with the mashed avocado - it is wonderful either way.
Shredded Chicken Chili Recipe
Serves: 4 Prep: 20 min Cook: 20 min
Ingredients
1 tbsp. coconut oil
1 onion, diced
2 garlic cloves, crushed
½ tsp. red pepper flakes
1 tsp. smoked paprika
½ tsp. cumin
½ tsp. ground coriander
¼ tsp. cayenne pepper
1 tsp. dried oregano
2 14oz. cans chopped tomatoes
Sea salt and black pepper, to taste
4 cups chicken, cooked and shredded
Fresh cilantro, to garnish
Lime wedges, to garnish
Guacamole Ingredients
1 ripe avocado
Juice of 1 lime
Sea salt and black pepper, to taste
Preparation
Fry the onion and garlic in the melted coconut oil until soft and translucent.
Add the herbs and spices and fry for another minute, then add the chopped tomatoes.
Season to taste and allow to cook for 7-10 minutes until the sauce has reduced slightly.
Add the shredded chicken and adjust the seasoning if necessary.
To make the guacamole, mash the avocado with the lime juice, salt, and pepper.
Serve the chili with a dollop of guacamole, lime wedge, and freshly chopped cilantro.
📖 Recipe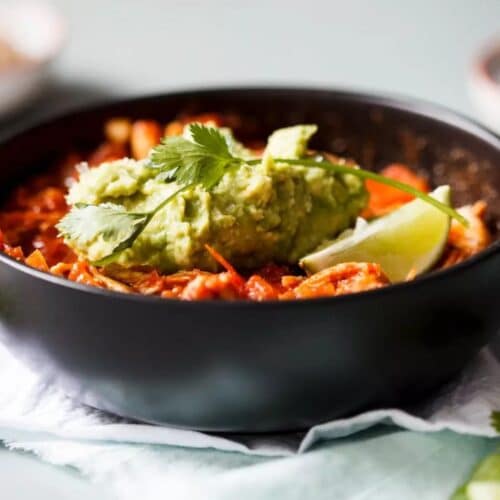 Shredded Chicken Chili Recipe
This shredded chicken chili is bound to become your year-round comfort food. Add as much spice as you like; guacamole is mandatory, and cheese is optional.
Ingredients
Guacamole Ingredients
1

ripe avocado

Juice of 1 lime

Sea salt and black pepper

to taste
Instructions
Fry the onion and garlic in the melted coconut oil until soft and translucent.

1 onion,

2 garlic cloves,

1 tbsp. coconut oil

Add the herbs and spices and fry for another minute, then add the chopped tomatoes.

½ tsp. red pepper flakes,

1 tsp. smoked paprika,

½ tsp. cumin,

½ tsp. ground coriander,

¼ tsp. cayenne pepper,

1 tsp. dried oregano,

2 14 oz. cans chopped tomatoes

Season to taste and allow to cook for 7-10 minutes until the sauce has reduced slightly.

Add the shredded chicken and adjust the seasoning if necessary.

4 cups chicken,

Sea salt and black pepper

To make the guacamole, mash the avocado with the lime juice, salt, and pepper.

1 ripe avocado,

Juice of 1 lime,

Sea salt and black pepper

Serve the chili with a dollop of guacamole, lime wedge, and freshly chopped cilantro.

Lime wedges,

Fresh cilantro
Nutrition
Calories:
291
kcal
Carbohydrates:
18
g
Protein:
14
g
Fat:
20
g
Saturated Fat:
7
g
Polyunsaturated Fat:
3
g
Monounsaturated Fat:
9
g
Trans Fat:
0.1
g
Cholesterol:
41
mg
Sodium:
205
mg
Potassium:
805
mg
Fiber:
8
g
Sugar:
7
g
Vitamin A:
1340
IU
Vitamin C:
19
mg
Calcium:
95
mg
Iron:
4
mg