Breakfast is much more than Paleo granola and smoothies. It is crispy slices of bacon when you are craving a salty protein, and apple pie muffins when all you desire is a bite from a delicious cloud of heaven.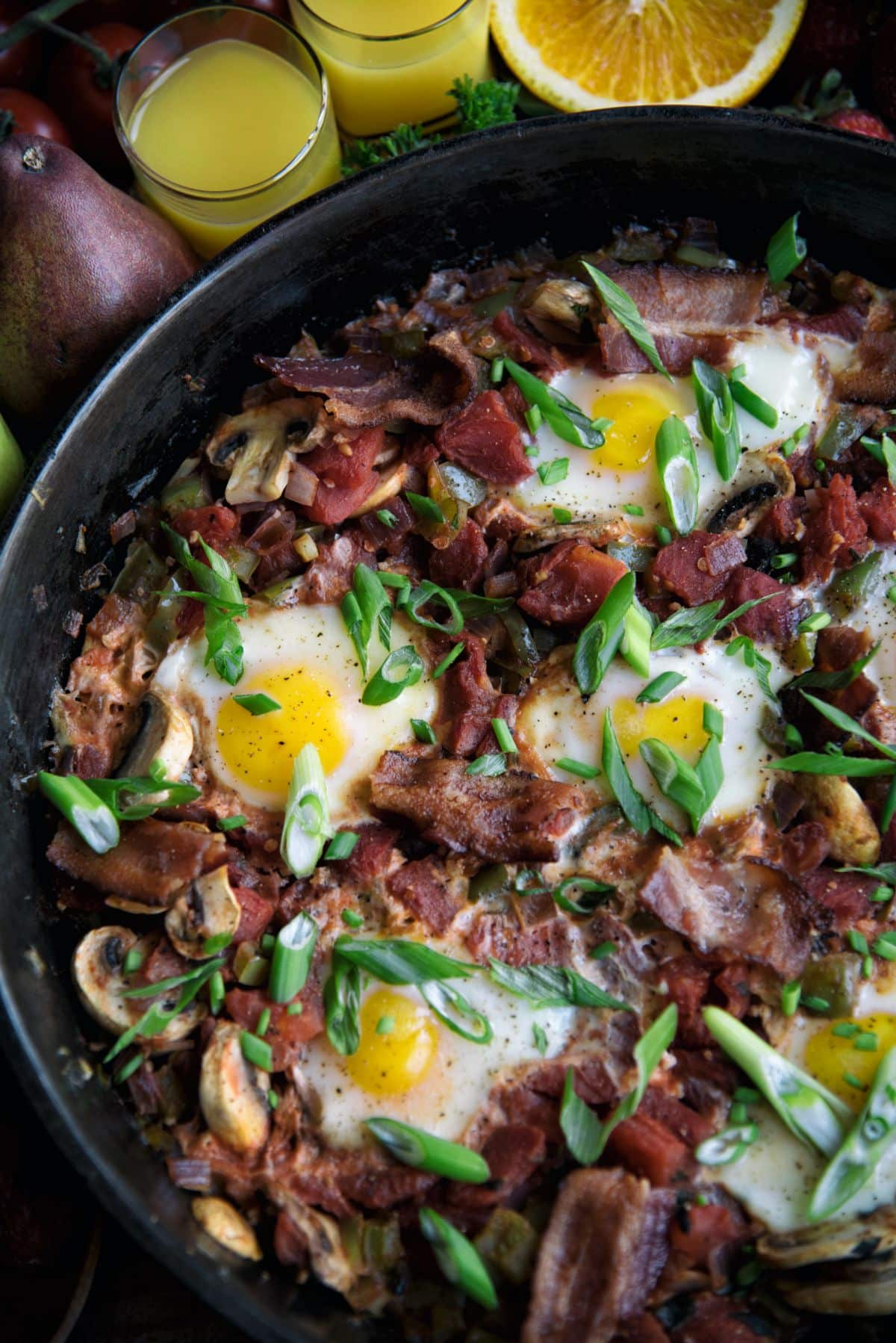 A Paleo breakfast is anything, and everything, that you want to eat in the morning hours; it can even manifest itself as a slice of leftover roast with gravy and mashed sweet potatoes.
More often than not, an egg is involved in the breakfast scene - it is nature's perfect food. Eggs are excellent sources of protein that help to get you going before daybreak, they are also full of zinc, iron, and copper.
Additionally, they are wonderful sources of vitamin D, B6, and B12. The best way to get your vitamins is to eat them, and an egg, or two, is a great way to start the day. That being said, eat your eggs responsibly and in the first instance, opt for pastured eggs from a local farm.
Not only do they taste amazing, but you are also supporting sustainable agriculture. Next, the best is from the store - search for free-range eggs with the most Omega-3s, to support your health and well-being. And of course, mind your vegetables too!
Skillet breakfasts, for one, are as energy-giving as the bulletproof coffee you have next to them! When cooking for an early morning crowd, up the eggs to 6 and join in conversation and mugs all around the table.
Skillet Eggs with Mushrooms And Bacon Recipe
Serves: 4 Prep: 15 min Cook: 15 min
Ingredients
6 free-range eggs
1 lb. crimini mushrooms, washed and roughly sliced
6 bacon slices, cooked and chopped
1 onion, finely chopped
1 bell pepper, chopped
2 Roma tomatoes, seeded and diced
2 garlic cloves, minced
1 green onion, sliced
Cooking fat
Sea salt and freshly ground black pepper
Preparation
Melt some cooking fat in a skillet over medium heat.
Add the onion and garlic, and cook until fragrant and soft.
Add the bell pepper, mushrooms and tomatoes, then cook for another 4 to 5 minutes, stirring constantly.
Using a spoon, make holes for each egg and break the eggs into the holes.
Top with chopped bacon and let simmer, uncovered, until the eggs are cooked, about 5-8 minutes until the whites are set.
Season the dish to taste and garnish with green onion.
📖 Recipe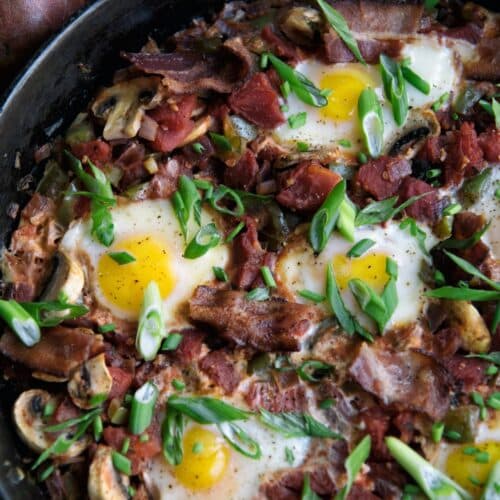 Skillet Eggs with Mushrooms And Bacon Recipe
Skillet breakfasts are where it is at. Grab your favorite pan, your preferred slices of bacon, and six eggs, and get your energy on!
Instructions
Melt some cooking fat in a skillet over medium heat.

Add the onion and garlic, and cook until fragrant and soft.

Add the bell pepper, mushrooms and tomatoes, then cook for another 4 to 5 minutes, stirring constantly.

1 lb. crimini mushrooms,

1 bell pepper,

2 Roma tomatoes

Using a spoon, make holes for each egg and break the eggs into the holes.

Top with chopped bacon and let simmer, uncovered, until the eggs are cooked, about 5-8 minutes until the whites are set.

Season the dish to taste and garnish with green onion.

1 green onion,

Sea salt and freshly ground black pepper
Nutrition
Calories:
284
kcal
Carbohydrates:
12
g
Protein:
16
g
Fat:
20
g
Saturated Fat:
7
g
Polyunsaturated Fat:
4
g
Monounsaturated Fat:
8
g
Trans Fat:
0.1
g
Cholesterol:
267
mg
Sodium:
324
mg
Potassium:
855
mg
Fiber:
2
g
Sugar:
6
g
Vitamin A:
1589
IU
Vitamin C:
45
mg
Calcium:
75
mg
Iron:
2
mg