When you lead a life that has you on the run from sunup to sundown, it is essential to find some relaxing moments in the day.
Starting the morning with bulletproof coffee works well for some, while a coconut matcha latte gives others just the energy burst they need to get started. To completely nourish yourself throughout the day, you are going to have to rely on more than just drinks.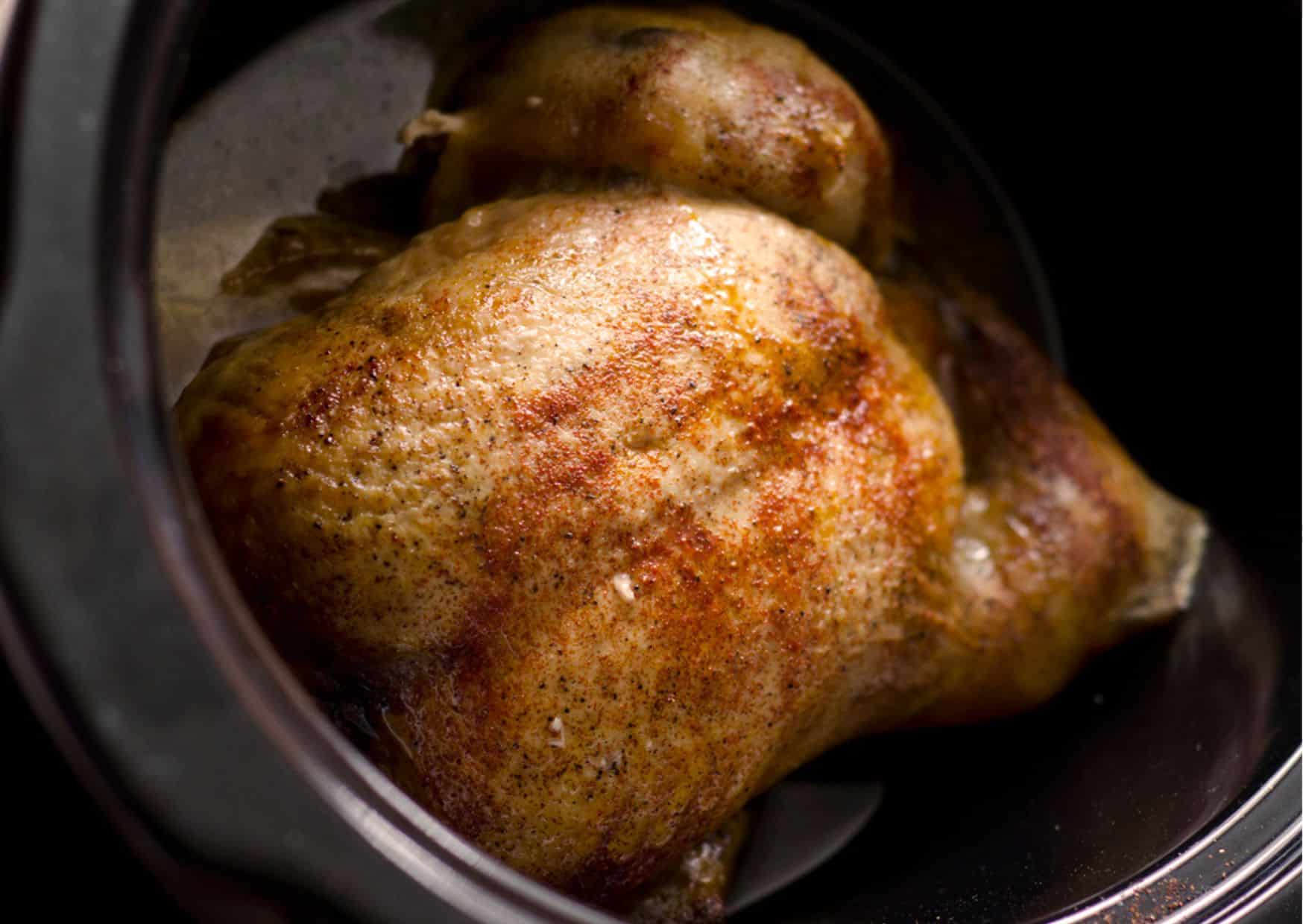 So, get busy with buying an entire chicken and getting your slow cooker ready; you'll have plenty of time to sit down once dinner is underway.
We love to prep our meals ahead of time, to be ready for the midweek rush of meetings and activities. While slow-cooker shredded chicken often frequents our menu (this means all the burrito bowls we can eat!), we often long for more to bite on.
A leg, a juicy thigh, something more than a standard chicken breast. Enter the whole chicken, and suddenly, there is something for everyone, complete with aromatic spices and white wine to keep it interesting.
Make this recipe your own and add the spices that you like best: oregano, marjoram, dried thyme, cumin, coriander, or rosemary.
Not only can we substitute slow-cooked chicken for the ground beef in a Paleo burrito bowl, but now we can also stuff an avocado with chicken salad for an amazing lunch that is ready in less than 10 minutes. It pays to prep an entire chicken so that you have unlimited dining options during the week.
Slow-Cooker Whole Chicken Recipe
Serves: 6 Prep: 15 min Cook: 6 h
Ingredients
3 lb. chicken
4 tsp. salt
2 tsp. paprika
1 tsp. cayenne pepper
1 tsp. onion powder
½ tsp. garlic powder
½ tsp. fresh ground pepper
1 cup white wine or chicken stock
A few sprigs of fresh thyme
Preparation
In a small bowl, combine salt, paprika, cayenne pepper, onion powder, garlic powder, and pepper. Once mixed, rub all over the chicken.
Pour the white wine, or chicken stock, into the base of the slow cooker. Place chicken in the pot. Cover and cook on low for 6 to 8 hours, or until juices run clear.
📖 Recipe
Slow Cooker Whole Chicken Recipe
Colder days are coming, and that can only mean one thing - time to bring the slow cooker out of hiding! Start off simple, with a whole chicken.
Ingredients
3

lb.

chicken

4

tsp.

salt

2

tsp.

paprika

1

tsp.

cayenne pepper

1

tsp.

onion powder

½

tsp.

garlic powder

½

tsp.

fresh ground pepper

1

cup

white wine or chicken stock

A few sprigs of fresh thyme
Instructions
In a small bowl, combine salt, paprika, cayenne pepper, onion powder, garlic powder, and pepper. Once mixed, rub all over the chicken.

3 lb. chicken,

4 tsp. salt,

2 tsp. paprika,

1 tsp. cayenne pepper,

1 tsp. onion powder,

½ tsp. garlic powder,

½ tsp. fresh ground pepper,

A few sprigs of fresh thyme

Pour the white wine, or chicken stock, into the base of the slow cooker. Place chicken in the pot. Cover and cook on low for 6 to 8 hours, or until juices run clear.

1 cup white wine or chicken stock
Nutrition
Calories:
499
kcal
Carbohydrates:
2
g
Protein:
43
g
Fat:
35
g
Saturated Fat:
10
g
Polyunsaturated Fat:
8
g
Monounsaturated Fat:
14
g
Trans Fat:
0.2
g
Cholesterol:
170
mg
Sodium:
1435
mg
Potassium:
496
mg
Fiber:
1
g
Sugar:
0.3
g
Vitamin A:
1469
IU
Vitamin C:
4
mg
Calcium:
34
mg
Iron:
3
mg