Cool and juicy cucumbers are the perfect summer vegetables: add a touch of elegance here by slicing them into thin diagonal rounds instead of chunks.
A zippy garlic-lime sauce adds some extra flavor to that crunch; top it all off with some juicy steak slices for contrast, and you've got a classic summer salad hot off the grill and ready to enjoy.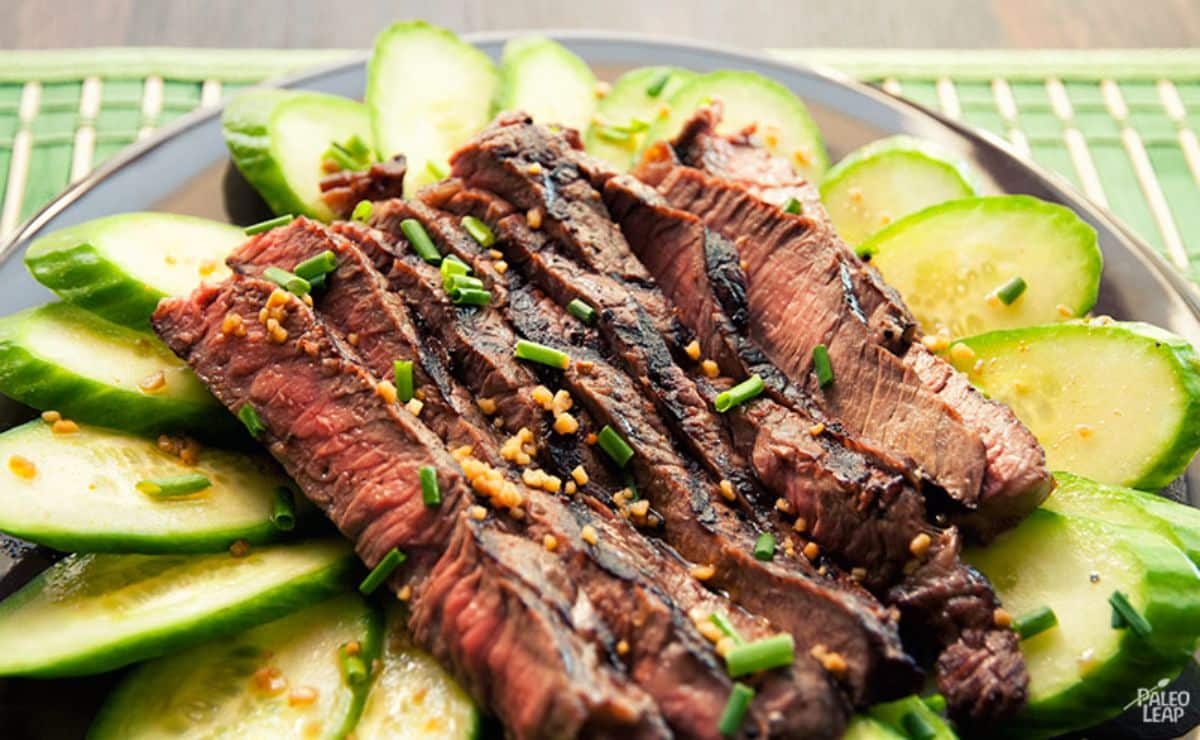 You can use your favorite kind of steak for this recipe: I picked sirloin, but flank steak would be just as good. And if you're not huge on medium-rare, you can also grill the steak until it's as done (or as raw) as you like.
The approach of grilling season always seems to bring up worries about the grilling process itself: isn't that carcinogenic? You can get the full story here, but the short version is that, no, it's not.
The amount of carcinogens produced is so impossibly tiny that it doesn't even matter. And any kind of marinade – like the black pepper you sprinkle on the steak in this recipe – reduces that tiny amount even further.
Don't stress out about carcinogens from the barbecue: it shouldn't be anything to stop you from enjoying your steak.
Steak and Cucumber Salad Recipe
SERVES: 2 PREP: 10 min COOK: 10 min
Ingredients
1 ½ lb. sirloin steak (or your favorite kind of steak);
1 tbsp. coconut oil;
2 cloves garlic, minced;
¼ cup coconut aminos;
2 tbsp. fresh lime juice;
¼ cup water;
1 tbsp. fresh chives, minced;
1 cucumber, sliced;
Sea salt and freshly ground black pepper;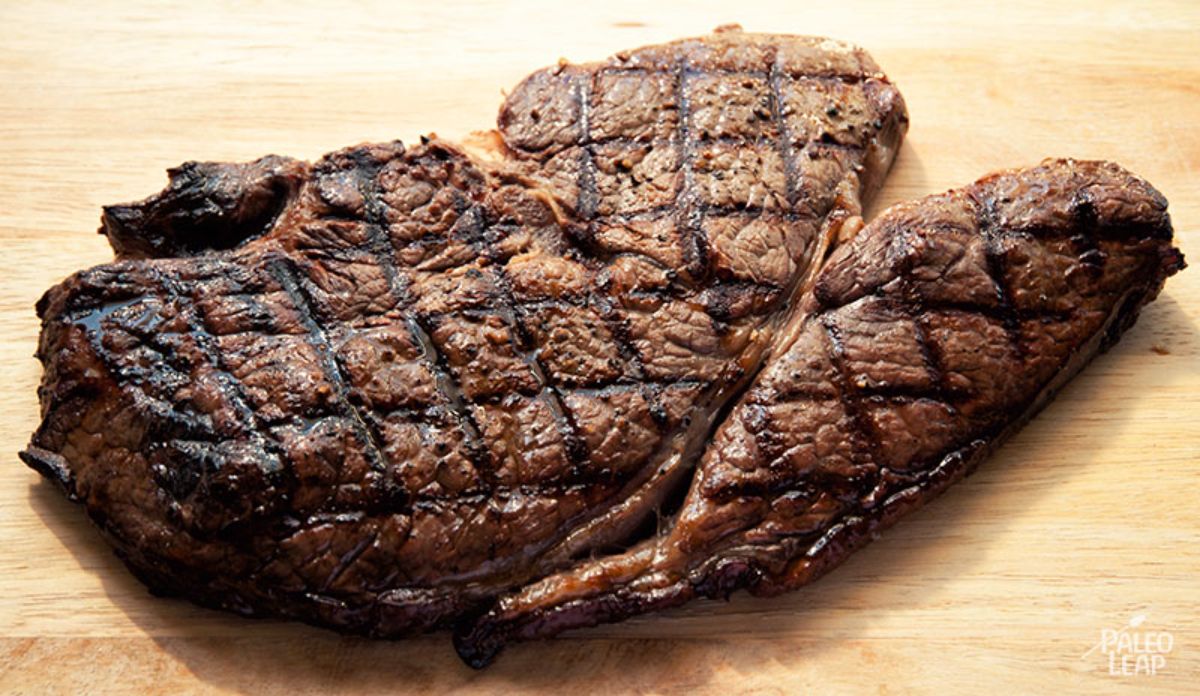 Preparation
Preheat your grill to 350 F.
Season the steak to taste with sea salt and black pepper, and let it stand for about 10 minutes.
Sauté the garlic with some coconut oil for 1 minute in a small saucepan placed over medium heat.
Stir in the coconut aminos, lime juice, and water, and season with salt and pepper to taste.
Bring to a boil, stirring often, and let it boil for 2 minutes. Then remove the sauce from the heat and let it cool for a little.
Grill the steak, grill covered, for 5 minutes on each side (or to the desired doneness).
Cut the steak into thin strips, arrange the cucumbers on a platter, and top with the sliced steak and sauce.
📖 Recipe
Steak and Cucumber Salad Recipe
Enjoy a stylish summer salad of juicy cucumbers and perfectly grilled steak, topped off with a flavor-packed sauce.
Instructions
Preheat your grill to 350 F.

Season the steak to taste with sea salt and black pepper, and let it stand for about 10 minutes.

1 ½ lb. sirloin steak,

Sea salt and freshly ground black pepper

Sauté the garlic with some coconut oil for 1 minute in a small saucepan placed over medium heat.

2 cloves garlic,

1 tbsp. coconut oil

Stir in the coconut aminos, lime juice, and water, and season with salt and pepper to taste.

¼ cup coconut aminos,

2 tbsp. fresh lime juice,

¼ cup water,

Sea salt and freshly ground black pepper

Bring to a boil, stirring often, and let it boil for 2 minutes. Then remove the sauce from the heat and let it cool for a little.

Grill the steak, grill covered, for 5 minutes on each side (or to the desired doneness).

Cut the steak into thin strips, arrange the cucumbers on a platter, and top with the sliced steak and sauce.

1 cucumber,

1 tbsp. fresh chives
Nutrition
Calories:
589
kcal
Carbohydrates:
12
g
Protein:
76
g
Fat:
24
g
Saturated Fat:
12
g
Polyunsaturated Fat:
1
g
Monounsaturated Fat:
8
g
Cholesterol:
208
mg
Sodium:
876
mg
Potassium:
1428
mg
Fiber:
1
g
Sugar:
4
g
Vitamin A:
545
IU
Vitamin C:
15
mg
Calcium:
127
mg
Iron:
6
mg