There is a special place in our hearts, and our bellies, for one-skillet meals that are fuss-free. Our keto taco skillet takes the cake, so to speak, and it is a recipe that is so simple that memorization is not required. Just add ingredients to the skillet one by one or three by three, and dinner is ready before you know it.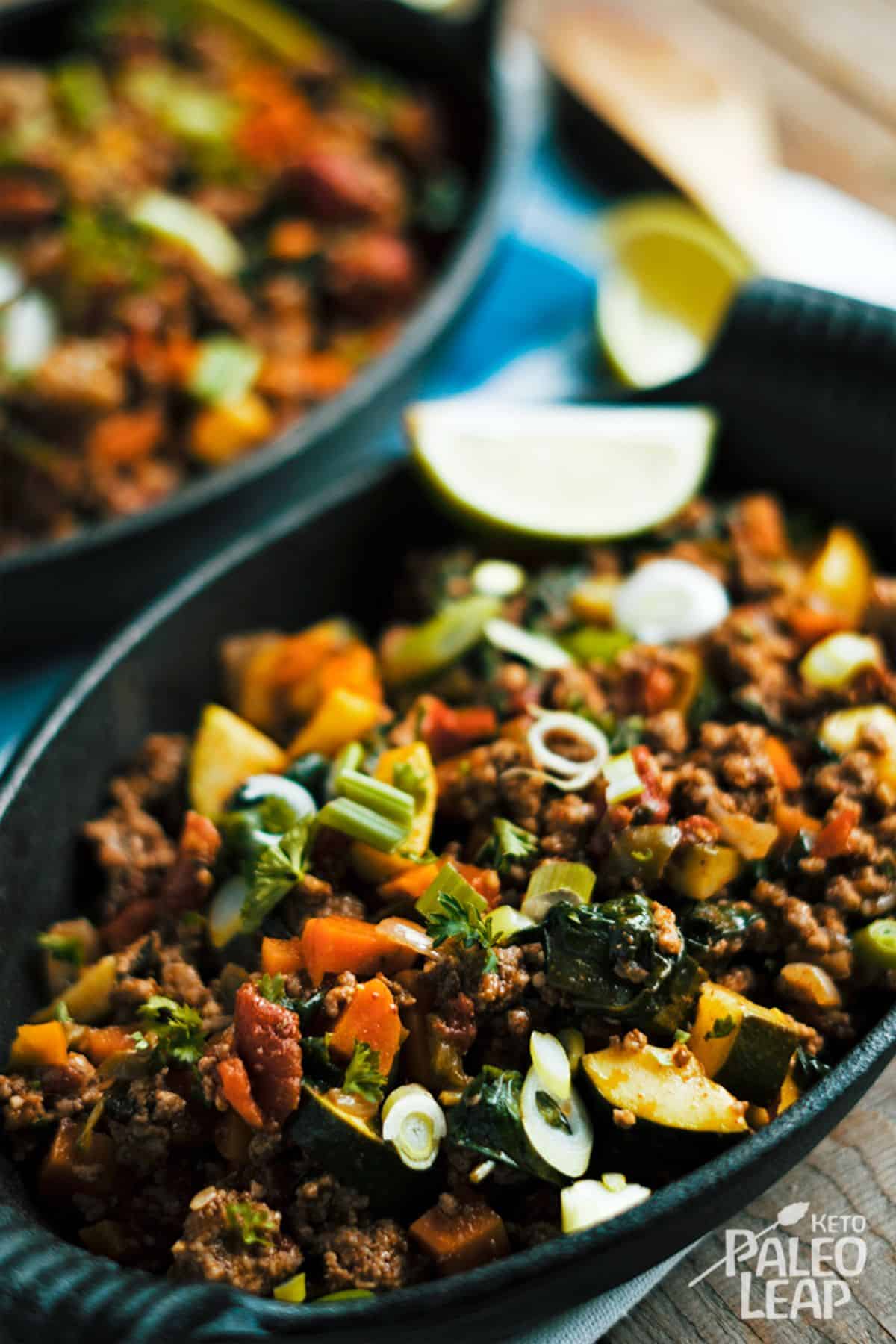 It contains all the taco flavor that you know and loves without the use of corn or flour tortillas; you will want to pass on the Cerveza too. If you are going to do well on a keto diet, you had better enjoy it, so invest in good quality grass-feed beef and relearn the easiest to the most complex recipes.
When you devote time and energy to understanding health through nutrition, then you are heading in the right direction.
We also know that sometimes you are short on time, but you should never shortchange your health by eating things that aren't good for you - that's when one-pot dishes come in extremely handy. Chicken meatballs with marinara sauce are a beautiful thing.
When life hands you taco seasoning, run with the inspiration and make a keto taco skillet for dinner tonight, Paleo sour cream is optional, and so is cheddar cheese. We have also been known to indulge in fire-roasted salsa on occasion, and we highly recommend it to you too.
Keto Taco Skillet Recipe
Serves: 4 Prep: 25 min Cook: 20 min
Ingredients
1 lb. ground beef
1 large bell pepper, diced
2 zucchinis, diced
1 cup diced tomatoes
2 garlic cloves, minced
1 onion, diced
2 cups fresh spinach
2 green onions, sliced
Fresh cilantro
2 tbsp. taco seasoning
2 tbsp. coconut oil
Sea salt and freshly ground black pepper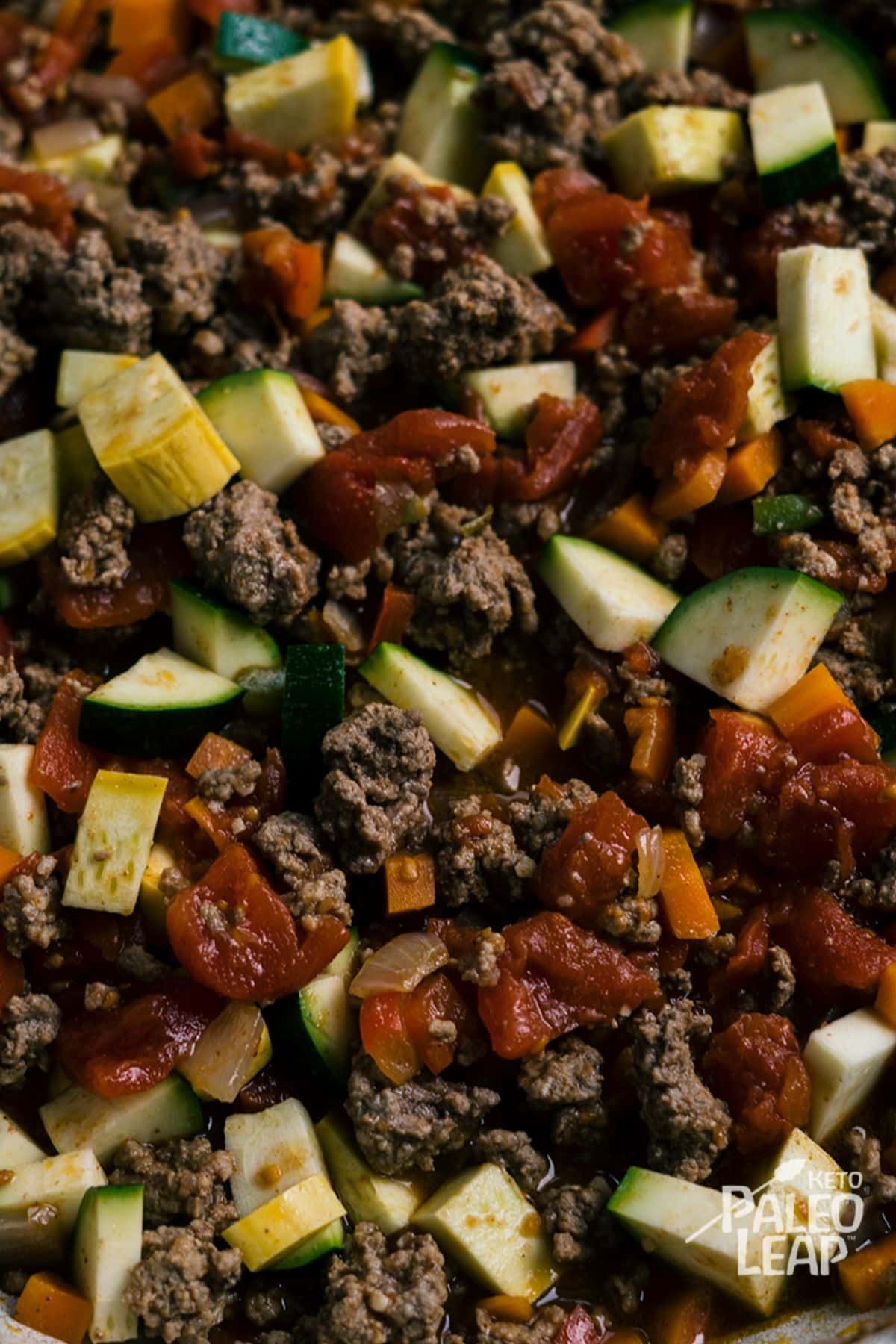 Preparation
Melt coconut oil in a skillet over medium-high heat.
Add the garlic and onion; cook for 1 to 2 minutes.
Add the ground beef and cook until brown, about 4 to 5 minutes.
Add the bell pepper, zucchini, and diced tomatoes.
Mix in the taco seasoning and season to taste with salt and pepper; cook another 5 to 6 minutes or until vegetables are soft.
Add in the spinach, stirring for 2 to 3 minutes or until the spinach is wilted.
Serve topped with fresh cilantro and green onions.
📖 Recipe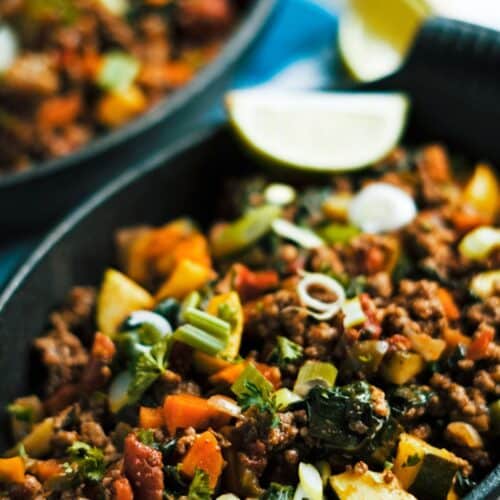 Keto Taco Skillet Recipe
Add a large dollop of paleo sour cream to your keto taco skillet and there will be no words spoken around the table, just plenty of chowing down.
Instructions
Melt coconut oil in a skillet over medium-high heat.

Add the garlic and onion; cook for 1 to 2 minutes.

Add the ground beef and cook until brown, about 4 to 5 minutes.

Add the bell pepper, zucchini, and diced tomatoes.

1 large bell pepper,

2 zucchinis,

1 cup diced tomatoes

Mix in the taco seasoning and season to taste with salt and pepper; cook another 5 to 6 minutes or until vegetables are soft.

2 tbsp. taco seasoning,

Sea salt and freshly ground black pepper

Add in the spinach, stirring for 2 to 3 minutes or until the spinach is wilted.

Serve topped with fresh cilantro and green onions.

2 green onions,

Fresh cilantro
Nutrition
Calories:
417
kcal
Carbohydrates:
16
g
Protein:
22
g
Fat:
31
g
Saturated Fat:
15
g
Polyunsaturated Fat:
1
g
Monounsaturated Fat:
10
g
Trans Fat:
1
g
Cholesterol:
81
mg
Sodium:
701
mg
Potassium:
884
mg
Fiber:
5
g
Sugar:
8
g
Vitamin A:
3358
IU
Vitamin C:
72
mg
Calcium:
85
mg
Iron:
4
mg